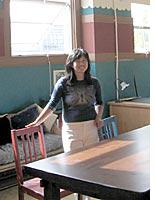 What is the piñata doing hanging from the ceiling?
Why is that plant, the one with leaves drooping like the tongues of thirsty dogs, the plant with the sign attached it to that reads, "Do not make fun of this plant," still on the mantle of the fake fireplace?
Today is fall cleaning day at 826 Valencia, the nonprofit writing lab a bunch of us started in San Francisco well over a year ago now. 826 Valencia provides free drop-in tutoring, ESL classes, and writing workshops to kids between the ages of 8 and 18, from all over the Bay Area. The place is bursting—with students, with volunteers, and, lately, with everyone's discarded burrito wrappers and Snapple bottles. We're trying to fix it up a little before the fall rush.
But even as people are running around cleaning, repainting, moving stuff, and throwing out dead plants, an ESL class is holding its last meeting of the summer. All the teachers and students, and their parents, are here; all are wearing pirate hats.
Our summer writing program for high-school students ended last week, and, with school starting, we're gearing up to be swarmed with kids, starting Monday. Gearing up means people are repainting walls; neatening the stacks of books in the many ceiling-high bookshelves—who put one of those battery-powered kung-fu fighting gerbils on top of Moby Dick?; rethinking some decorating decisions—why have we left the stairs a natural wood color when they could be painted red?;picking up pens that have fallen behind couches, desks, plants; stocking new limes and lemons into the scurvy prevention bin of the pirate-supply store (the store, at the front of the building, is run by a woman named Yosh Han, who has made the place very profitable, though all proceeds go to the writing lab); and straightening the framed page proofs on the wall. We've got manuscript pages from writers like Manil Suri, Charles Baxter, Matt Klam, Laura Fraser, Michael Chabon, Po Bronson, tons more—the pages bloody with the writers' own editorial comments. "See," I tell my students while pointing to Amy Tan's heavily marked-up page from The Kitchen God's Wife, "this was her 20th draft!" It always works. Our most recent treasured proof is Mark O'Donnell's early draft of Hairspray, which he donated to us six months before the musical was staged (and before he won a Tony). The students love it, in large part because O'Donnell's handwriting is so bad.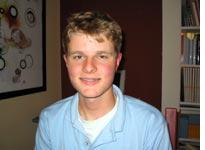 At 3, I meet with Kevin Feeney, a student who was in my fall short story class last year and whom I still work with sometimes. Kevin is the editor of Thought magazine, a quarterly literary journal that publishes writers from around the world. All of his submissions come through the Internet, so none of his contributors know, until they talk to him on the phone or meet him in person—he had a reading series last year—that he's only 17 years old.
Kevin's taking a break from a novel he's working on—a novel that is very, very good—to finish a novella titled How Hapless Men Began To Roam the Middle Eastern Frontier in Search of Their Bastard Children. Today we sit side by side to edit the opening 10 pages. Kevin's novella is strong, but I have a question:
"The narrator's so young and he has a bastard child?"
"No," Kevin explains. "He doesn't. Other people in the novella have bastard children."
"So, he goes looking for other people's bastard children?"
"Yeah," Kevin says, and then pauses. "It's my attempt at surrealism."
There are too many volunteers at 826. So many, over 350 at this point, that we're now setting up tutoring rooms in neighborhood schools to accommodate them (the volunteers). Our first go at this is the 826 Room at Everett Middle School. Everett gave us a room off the library, and we'll staff it all day with writer-mentors to work with students who need extra help. The whole room has been repainted and decorated and filled with couches, and now it's all set up, ready for the school's incoming seventh-grade class. I'm not going to lie: I have no reason to go over there except to take a picture for you. I drag Yosh along.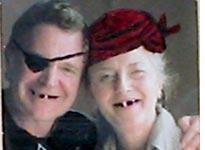 It's a beautiful room, with higher ceilings and more open space than we have at 826. I'm attaching two pictures: one of Yosh standing in the classroom and an example of the wall hangings. Some of the volunteers bought a bunch of paintings and framed pictures at garage sales and then vandalized them in a thematically appropriate way. Has all of this pirate stuff gotten out of control? I leave that to you, the dispassionate reader.
This is my last day of the diary, and I'll be glad to get back to spending my nights working on my Lapland novel. Did I tell you how much those Finns drink in the summertime? A lot. And in public. Last summer when I was in Lapland, two people—one man and one woman—threw up on me on the street in the same day.
---