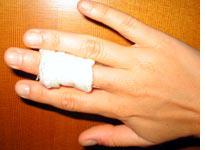 I have a 2-inch blister on the side of the middle finger of my right hand. Ask me how I got it.
After work today, my cousin and I went to a video arcade in Chinatown, where I proceeded, among other things, to play six games of Ms. Pacman. My cousin is 20 years old, which might explain why we were at a video arcade. Except the truth is, the excursion was pretty much my idea.
A sign posted on the wall when we walk in says, "Play at your own risk." I get $5's worth of quarters, pass the group of nine high-school students surrounding Capcom vs. Snk 2, and find a Ms. Pacman machine. I thought Ms. Pacman was only for women, but I guess that's an outdated idea because there are three Ms. Pacman machines in this arcade, and two of them are occupied by middle-aged men.
After my fourth game, I notice my growing blister. "Work through it," advises my cousin. He's playing Street Fighter.
Here's the sad truth about me and video games, about me and any supposedly noncompetitive game: I get very competitive. Put me in a marathon, and I'll walk half the way. But ask me to play doubles in a friend's post-wedding badminton game, and I'll break my toe (my second toe on my left foot). My "competitive spirit" about all things irrelevant surges as I stand in front of the 85 percent pie chart with the bow in her hair. I find myself writing down my scores after each game: 22,640; 27,250; 18,860; 37,840!; 13,830, 26,140. When I get my lowest score, I curse my stupid blister. I note the highest score attained on this machine is 108,840, and I vow to improve. Why haven't I played Ms. Pacman in a decade? I wonder. How could I allow myself to slip like this?
After my blister renders me unable to compete any further, I walk over to a machine I've never seen before. It's called Dormax 2 Dance Dance Revolution. In front of the machine is a makeshift dance floor with two pink tiles and two blue ones. You're supposed to choose a song on the machine and mimic the direction of the arrows on the screen with your feet on the dance floor. As I'm studying the machine, a boy who can't be more than 18 challenges me to a dance-off.
"Like Footloose?" I ask.
He has no idea what I'm talking about. He's wearing black sneakers, black pants, and a black ski vest. Have I mentioned it's almost 100 degrees outside? He hands his cigarette to the long-haired girl he's with—his sister? his girlfriend?—and unzips the vest. His hair is buzz-cut except for the two tails in the back. Each tail splits, falling both in front of and behind his shoulders.
He selects "The Reflex," by Duran Duran, and then starts moving his feet so fast, and so strangely. I can't even follow how he's following the screen. The screen flashes "Perfect! Perfect!" and his sister/girlfriend claps, cigarette in hand. He doesn't miss a step. I have no idea how he's doing what he's doing. I have no idea what he's doing.
When he's done and the screen is flashing a score of 232, which means he's gotten that many steps right, he puts on his vest and zips it back up. The woman hands him his cigarette and he takes a long puff. He turns to me and smiles a smile that says, "You will never beat me, so I will not even insult you by watching you try." Then he takes the woman's arm, and they walk out the door.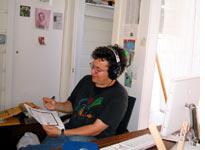 I hold two Believer people, Eli Horowitz and Andrew Leland, accountable. They're the ones who mentioned the video arcade at work today, and, at the time, it seemed like a good idea. As I wrote yesterday, Andrew Leland is our managing editor whom we convinced to drop out of college to work for us.
Today Andrew comes to work, for the first time, with a packed lunch. It's packed in a wine bottle bag, the top fastened with a twister he got from a bag of lettuce. The contents: Chili Cheese Fritos, baby carrots, and a fresh mozzarella sandwich. With his meal, Andrew consumes four liters of water, so 10 minutes after finishing, he says he feels sick. I take his picture anyway. About his body, he says, "I treat it so poorly, but somehow it remains glorious."
In addition to David Foster Wallace's TheBroom of the System and Boswell's London diaries, Andrew has just read Nathanael West's The Day of the Locust, which he declares to be "awesome."
Andrew even signs his e-mails: "Awesome, Andrew." I tell him that he is the only person I know who can get away with using the "A" word.
"Few people really know what it means," he tells me.
---