A couple of Canadians came to Harare last month to interview me about the Web site that I manage. This morning, I watched some of the footage. Talk about shocked! I hadn't realized that I blink so much. I look like Barbie on speed.
Actually, my nephew Devin, who's about 11 years old, keeps on commenting on what I look like. The last time I saw him he asked me why I have such a big forehead. Then he was concerned about my double eyelids. (Whatever that means.) He's an eccentric little bloke, and heaven only knows what it'll be next. In March, I went to visit my family in Australia. On the fridge in their kitchen, I discovered a little piece of paper with about nine black ballpoint pen marks scratched on it. I asked my sister what it meant; she said that Devin fines the rest of the family if he finds any hairs on the soap when he takes a shower. To amuse ourselves, we planted some "evidence," and sure enough, Devin strode furiously through to the kitchen to record his displeasure.
For a couple of hours this morning, I played tour guide for a visiting friend. I drove him through downtown Harare—hold your breath and hang on tight!—where, just as there's no rule of law, there aren't any rules of the road either. It's every driver for herself.
Part of our tour included going to the Harare Magistrates Court. Both the court and Zanu PF Headquarters are situated on a street called Rotten Row. How appropriate, I've always thought. Over the past couple of years, the Magistrates Court has processed a steady stream of political activists, often arrested on spurious grounds. Some activists enter the court having suffered ill treatment or torture at the hands of the police. In January, I spent an entire day waiting for my friend Michael, a Harare City Councilor, to be released. By the time 5 p.m. arrived, I was known as Mrs. Mike.
The boredom of my long wait that day was eased by the goings-on around the court. There's this small blue-and-white caravan that rents out wedding gowns to women tying the knot in civil marriages. Sometimes manacled prisoners are led up the front steps of the court building side by side with blushing brides.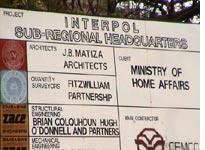 Right next door to Harare Magistrates Court there's a major building development. Interpol is establishing its subregional headquarters in Harare. I'm outraged by lots of things in Zimbabwe, but this particular issue takes the (wedding) cake. Interpol's hierarchy has feted the commissioner of police, Augustine Chihuri, for many years. Zimbabwe is a country wracked by violence, a compromised judiciary, and the disintegration of the rule of law. Meanwhile, Interpol decides to build its headquarters next to the building into which activists limp, having been beaten to within an inch of their lives.
On the way home, we drive past the University of Zimbabwe, where students frequently protest the poor conditions on campus. Apparently there are only 15 computers in the computer lab for 12,000 students. Just outside the entrance there's a sign saying that fishing worms are on sale. I tell my passenger that it's rumored that worm-sellers double as mbjange (marijuana) dealers.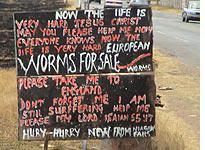 I make sure to fit my run in at lunchtime. Running keeps me sane and balanced (although Brenda might not agree with this). Frank and I were puffing our way up a quiet road when I noticed two smartly dressed people pushing their car. They'd run out of petrol. So, I offered to give them a hand to the next intersection. My mother always said that I had thighs that could kick-start a jumbo jet, so I figured pushing a Mazda 323 would be easy.
In the afternoon, I had a coffee with Brian, a co-activist from as far back as 1990. We met in the well-known Meikles Hotel, which is where all the journalists and media people hole up whenever anything's going down in Harare. As I skipped up the steps, I noticed a Mugabe portrait in the foyer. I've long wanted to start an organization called PAPP—People Against Presidential Portraits. There's no law that requires people to put them up, but many of our citizens believe that if they comply, they'll get a degree of protection. So, the dictator responsible for the collapse of our once vibrant tourism sector gazes benignly on as a few tourists trickle in and out of the hotel. In the lounge, where Z$4000 cream teas are served, an old guy plays sentimental songs on a piano.
When I get back to my office, I'm told by Leah, who organizes my press advertisements, that the state-controlled press in Harare, Bulawayo, and Mutare have rejected my latest round of advertisements. I recently came across a beautiful poem by Seamus Heaney, about justice and freedom, so I put together an inspirational advertisement that carried his words:
So hope for a great sea change
On the far side of revenge.
Believe that a farther shore
Is reachable from here.
This isn't the first time that my material has been rejected. And it won't be the last. But I'm going to keep on trying.
---