These days, in the early morning while lying in bed, I do a reality check.
Q. Where am I?
A. Harare, Zimbabwe.Q. Who am I? 
A. Bev Clark, activist.Q. What am I going to do to?
A. Anything to bring Robert Mugabe down.
With that squared away, I haul my body out of bed and take an icy plunge in the pool. The water is still freezing as it is the tail end of winter. I last only a few minutes and come out gasping. The guy next door often pretends to pick avocados to get a view of me taking my naked dip. My neighbors are an eclectic bunch. On the right is Malcom. He's got a bushy black beard that almost reaches his knees. And apparently, he has seven guns. Not that I've actually seen his hidden weapons, but in a city engulfed in a wave of rising crime, having him next door makes me feel a bit better. The avocado fraudster is the gardener for a family of farmers that recently moved in. For some months their front lawn has been piled high with farming equipment from their seized farm, snuck off with while Mugabe's militia were looking the other way. In the space of a week they've put up a wall, razor wire, and an electric fence. Not long after they moved in I could hear the plaintive wails of a goat. Then silence. Either it got the chop or it was sold.
I've spent most of this morning writing a story line for a 90-second film. My office is a converted garage in my back garden. One whole wall is made up of air bricks. They're great in summer when the temperature creeps upward but in the winter grass mats struggle to keep the wind out. The film is part of a competition called the Vision Awards, and the theme is "Building a Commonwealth of Freedom." I've taken the approach that there can't be any freedom without greater common wealth. My story follows Tendai, a young Zimbabwean fleeing fear and famine who goes to England to make some "real money." The exchange rate is Z$4,000 to 1 British pound, so he manages to keep his family fed back home. It's the story of thousands of young Zimbabweans all desperate to escape Mugabe's madness.
Lunchtime, and I run with my dog Frank. I have a refrain going round in my head: "Mad dog's an Englishwoman … ." I love the heat and the sweat of the hottest time of the day.
In the afternoon, I meet with a couple of fellow activists. We've just got some funding for an exciting project that combines art, technology, and activism. Unfortunately our funding period is short: only 4 months. We're hurrying to work out schedules and staff and strategies for street-level action that will both inspire and motivate Zimbabweans to reclaim their voice and their position in civil society.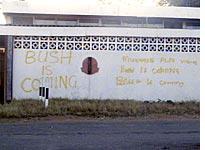 Later on, I go up to the shops to buy some wine because my friend Oliver is coming round for an early evening drink. In the cafe I chat with a woman while we're waiting to pay. She asks me what I think of Bush's trip to Africa. I say that I think it couldn't have come at a worse time. The great-white-hunter politician and his flying visit to dispense advice and money. His trip clashes with the African Union meeting, and this immediately raises questions about his sensitivities and his agenda. And then he wants to lecture African leaders about Mugabe's dubious re-election while his own election is shadowed by so much suspicion. But on Zimbabwean streets there are whispers of U.S. intervention and excitement about the effects of Bush's influence on Thabo Mbeki. Pro-Bush graffiti has begun to appear.
Oliver is an interesting guy; he's here to teach during the Zimbabwe International Book Fair. His subject is sexuality. We go back a long way. Oliver agreed to be a sperm donor for my partner, Brenda, some years back. He totally appealed to me in his bohemian, handsome way. I tried to persuade him to get rid of his tight green corduroys, believing that they weren't helping his fertility much. Neither were the drugs and the wine. But we had a good time. In the end, there was no baby for us from Oliver, but back in London, where he's made his home, he's the proud father of a daughter named Rachel.
---