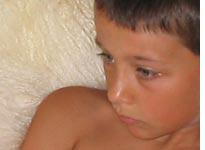 As an expectant father, I hate to say this, but it seems to me that children can easily show themselves to be the most ghastly form of humanity. Our instinct to shrink from this truth is almost as strong as our instinct to procreate, but there you have it: Children can be almost stupefyingly selfish and boring, especially during the summer holidays, when the average toddler is possessed by demons too scary for Disney to contemplate.
My stepchildren Archie, 7, and Oscar, 10, are seven parts lovable: The week before last they were making papier-mâché masks at the kitchen table and baking their own banana bread; and in the evenings, fresh from fragrant baths and warm towels, they were asking for more Roald Dahl before bedtime. Then last week my nephews came from Scotland, Rory, 12, and Ryan, 8, and they are also seven parts lovable, but when the lot of them get together that's 14 parts to dislike, and the last week has made me wish I'd read Roald Dahl a little bit closer when I had the chance.
I used to recoil in horror when reading accounts of Evelyn Waugh's attitude toward children ("they are all horrible"), and one wouldn't want to mimic the mad toad of English letters when it comes to matters of child-rearing, but he was certainly onto something. The other week I was reading at a literary festival in Wales and I heard his grandson telling Christopher Hitchens that Waugh was greedy and rather childish himself, apt to throw rotten fruit at his wife if the children didn't eat the stuff on time. I'm writing this from a country house in Warwickshire, 10 miles from Shakespeare's birthplace, and there are pears and damsons dropping from the trees in the garden outside my window. I would never throw fruit at my girlfriend—she's too fierce—but late yesterday afternoon I was distinctly aware that I had a very profound wish to mash all the children's faces in the summer gore. I fear that American readers may see this as evidence of insipient domestic terrorism: but no, hang on a minute. In order to love children must one fail to observe all that is hateful in them?
Yesterday was the hottest day in Britain since records began, so perhaps the children's obstreperous behavior should be taken for granted. We blew up the paddling pool and they used it to fuel a water fight that turned the kitchen into the wreck of the Hesperus; we let them loose on the new giant trampoline and in minutes the younger children were being catapulted into the neighboring fields. Meanwhile, the People's Army of Infancy started a revolution at the idea of looking at anything that didn't involve dozens of severed heads spinning over a landscape of exploding tanks. In the end—and despite soft-voiced, regular warnings-off from the likes of me—they sneaked to another part of the house and watched a marathon edition of MTV's Jackass, working themselves into a frenzy of admiration over the existence of people called Baz who could rollerskate naked down a freeway wearing nipple clamps before diving into a running sewer.
The Scottish contingent brought multipacks of chocolate and other sweets from north of the border—Scotland is the home, you mustn't forget, of the Fried Mars Bar—and the children have been engaged in efforts of near-Borghesian complexity to translate the contraband from one drawer to another. I saw Oscar with what looked like a pencil case this morning, and I almost passed out with joy at the notion of school and pencil sharpeners, but alas, on inspecting the Hulk container, it revealed a secret drawer stuffed with sticky chewables.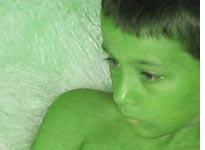 The Hulk is a bit of a theme in all this, as you can well imagine. The combination of anger mismanagement, people turning green with sugar-sickness (and envy), a general susceptibility to global branding, and a liking for torn trousers all rings through the barns of our country idyll. Archie and Ryan are no longer seeing eye to eye: It was High Noon last night in the playroom, as Archie stepped forward to confront his former collaborators on the issue of some gross unfairness in the distribution of stolen chocolate. My girlfriend was staying up politely to listen to the guitar work of some of the older guests, so I took the weeping Archie to sleep in our room; he brought his stuffed furry monkey along for indignant chats. Eventually, Archie fell asleep, and I could still hear Bedlam as the other voices in other rooms went about the ungentle business of driving us all mad.
The sound drifted away as I opened this month's British Vogue, which arrived on Saturday. It contains a picture of me, the photographer David Bailey, the former boyfriend of pop star Kylie Minogue, and some other "men in the public eye" staring at the camera, all lip-glossily as if each of us was Christy Turlington. The editor of Vogue had us all round for lunch and asked us what we thought of modern women. These things are pointless, and I notice that among all our non-wisdom, they failed to print David Bailey saying he was fed-up taking pictures of "old dogs," which was the only thing I actually remember him saying at the lunch. I put the magazine down by the bed and could hear the guitars sawing in the kitchen; I turned and smiled into the pillow, laughing at the thought of everything, not least the thought of wasps lying drunk in rotten pears outside the window.
---