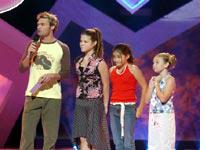 What could be worse than a group of 6- to 13-year-olds competing on television to be voted into a five-member pop singing group—unless it's viewers willing to waste their time on such stuff? American Juniors, the kid version of American Idol, was a show I was primed to despise for all the predictable reasons—reasons that make me ruthlessly ration my kids' TV watching to begin with. We've all heard the parental jeremiad about how a celebrity culture has invaded childhood, bombarding "tweens" and super-savvy teens and "childified" adults with the same relentlessly sexual, commercial, banal messages.Yet I've joined my tween in falling for "Fox's insufferable weekly tots' talent contest," as Frank Rich called it in the New York Times on July 6. American Juniors is, of all things, refreshing summer entertainment for the family.
I know, rival network producers and executives are gleefully noting that the show, now in its seventh week, has already fallen victim to declining viewership, and many are chiding Fox for tarnishing its valuable Idol "franchise" with a two-bit derivative. The show's critics (I've yet to read a fan) complain there's no "hide-behind-the-couch moment" of tension in American Juniors—Will the hapless contestant hit the jackpot or suffer abject humiliation?—equivalent to those that rivet viewers to the big-league reality shows. After all, as the producer of Who Wants To Be a Millionaire? noted, "What kinds of stakes can there be for an 11-year-old?" No one's ready to watch some poor kids—no matter how preternaturally smug—suffer the public, and brutal, dissing game of "Simon says" that their elders endured at the hands of Simon Cowell on Idol.
But it's precisely the low stakes that are the source of the show's appeal. What's remarkable is that all the Idol prime-time glitz hasn't really managed to transform that timeless American favorite, the youth talent contest, very much. Though the lights are brighter and the buzz louder than they were on, say, the Wonderama marathons that began in the mid-1950s, American Juniors serves up the familiar genre of precocious performance: amateurs trying to act mature while their parents hover in the wings. As ever, the spectacle blends exhibitionism with inspirationalism, a riveting combination. But the surprise is that even in the Lizzie McGuire era, when the savvy/sexy tween reigns, it's the wholesome rather than the fulsome spirit that has the edge. On Fox, of all places, the judges and singers—and even the parents—seem more like gung-ho good sports than deluded narcissists or manic résumé-builders.
True, with a month of winnowing behind them, the kids and their mothers and fathers can afford to be on their best behavior: They're the lucky ones who've made it to the final 10. I won't pretend the "appalling stage parents" who turned Frank Rich and others off weren't crucial to the initial allure of the show. And I don't doubt that Nielsen ratings would be better if there had been a steady dose of parental acting-out. (To judge by the release forms signed by participating adults and minors, Fox hoped there might be: "You understand … that your appearance and/or portrayal in the Program may be disparaging, defamatory, embarrassing or of an otherwise unfavorable nature which may expose you to public ridicule, humiliation or condemnation.")
But by now grown-ups making idiots of themselves in front of the world are a tired TV trope (where would family sitcoms be without them?), and unapologetically pushy parents are a commonplace in overscheduled real life. Instead, American Juniors in mid-July offers welcome glimpses of adult humility and child-parent harmony (a trend Ginia Bellafante of the New YorkTimes lately noted in shows like The Gilmore Girls and 8 Simple Rules for Dating My Teenage Daughters, too). The smiling moms hum along as their sweeties do their numbers, the dads profess they're "just the driver" who schleps, not hard-driving creeps—and one of them freely weeps. Are we seeing signs of a new intergenerational intimacy? If so, is life now imitating "art," or the other way around? On reality TV, of course, it's hard to tell.
As for the kids, the girls have the sophisticate's skin-tight style down, but treacle has so far set the tone. In fact, when this week's top vote-getter was mini-Tori Thompson, who joined her sister Taylor as No. 2 in the group, groans were heard in my household: This was carrying the tot trend too far. With their uncannily similar pert little faces and silly headgear, the Thompsons are proof of the unerring American taste for fetchingly packaged homogeneity—and their parents even picked the perfect names for a bubblegum-group duo! It's clear that voters in the twee part of the tween precincts are the active sector of the American Junior electorate.
But the three boys in the 10 add a few snips and snails to the otherwise sugary mix: They're ethnically more exotic, and if the youngest of them, Chauncey Matthews, conjures up the specter of young Michael Jackson, he's also the ultimate antidote. When was the last time you saw someone on television fan himself in the throes of unfeigned nervous excitement? Even the older two boys seem blessedly impervious to the efforts of the metrosexual host Ryan Seacrest to turn them into jaded, crooning dudes who could give him some "tips" to "help with the chicks." (Ryan doesn't dare to banter that way with the girls.) A.J. Melendez, pegged the "child-getter in the group," looked more flustered than flattered when two big girls clambered on stage last week to give him a hug.
Left to their own devices, the kids are huggy in a tamer, we're-a-team way, more reminiscent of summer camp than a smarmy pop star tour. They hold hands while they await verdicts and embrace the winner when Ryan tells them America's votes haven't gone their way. Watch their faces: Sure, they want to win, but—forgive me if I'm projecting—they actually look almost relieved when they don't make it. They're spared the fate of the winner, which we learned last week: Poor Taylor's prize was the chance to belt out her love of Burger King in a cheesy musical video/ad. What a way to lose your luster! 
The judges deserve a prize for rejecting the crowd-pleasing put-downs that are a reality TV staple, without succumbing to the urge to be mere saccharine anti-Simons, either. It's fun to watch Deborah Gibson and Gladys Knight—the anchors, who are joined each week by a guest celebrity—come up with some semblance of an honest verdict on the spot. The kids—the ones both onstage and offstage, to judge by my tween (now joined by my teen)—are all ears, too: Just what advice may be embedded in the ego-boosting blather?  In fact, I think it's the chance to watch their peers being seriously, and sympathetically, assessed by adults that plays a big part in gluing kid-fans to this show—a little like eavesdropping on the teachers' room. This voice is a little sharp, Deborah notes; that one's crystal clear, says Gladys; those were really hard key changes, observes guest Brian McKnight; every singing group needs a charmer and an unerring ear, they agree. There's the reassuring sense that kids are being meted out their just rewards—before they face the lottery of peer popularity. It's not quite reality, but it's not utter fantasy either.
Finally, what more bracing moral to end each show than "Try, try again"? "Come back next week and give it your all," Ryan Seacrest says, and the losers are thrilled. In our house, we've been unanimously rooting for Chauncey—to keep on not quite making it. Or at least I thought we agreed, since we wanted as many weeks as possible to listen to him sing and watch him in agonies of the most blissful kind of suspense: just wanting the most incredible summer of his life never to end. But when he won on Wednesday, my kids went wild. So what if American Juniors, now that he's benched with the winners, won't be the same? Chauncey deserved his victory.
---