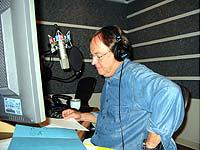 OK, I can breathe again. We did manage to start and end on time, and beyond that it's all subjective. (My colleague at NPR, Morning Edition's Bob Edwards, says he wants his tombstone to read: He got off on time.)
The response to our debut show so far is mostly positive, thanks to a strong production crew led by executive producer and show founder JJ Sutherland. He's the one who worked out the partnership with Slate, along with the late Scott Shuger, a key person in Slate's startup, and the creator of the "Today's Papers" column. By NPR standards, JJ is way too young to be driving the bus at this point, except that he did manage to get us all here, and his energy, enthusiasm, and determination appear to be inexhaustible. Plus, he can write.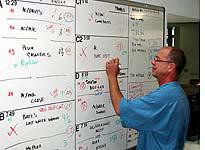 Other important participants: Steve Proffitt—line producer, or person who gets the show on the air every day—a former NPR producer/reporter who also plays guitar (for radio, always have musicians around); John Buckley, editor, a former London bobby and BBC TV and radio reporter with a degree in linguistics and an ability to switch between a dead-on flat patois of the American Midwest and the lilting lyricism of the Scottish highlands and everywhere in between; Martha Little, a deputy editor who came from the financial show, Marketplace; and reporters Karen Grigsby Bates, Mike Pesca, and others. I should also mention our energetic and capable editorial intern, Tracey Chang, a graduate student from the Annenberg School at USC, especially because I snapped at her this morning about a missing script—something that wasn't her fault—and made her cry. I apologized, but I've felt pretty lousy ever since.
And there's one more crucial person: Andy Bowers, a former NPR reporter in L.A. and Moscow. Slate hired him as an editor a few months ago to help their writers adapt their stories to radio—actually a more natural fit than with traditional magazine writers. You can read many Slate pieces out loud in three or four minutes—perfect for us. These writers are already thinking in about the same space that we do, and probably for the same reason. People read through Slate articles in between other tasks. … It's hard to read a full treatment Atlantic-style 10 pages, and check your e-mail, and manage to get a little work done, all at the same time. But you can quickly note that Mickey Kaus filed something, read what it is, and check back later to see what else is there.
This is the idea behind the design of a midday radio show. We know, for instance, that many listeners feel kind of ambivalent about listening to long-form talk shows during the noon hour. An NPR-talk-show guest may be on for 20 minutes, and the conversation can be fascinating the entire time. That's the problem. People feel guilty about turning away from the show because they have a quick errand, or they have to go for lunch or something. Many listeners feel that kind of intimate, personal connection to public radio shows—as though they're letting us down if they don't listen to something all the way through. I would say this is completely nuts, except I suffer from the same thing with Terry Gross all the time. And ever since I learned that NPR research shows this guilt is actually pretty widespread, I can't help thinking that in some way the company wants me to make a program people will feel good about turning off.
That's not the goal, of course. … We want you to listen, but in the same way you read Slate: in segments that may stay with you all day, but that won't take a half-hour of your time.
******
At the moment, we're in editorial discussions about our second show. An interview with California's recall-threatened governor, Gray Davis, was a good lead for Monday, but we need something else today. Mentally, though, I'm lingering over an image of Davis during our interview, a more sympathetic character in person than his aloof reputation had led me to expect.
He'd invited photographers to his office on Sunday afternoon to watch him make political calls, but it was taking a while for his staff to get the phone connections going. Davis sat very still behind his desk, looking acutely conscious of the video and still cameras arrayed and waiting for him to conduct the personal act of talking on the phone almost as a piece of public performance art. I thought about how skilled politicians learn to act as though these events are perfectly normal. Then a further reflection: Maybe Gray Davis' reluctance or inability to always be on makes him more decent. But I suspect the recall is not going to be about who can muster the most decency—and even if it were, lots of Davis' former opponents have claimed that he's more than willing to set his aside when necessary.
---