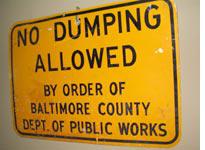 Credit a feature writer with picking up the killer detail. A few hours before Tuesday's midnight deadline, when the Washington-Baltimore Newspaper Guild's contract with the Sun was set to expire, the members of the bargaining committee sat at a long table on the stage in the Pearlstone Theater at Center Stage, a venue chosen for its proximity to the Sun and, I assume, its air conditioning. (The old location, a historic Methodist church, was beastly hot for every one of the four contracts the guild negotiated in my 12-year tenure at the Sun.)
"Is it just me," the feature writer asked, passing through the theater's lobby, "or are those crucifixes on the backdrop behind the committee?"
Power lines, a theater-savvy young man decreed, left over from a recent production of The Rainmaker. But the designer may have intended to create that very effect, he added.
Last night, the members of the guild voted overwhelmingly to accept the company's proposal, by a margin of 3-to-1. The meeting was private, with media forced to wait outside in the heat. As a former guild member, I was allowed to camp in the lobby, where I could hear applause and, at times, a loud voice or two, the tones more impatient than angry. The committee recommended that the guild reject the contract and work without one—an unprecedented proposal for this particular guild. The committee then opened the floor for comments, and observers said the tenor of those remarks quickly made it clear the contract would pass.
Guild members agreed to a wage freeze in the first year of the four-year contract, a modest increase in the second year, and then two years in which the money available for raises will be divided between across-the-board pay hikes and a "merit pool," to be distributed at the sole discretion of managers. They received $1,500 bonuses for approving the contract before the deadline, but that gain will be offset by the increases in the cost of medical insurance. A summary is here.
Earlier Tuesday, the Sun's editor, William Marimow, sent guild members a letter saying what a good deal the offer was and comparing his workers to sales people at Circuit City. I'm not sure what his intentions were, but no one I spoke to felt particularly buoyed by his missive. This can be read at the link above, just keep scrolling.
I was distressed by a second-hand confidence, shared in a bar early this morning, that one manager said he needed to institute a more aggressive transfer policy because I filed a grievance three years ago. The Sun can now transfer guild members to lower-paying positions and cut their salaries by up to 3 percent a year. Yet that language wouldn't have been relevant in my case. I was switched from the features staff to the metro staff in Baltimore County, a de facto pay increase for me, as I no longer had to pay the $13-a-month parking fee at the Sun's garage.
Hypothetical opinions aren't worth much in this situation. Not my contract, not my decision, not my mortgage on the line. And there is a common-sense case to be made for the proposal, although not one heard at Tuesday night's meeting. The Sun's editors are capable of only so many vendettas at any given time. The sheer numerical odds favor one's ability to stay off the shit list, or get off it eventually. They can't send every reporter in the downtown newsroom to, say, the Carroll County bureau. "They can chew you up, but they have to spit you out," to steal a line from this season of HBO's The Wire, which happens to be the brainchild of a former Sun reporter.
During the 1990s, I saw several friends transferred to suburban bureaus, while another colleague lost his column. There's a famous story that the columnist, challenged by then-managing editor Marimow over a memo he wrote during the 1996 negotiations, tried to tell Marimow that union tactics weren't personal. Marimow is said to have pulled out a copy of The Godfather and read the section where Michael Corleone told Tom Hagen everything is personal.
But every time I saw a good friend punished, I rationalized why it would never happen to me. (I wasn't that active in the union. I was staying under the radar.) If I never took a leave of absence to work on my books and managed to remain one of the top producers in my department, they wouldn't come for me. Right? Wrong. But it was a necessary illusion, and I urge my friends to cling to it. Otherwise, you'll be too demoralized to function in the Sun's new pay-for-play culture.
---