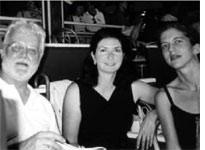 Thanks to the latest pages from the artist-cum-novelist Jonathan Santlofer, I didn't get much sleep last night. Last year, he published his first novel, The Death Artist, a gruesomely enjoyable satire of the art world that won, among other things, the Nevermore Award for most creatively nasty death scene. Now he's deep into the sequel and just sent me a couple of chapters, knowing that I'm one of his more squeamish readers. When it comes to things macabre, we happen to be two of the most cowardly people on the planet—Jonathan assures me he so terrified himself writing some of these new scenes that he couldn't sleep for weeks—and so, of course, we can talk forever about serial killers and the latest prowler scandal and whether or not Jack the Ripper actually was Disraeli.
As a child, I couldn't watch horror films of any kind, and if you'd told me that one day I'd live a stone's throw from a grave site (Yaddo's founder, Katrina Trask, and a "circle of friends" are buried on a knoll in the woods a few yards from my bedroom), I'd have dived under the covers at the very idea. On the other hand, my husband, Kevin, and my daughter, Caity, have nerves of steel—they laugh at movies like The Ring and The Sixth Sense, bantering scary film dialogue back and forth like Hepburn and Tracy. If I happen to wander into the room while the latest nightmare flick is running, Caity says without prompting, "Relax, Mom. Try to remember it's only a movie." So much for empathy.
Thankfully, the chapters Jonathan sent me are not only gory but hilarious and smart, so I can chortle and gasp simultaneously. They also arrived in the season when the Gothicness of Yaddo (and of Saratoga Springs as a whole) is giving way to a sunnier mood. There are two seasons, in terms of admissions, at Yaddo. The small season runs from October through May, when we have around 12 to 16 artists in residence at any given time. From May through September, the weather permits us to open more buildings, and so the numbers and the pace pick up, topping out at about 32 guests.
The increase in numbers here at Yaddo is paralleled by the population growth in town—by August, Saratoga Springs is bursting at the seams with summer visitors. One of the things I first loved about Saratoga was the way the energy level changes—the intimacy and small-town appeal of the off-season morphing into the more frenetic pace of summer, signaled by a massive planting effort that ensures flowers run the length of every meridian and hanging baskets gild the main street.
This year, thanks to the homegrown Kentucky Derby and Preakness winner, Funny Cide, Saratoga's track should see terrific attendance. Make that astronomical attendance if Funny Cide becomes the first Triple Crown winner in 25 years this Saturday at the Belmont Stakes. There have already been parties around town to celebrate the horse; only the producers of Seabiscuit could be happier than the townspeople that an underdog has become such a contender.
Yaddo is the track's neighbor—we share a fence line with them. On Friday, Aug. 15, the Yaddo Stakes will be run, and I'll be happily ensconced, hat on head, tip sheet in hand. For the six weeks that the track is open, as you walk around Yaddo you can hear the announcer and the roar when the finish line is reached, and you can watch hordes of people, many clutching deck chairs and coolers, stream down the avenue on their way to the first race. I happen to adore the track (it's a little known fact that I once worked for a bookie, scrawling the odds on the "big board" on a Saturday afternoon), and so, for me, these sights and sounds are the ingredients of a perfect day.
I had an uncle who was a jockey (a pretty good one, too), and my main memory of him is from the early '70s, when he always seemed to be wearing a "sauna suit" in an attempt to drop a couple of pounds in time for his next race. The suit was silver and shiny and made my uncle sweat so much it appeared he might have a heart attack at any moment. I should mention that suit to Jonathan—he could probably cook up something grisly involving just such an item.
---