When people ask what it is I actually do here at Yaddo, and I reply that my job falls somewhere between janitor and CEO, they tend to smile at me indulgently, implying that it's sweet of me to be so self-deprecating. But consider today. The morning begins a little before 7 a.m., when construction workers arrive at our house—an amalgamation of several former visual-arts studios that were joined together in the '70s to make a residence. We're creating a kitchen out of what used to be a small guest bedroom. This is the second cycle of construction we've gone through since we arrived here in September 2000. Back then, we were adding a bedroom, a necessity given that I was the first married person with a child still living at home to be president.
About one night a month, my husband, Kevin, and I invite all the artists in residence to join us for a drink, and then we have dinner together. In October 2000, after the first of these dinners, when we'd all had our fill of vegetable lasagna, salad, homemade bread pudding, and a pretty good Merlot, an elderly painter exclaimed. "Oh, all right, I'll tell her!" Silence descended. Apparently, now that they'd met me and heard that we were only adding a mundane little bedroom to the house, the assembled artists felt comfortable revealing the gossip du jour. All most of them knew about me was that I had been the editor of a fashion magazine, so, when the large hole appeared in the ground, they had assumed a swimming pool couldn't be far behind. I still love the fantasy of me lying on a chaise—my hair wrapped in a toweling turban; my toenails, no doubt, painted fire-engine red—completely divorced from the reality of all that's going on around me.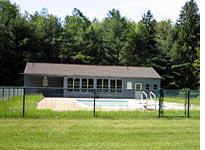 As it happens, there is a swimming pool at Yaddo, installed, according to apocrypha, thanks to the artful lobbying of John Cheever, although over the years it's had many other devotees. Around June 1 the sculptures in the formal rose gardens come out of their winter coverings, the fountains get turned on, and the pool is declared ready for the season. Given the fact that we've barely clawed our way above 60 degrees of late, no guests have exactly clamored for us to fill the pool, but business at the tennis court (nothing grand, just an uneven, asphalt-covered thing) is noticeably picking up, and so the sound of some brave souls taking the first plunge should be heard any day now.
From the pounding of hammers at home, I made my way, coffee in hand, to West House. This is our mini-mansion, built as a farm house in the 1890s and added on to by Katrina Trask—the founder of Yaddo, along with her husband Spencer—when she moved here in 1916 to cut down on living expenses in order to give more to the Red Cross for war relief. It's just one of the many examples of how Spencer and Katrina Trask engaged the world. There's no end of stories about this pair. He was a businessman, an early supporter of Thomas Edison, and backer of the New York Times; she was a poet and playwright, an advocate for peace and a proponent of women's suffrage. Having lost all four of their children to illnesses, they decided to bequeath their estate to future generations of artists, the idea coming to Katrina in a "vision" as she walked the grounds. West House became Katrina's permanent home, eventually shared with George Foster Peabody, whom she married in the last year of her life.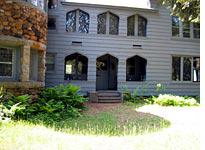 In the decades that Yaddo has functioned as an artists' retreat, hundreds of writers, composers, painters, filmmakers, and photographers have lived and worked at West House—including the famous "pink room," which was Katrina's bedroom and is, therefore, a favored setting for ghost sightings and bizarre occurrences. (The sense of others is inescapable at Yaddo; a communal spirit of effort, of thought, has seeped into the walls over time. It's the feeling churches can sometimes give, holding in their structures the knowledge of many prayers and hopes. There's a small room in West House that Sylvia Plath worked in, happily and productively. She wrote about it in her diaries, describing the view from the little turreted window, the uneven slope of the floor, the sense of safety. Recently, a novelist who worked there left some flowers to Sylvia when she left, an elegant homage from one artist to another.)
For the first time in over a century, West House sits empty—every last tchotchke, Steinway grand, painting, and piece of furniture emptied into two massive storage containers so that renovation can begin. The task (complete restoration inside and out, from rewiring to repainting) would be daunting if we hadn't tackled the mansion itself last year—what's a mini-mansion when you've already taken on a 55-room (I don't know who counted) house, disassembled its massive terrace stone by stone, laid it out like a jigsaw puzzle, fixed the foundation, and put it all together again? These past two years I've learned more than anyone cares to know about historic houses, their funky problems, and the myriad things that go wrong when maintenance has (by necessity) been deferred for way too long. A couple of years and several million dollars into the restoration process, I can answer questions about roofing, copper drains, the right season to fix plaster, and winter storage of antiques with relative ease.
All I really need now is a hard hat.
---