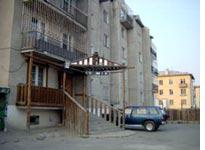 Ulaanbaatar is home to a surprisingly cosmopolitan cultural mélange. For the past few days, this remote city has supplied me with frothy cappuccinos at Millie's, a tasty lamb enchilada at Los Banditos, a wonderful saag paneer at Taj Majal, a complex and spicy gai-pad-prik at Sapphire Thai, a delicately breaded Cuban-style fish (followed by a sweet, muddy café cubano) at El Latino, a döner kebab at an open-air Turkish cafe on the main square, and a, well, memorable Mongolian pizza (with fatty mutton topping) at Restaurante Del La Casa.
The proprietors of most of these restaurants aren't from Mongolia. What inspires a pair of Indian brothers, a Turkish chef, or a jolly Cuban to make their homes in Ulaanbaatar—a city with the most extreme seasonal temperature variation on Earth, requiring the mastery of a difficult language, and offering inhabitants few housing choices beyond crumbling Soviet-era apartment blocks and a traditional ger on the sprawling suburban plains?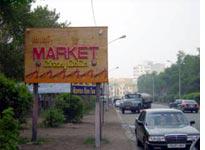 I raised this question tonight at the Steppe Inn, the pub in the compound of the British Embassy that opens on Friday evenings. Gathered at this anchor of expatriate social life was everyone from the U.S. ambassador to the Cuban proprietress of a popular cafe. (Disappointingly, the atmosphere was relaxed and convivial, not the teeming cauldron of intrigue, espionage, and rivalry I was hoping for. Earlier, in line at the Mini Market Crazy GoGo, I had been warned off by a young Australian woman who sniffed: "I never go anymore; there's no one left to hit on.") I got differing answers to my question, but all seemed to touch on the way these heirs to an ancient nomadic tradition relate to each other: with openness, tolerance, hospitality, pride, and a kind of quiet joy.
I'm now nearly halfway though my two weeks in Ulaanbaatar. In a week, I'll rejoin my girlfriend in New York City. It's probably too premature to draw any conclusions, but I'll risk some tentative observations based on what I've seen.
In the area of Internet and communications, I am left with the agonizing sense that Mongolia is poised to squander an incredible opportunity. The future of communications is the Internet: Before long, all voice calls and data traffic will move around the globe using the Internet protocol. We will be surrounded by superfast Internet connectivity, via Wi-Fi, phone lines, fiber, cable, wireless, whatever. Unlike in the past, when each different service (voice, radio, television) mapped directly to a specific mode of infrastructure (copper wires, airwaves, coax cable), the Internet protocol allows any service to be supplied over any kind of infrastructure (i.e., you can make a phone call over wireless Internet or watch television from your phone line). Given this emerging technological environment, it's suicidal for a government to try to force particular services to be channeled restrictively to particular elements of infrastructure, using the law to bludgeon everyone into compliance. But this is the situation Mongolia seems to be heading toward—by clinging to a policy that dictates that all voice traffic must be routed through Mongolia Telecom. With its well-educated population, relatively free markets, and open society, Mongolia could embrace the Internet's potential to supply cheap, reliable, ubiquitous communications for all. To do so would mean ending the government's dependence on Mongolia Telecom and its monopoly rents and allowing any company to offer any communications service it wants, through any medium it chooses to employ. Such a future would still afford the Mongolian government plenty of opportunities to engage in smart, market-enhancing, consumer-protecting regulation.
Perhaps I dream too extravagant a dream. But somehow, here in Mongolia, it doesn't seem crazy to think that, with a government of vision and confidence, it could happen. Nearly a thousand years ago, Ghengis (Chinggis) Khan fashioned an empire without building a single road, wall, fort, headquarters, or palace. Rather, he founded his empire on the urton, the world's first long-distance internal postal relay system. He realized that reliable communication—using the most advanced information technology of his day—was the key to a stable, prosperous realm. It's an insight modern Mongolians would do well to heed.
Meanwhile, thanks to everyone who has e-mailed me about things Mongolian over the past week. While I've gotten a couple of interesting notes about Internet policy, Mongol hordes, and exploding Jeeps, the subject of Mongolian barbecue has provoked the most energetic commentary. This morning, for example, I got a lovely e-mail from a woman who lived in Mongolia in the late 1990s: "Real Mongolian barbecue consists of either stuffing a goat full of stones and boiling it in salted water, or charring a marmot to a blackened crisp with a blowtorch. Avoid the marmot if you can, marmots (or their fleas) carry the bubonic plague." I'm going to be journeying into the Mongolian countryside this weekend, so this is well-timed, if rather chilling, advice. I guess I'll order the stoned goat instead.
---