A couple of weeks ago, I did a job as a model for a J. Crew catalog. I've never been a professional model in the have-an-agent sense, but I've been in enough shoots that I know how to fake it. I almost always take those jobs when they come my way, partly because they pay quite a bit of money just for standing around and looking cute, and partly because I always learn something from watching the photographers—lighting techniques, say, or the way they manipulate their subjects to get them to do what they want. I never know when that knowledge will come in handy, only that it will. Today I found myself channeling one of the photographers from that J. Crew shoot. I didn't go so far as to say "come to Daddy" (his favorite phrase), but I did hear myself saying the word gorgeous a lot in order to make my own model feel glamorous enough to romp around in the water. The crazy thing is it actually works. But I swear I'll never tell anyone to "make love to the camera." If anyone hears me use that phrase in earnest, please shoot me.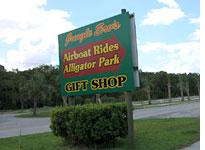 The photo shoot at the beach was only a small part of my day. In the morning, Nick Chiles (the editor I'm working with) and I went with some of the mothers of the Spa Odyssey attendees (their daughters were attending workshops) to an alligator park. They also went on a pontoon boat ride through the Everglades, but I wasn't able to accompany them because Nick and I had to jump in the car and drive about an hour north to photograph more women, this time on a kayaking tour. The trip has been so busy; my head is spinning as I try to remember the names and stories of all of the women I've met, as well as keep track of where I am supposed to be, and when, and with whom. Times like this make me realize that I am not a producer …
And yet I have always done a million things at once. (My father is the same way and I think he likes to say that he's retired so that he doesn't have to go into the long list of projects he is currently working on.) I'm a photographer/model/musician/DJ/messenger/wife and now writer. Sometimes, admittedly, I find myself wishing for an end to all of those slashes. Living my life in a thousand different directions drives me crazy—yet I wouldn't have it any other way. Or rather, I can't have it any other way. The other night, for example, my friend Ellen asked me which activity is closer to my heart, photography or music, and I couldn't give her a simple answer. In an ideal world, I would just make books of my photographs and albums of my music. And this would somehow miraculously make enough money to own a house (doesn't have to be too big), and support a child or two, and help out with other expenses so my husband didn't have to work so hard and we could go on trips where he could draw and cook and I could take photographs and sing. But we don't live in that world. Or not yet, anyway. In the meantime, we rent an apartment in Williamsburg (which we love); I take all sorts of pictures, some for my beloved books and some for assignments; I play gigs at small clubs in New York; I go to the Hamptons for two days to smile and run around the beach in chinos and flip-flops; and I complain that I never get a chance to see my friends because all I do is work.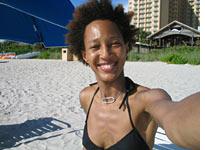 But am I happy? Is anyone happy? I have spent much of my adult life struggling beneath a cloud of uncertainty—about who I am and where I want to be in the world—that it took me completely by surprise when I recently realized that I am, in fact, happy with my life. Sure, I'm occasionally frustrated by some pitfall along the way, but I'm excited about the direction in which it's going and generally confident that the path I am headed down is the right one. And when I embark on projects (such as shooting the Northeasterners) that examine my personal history and force me to begin to come to some kind of peace with my relationship to that history, I only become more certain of who I am now: a recently married, female, African-American, interdisciplinary artist trying to make her mark in the world. When I say that, I don't mean scrawling my name on every bathroom wall I encounter. I mean giving my husband flowers when it's not his birthday; putting an extra quarter into the parking meter of a stranger; making art that will lift someone's spirit when they encounter it; wearing, all winter long, a big red furry hat that makes people smile when they see it; paying attention to what is going on in the world and trying to open someone else's eyes every once in awhile; recycling. … The list goes on and on. But as Robyn Hitchcock said in an earlier "Diary" for Slate, life is about trying to put the broken pieces of the world back together again so we all don't hurt so bad. If we can recognize that we all hurt a bit then we can begin to do something about it, one small step at a time.
---