I was up this morning before 7, it's now well past midnight, and I still have miles to go before I sleep. I spent the day running errands because tomorrow morning I am leaving for Naples, Fla., where I'll be shooting a conference for minority women executives. Today my to-do list read something like this: move car (in Williamsburg, you have to alternate sides of the street to avoid being ticketed), write diary, get Josh out of bed (surprisingly difficult: He generally asks me to call his work—his own company—to tell them he's sick), file diary, check e-mail and general condition of studio, scout location for next week's Web-site shoot, get manicure/pedicure, take laundry to laundromat, buy film for Florida, pick up lens (a rental), go to drugstore for last-minute items, meet Josh at Lincoln Center for ballet, pack, and write today's diary. Unbelievably, I've actually accomplished almost everything on the list. But I am exhausted.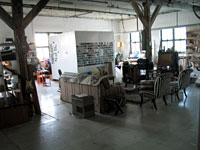 My photography studio is a huge loft in Greenpoint, which is the neighborhood just north of Williamsburg, the area in Brooklyn where I live. I've hardly been there at all this week and I miss it. At the moment I am working on several SX-70 Polaroid grids, and every time I stop in and don't have time to play with them, like today, I feel a little sad. The same goes for the musical part of my life. I have a little studio (rudimentary, but it works) in my Greenpoint loft that I've also neglected. Luckily I'm playing a live show soon (on June 10 at Pete's Candy Store in Williamsburg), or I wouldn't have set aside any time at all to play guitar the past few weeks. These days, I play solo under the name The New Black (because you never know, I may once again become a band someday).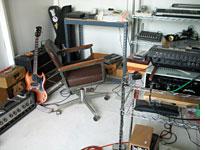 I always have a hard time describing my music. I sing, play the guitar, and usually sample some kind of elemental beat and toy-keyboard sounds. It's fairly punk, in the original, unpolished sense; but it's also full of pretty melodies and it's got a bit of a groove. For the sake of comparison, I would say my music is a mix of the Young Marble Giants, Joy Division, and maybe Goldfrapp without the strings. Yet even that's not quite right. I tell myself that it's better to make music that defies definition and hope desperately that I'm right. But I would be dishonest if I didn't admit that I try to imagine who might be the audience for my songs: Are they black or white? Are they teenagers? What posters do they have up in their rooms? I photographed a girl in Brooklyn for Teen Vogue who had a well-worn issue of Adbusters on her floor. … I secretly hoped she would be one of my fans. This summer I'll (finally!) start recording an album of my own. I'd like a good portion of it to be as-yet unwritten material, which means I'll have to remember to take a keyboard with me to Florida. For some reason I do really well writing music in hotel rooms. This trip could be the breakthrough I've been waiting for.
The rest of my day was hectic as usual. The weather was sunny and beautiful, so the fact that I am my own messenger service (as well as bookkeeper, rep, roadie, and cleaning lady) was easier to bear. My manicure and pedicure made me feel like a lady, and they seemed necessary before spending five days with a bunch of high-level businesswomen. I had pizza on the street for lunch (thank God for New York City pizza), and got home just in time to change clothes and rush up to Lincoln Center for what I thought was going to be the ballet, but instead turned out to be an evening of Greek song and poetry (and one short ballet) in honor of the 2004 Athens Olympics. Josh became obsessed with one line from a song where the singer refers to himself as a shimmering light and his love as a little pomegranate. He has now taken to calling me his little pomegranate, which I would normally hate, but I have an enormously high level of tolerance for him—especially because he does things like cook a delicious dinner when we get home and try to stay awake while I finish writing. I'd take a picture of him asleep on the couch right now, but he might divorce me, so you'll all just have to use your imagination. Soon, I too will be blissfully asleep, though not for long. I have to get up at some ungodly hour to go to the studio and finish a few things before my 10:30 a.m. flight. Being rested is overrated anyway, right?
---