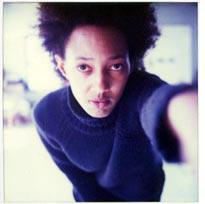 First off, a bit more background. Here's a picture of myself I took recently. Now you all know what I look like.
 Yesterday afternoon I went to the International Contemporary Furniture Fair at the Jacob Javits Center to spend a day posing as a design representative for my friend Adam Simha's small furniture company (MKS Design, in Cambridge, Mass.). Adam decided to have a booth at the fair this year, and, since you can really do something like that alone, he wisely lined up his New York-based friends to spend each of the four days with him, to help him answer questions, take orders, etc. I had a great time fantasizing about the furniture I'd like to buy and talking to all sorts of designers, architects, and (most important) press people about what a genius my friend is and how their lives won't be complete without buying or writing about his stuff. It's amazing how easy it is to sell things that are not your own. It probably took me two years to work up the nerve to propose the portraiture project to the Northeasteners (see yesterday's entry), while I had no problem talking to editors of large Italian design magazines about the brilliance of Adam's stainless steel chairs. All in all a successful day. (The food at the Javits Center being a minor exception—I tasted what I think may have been the worst scone ever created. Adam couldn't even swallow the bite he took; he had to run to the garbage can in the corner to spit it out.)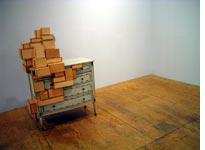 The fair ended around 5:30, and then I went back to Williamsburg, picked up my car (a Honda, graciously donated by my mother-in-law after the passing of the shark), and drove over to the Roebling Hall Gallery where my friend Courtney Smith was having a little closing party for an exhibit of her sculptures. (In line with what seems to be my theme for today, Courtney's current work is composed of altered pieces of furniture.) A group of us sat around a table, drank wine, and talked about art. My friend and Courtney's studio mate, Ellen Harvey—who refused to let me take her picture because of a bad haircut she had just given herself—is about to make a mosaic for the Queens Plaza subway station, and always has some great project idea up her sleeve. It is really an inspiration to spend time with these people, to watch how their work has grown and become recognized, to feel part of a vibrant community of creative and supportive people.
When I think about it, this is the point of almost everything I do. My obsessive list-making, whether it's a to-do list or, say, a photographic list of the attendees of the Saturday night dance in Pittsburgh, is an attempt to create some order in this chaotic world and to find my own place within it. The Northeasteners are actually doing a similar thing. In the 1920s, here was a bunch of educated African-American women, many of whom were professionals with stable economic lives, in a world that barely acknowledged their existence. So they created a network of friends, a symbolic place where they could feel comfortable being exactly who they were. Not altogether different from the group of artists sitting around the table drinking wine in Brooklyn (albeit quite a bit more organized).
One reason I think the Northeasteners are so happy that I've taken an interest in documenting their gatherings is that their relevance is constantly being challenged by younger generations. The world is a different place now; schools and lives are integrated, middle- and upper-middle-class blacks are a known commodity. (I mean, we have The Cosby Show, right?) So the question naturally arises: Do we really need these groups and networks, or are they just holding us back? I myself have no definite answers. I am a self-employed artist and spend the majority of my time worrying about paying the rent, maybe a moment here and there thinking about a family of my own, now that I'm married. When would I have time to belong to a group like the Northeasteners? And yet over the past weekend, when I spent time with these women, some of whom I've known all of my life and some of whom I only just met, I felt that sense of community I am always searching for. By photographing these people, my extended family of sorts, I am staking a place for myself within that community—but on my own terms. I will be interested to see how my feelings change as I continue this project.
---