Last week, I read a story on the Internet about a bride in India who insisted on walking down the aisle despite the fact that she had SARS. As a result, all the guests at her wedding were forced into quarantine. Now, that's what I'd call a bridezilla.
My fiance Josh and I are supposed to be getting married in the United States in three months. The "Save the Dates" cards have all gone out. The site has been booked. We've put a deposit down on a tasty lemon mousse cake. The invitations are being printed. But now we wonder, will anyone show up?  What if we're the next headline: "D.C. Wedding Becomes SARS Nightmare; Reckless Couple Infects 150." Maybe we should just pass out face masks as wedding favors.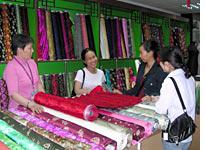 This afternoon, I took my friends Xia Yan, Mona, and Emma to look at qipaos, the bright red, figure-hugging silk dresses that most Chinese brides wear on their wedding day. In the hope of bringing a few Chinese touches to our American wedding, I'm planning to attempt to squeeze into one at the rehearsal dinner.
The qipao tailors are located in the Ya Xiu Clothing Market, a massive downtown building that houses thousands of independent merchants. Crowded and bustling, Ya Xiu has the feel of an indoor bazaar. Aisles and aisles of makeshift stands hold racks of designer knockoffs; each aisle is accompanied by a hawker bent on convincing you that the Timberland fleece you're holding is indeed genuine even if the "a" and the "n" have been transposed on the label. If you're not daunted by the din of haggling merchants and shoppers, or by occasionally doing a little haggling yourself, you can get some really good deals here.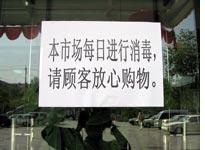 Today, a sign at the front door of the market read: "This market is disinfected every day. Customers, please relax while you shop." A third of the stands stood abandoned, wrapped up in bed sheets. "That guy hasn't shown up in more than a week," a neighboring merchant informed us, pointing to one of Xia Yan's favorite stands. Yet given the circumstances, customer turnout was surprisingly respectable. A steady trickle of customers flowed through the aisles. Occasionally someone stopped to look up and watch Wang Qishan, Beijing's new acting mayor, admitting at a televised press conference that the city had run out of hospital beds.
All was quiet on the third floor, where the qipao tailors, with their bolts and bolts of silk and brocade, are located. "The only people who shop here anymore are the foreigners that come to buy last-minute souvenirs before they go home," one tailor said. "Real Beijingers don't come out anymore."
It was a good thing we had no trouble getting some help trying on the qipaos. I was ill-prepared for the vast array of choices available to me. Red embroidered bats on silk, or silk decorated with gold phoenixes and dragons? (Red bats are for good luck; phoenixes represent the empress; the dragon, the emperor.) Buttons down the side or down the middle? Usually, people in Beijing assume that I am native-born Chinese, but there was no mistaking that I'd been raised on pepperoni pizzas, Big Macs, and french fries as I failed to squeeze myself into the sample models of the qipaos. And that wasn't the only harsh reality that intruded on my qipao reverie. A woman's voice came over the loudspeaker: "What is SARS? SARS is a contagious lung disease …" I decided I wasn't yet ready to commit to a wedding qipao.
On my way home, the radio in the cab was tuned to station for cabbies: "Will the driver who took a man on April 28 from West Third Ring Road to Panjiayuan please monitor your health and quarantine yourself. Your passenger had SARS. … Will the driver who took a man from …"
I'm writing this entry from a hotel room in downtown Beijing, where, for the past week, my fiance has been holed up in a semiquarantine. Last Monday, he took a flight from Guangzhou to Beijing. Two days later, the Beijing CDC called to say that there had been a suspected case of SARS on that flight and suggested that he quarantine himself for two weeks. Most probably because he's a foreigner, no one showed up to corral Josh into an isolation center, or wrap yellow crime scene tape on our door. But he's checked himself into a hotel nevertheless, just to avoid trouble. (His Chinese colleague who took the same flight wasn't so lucky: Authorities ordered him not to go out for two weeks, quarantined his family, then promptly—and wrongly—notified his neighbors that he was infected with SARS!)
We're not too worried; Josh wore a face mask for the entire flight, and he sat up in the second floor "bubble" of the 747 with only three other business-class passengers. He's also as healthy as ever.
Like most in the city, the vast marble lobby of our hotel is virtually empty, save for dozens of idle staff. The librarylike silence is broken only at night, when the hotel bar's Filipino band starts harmonizing Billy Joel's "The Longest Time" to an audience of empty sofas and chairs. Maybe tonight we'll give them some company.
---