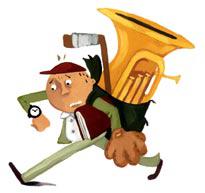 Over dinner recently my ninth-grader revealed with a groan that his math teacher, who has the kids meditate before quizzes, had shared some tension-management wisdom from Sean Covey's 7 Habits of Highly Effective Teens with the class. "Well," my sixth-grader said, "in homeroom we read an article from People called 'Learning to Chill,' and it was all about having 'family time.' " My husband and I looked at each other: Had we somehow failed to note that it was "Stress Awareness" week in America?
For two decades, concern about the "hurried child"—the title of a best seller in 1981 by the psychologist David Elkind—has run high in America, especially among those parents and experts who are anything but laid-back. But the crisis of the "over-programmed" child, hustled from one organized activity to the next, has taken a new turn: Grown-ups are no longer talking just among themselves about the problem. America's booked-up kids now get their own lessons in how to cope with the crisis. Teachers, experts, and parents are busily enlisting youths in a self-conscious, adult-supervised quest for relief from their hyper-scheduled childhood. "Ready, Set, Relax!" is the motto for "stress-busters" of all ages, thanks to a growing consensus that families have no time to waste in learning to slow down and bond.
In fact, alarm about precociously pressured children dates back almost a century. In 1914, in one of her many contributions to parenting wisdom, the popular novelist Dorothy Canfield Fisher lamented a dizzying round of music lessons, drawing courses, museum excursions, dancing classes, and foreign-language tutorials. American parents, she wrote in Mothers and Children, were fast succumbing to an ethos of "intensive, organized instruction." Tempted at every turn to "put a constricting pressure upon the children to use even the chinks and fragments of their time to acquire accomplishments which seem to us profitable," adults were robbing kids of "blessed spontaneity." Why, there were even mothers, she presciently noted, who hired "expert 'play-leaders' " to teach their young "how to play"!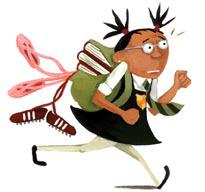 But her idea of a remedy, needless to say, was rather different from today's proposed reforms. Fisher was convinced that what kids needed was time to "draw a few breaths of their very own"—by which she did not mean deep and relaxing ones in math class (or yoga, now taught in some stress-averse San Francisco schools), or during a forced family Monopoly game. She had in mind children "yelling like Indians … and … playing and playing and playing with each other, exhibiting an energy almost alarming to witness"—which is decidedly not the animating vision of the family-that-chills-together-is-fulfilled-together movement that has taken off since 9/11. Not that the new crusade is low-energy, by any means. On the contrary, the adults are exhibiting an intensity that is apt to strike children—to judge by my own kids' reactions—as almost alarming (if also somewhat amusing) to witness.
Where did the latest version of the campaign get its impetus? The contemporary call to say "no" to stress and "yes" to togetherness gathered force amid post-Columbine alarm and Y2K dread. In bookstores, a surge of worry about harried parenting inspired adult titles like The Over-Scheduled Child: Avoiding the Hyper-Parenting Trap and Putting Family First: Successful Strategies for Reclaiming Family Life in a Hurry-Up World. The message was mirrored in the kids' corner, where The Berenstain Bears and Too Much Pressure has been the "anti-stress" classic since 1992. Trickle-down how-to-ism ranged from Getting Out of a Stress Mess! A Guide for Kids, a book in the "elf-help" series aimed at the baby-preschool audience, to Don't Sweat the Small Stuff for Teens: Simple Ways To Keep Your Cool in Stressful Times.
But full-blown symptoms of what you might call post-traumatic anti-stress syndrome didn't emerge until the aftermath of 9/11. The Girl Scouts inaugurated a "stress less" badge, which has a hammock embroidered on it, and got preteen troops busy making "stress kits." (Sample contents: Silly Putty, an origami bird, fond notes from friends, colorful nail polish.) Home-style lessons in the virtues of scaling back were flourishing: Slowly, Slowly, Slowly, Said the Sloth, a new picture book by President Bush's favorite children's author, Eric Carle, hit the best-seller list. Meanwhile, experts were thinking on a bigger scale and embarking on public advocacy for more family downtime. Parenting advisers emerged as community organizers eager to promote a national campaign.
In Wyzata, Minn., William Doherty, a family therapist and the co-author of Putting Family First,had helped to lead the way at the turn of the millennium by rallying local schools, sports teams, parents, and kids to clear their extracurricular calendars. (Leaders awarded seals of approval for un-pushy, family-friendly policies.) A Web site, familylife1st.org, sprang up to spread the word and guide families in discovering cozier activities of their own. Alvin Rosenfeld, a psychiatrist and the co-author of The Over-Scheduled Child, followed with not just one, but two sites of his own, nationalfamilynight.org and familynightamonth.org. The goal: to help organize "politicians, civic, educational, business, and entertainment leaders" to bolster families' efforts to "spend time together without the intrusion of organized activities or excessive homework." With much hoopla, a citizen committee in Ridgewood, N.J., enlisted coaches, teachers, and others in a town family-night in April 2002, which made headlines everywhere ("Ridgewood Touches a Nerve," New York Times, April 28, 2002). A neighboring town, Bergenfield, not to be outdone, got everyone to agree to set aside an entire week of family evenings.
The ironies of the enterprise are obvious. The quest for "blessed spontaneity" has been anything but spontaneous. Kids are more, not less, focused on stress. And for a crusade rooted in regret that "parenting has become the most competitive sport in America," a favorite refrain of Rosenfeld's, the approach is hardly mellow. All the community fuss appeals to parents' desire to be sure they're slowing-down-with-the-Joneses—and that it's actually the get-ahead thing to do. "This is how to raise children who will succeed in life!" Rosenfeld assures those who worry that in putting aside their daily planners they risk looking like slackers willing to jeopardize their kids' futures. Apparently "Babies need downtime"—a headline in the March issue of Parenting—for the same reason once used to emphasize the importance of stimulation: not just to suck their toes, but to hone their synapses and focus their energy. For older kids, smelling the roses and taking family rambles are billed as character-building exercises. The message? This chilling is not for slouches. And believe me, your kids are likely to be grouchy about it.
But I think it may be missing the point to make the by now familiar complaint that we and our children have forgotten how to play and are turning fun into work as we try to remember. Perhaps we're up against a different problem. What we've taken to moaning about as high-stress work—all that chauffeuring and micro-managing for parents; all that structured competition and supervised accomplishment for kids—actually supplies us, and them, with a kind of prepackaged entertainment and passive recreation that, secretly, we crave. The relentless routine makes us look driven but actually spares us—and our kids—the effort of being self-directed. It's bound to take work to break the habit.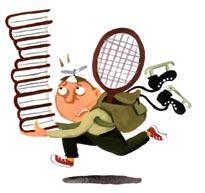 The truth is that kids do not obviously suffer from a dearth of downtime and an excess of academic demands, to judge by various studies that have tried to measure how they actually spend their days. Yes, students devote 50 percent more time to homework than they did two decades ago—but among 9- to 12-year-olds, the grand daily average is 40 minutes on weekdays, 11 minutes on the weekend (though such studies plainly obscure wide variations). The same survey found that kids' weeks, supposedly crammed, include an average of 12 hours of television; according to Nielson Media Research, the average is even higher, almost three hours a day. Plus, today's kids enjoy five more hours a week of computer and video time than children did a decade ago.
There surely are kids, and parents, who need to be dragged away from their fast-paced pastimes, but it needn't take labor-intensive community organizing to carve out a family interlude. The best advice the stress-busters offer is a cliché by now: Slow down and get adults and kids to sit down for a meal at the same time. But don't believe the family-that-dines-together-shines-together promise. Be forewarned there's likely to be plenty of whining together, too. You should have heard my son at dinner when his sister, citing People, actually proposed a midweek, post-prandial game of Life. But what better stress-busting gambit than America's most boring family board game, turn after turn of getting and spending?
---