Friday is the day of rest in most Islamic states. Unfortunately, this does not include rest for the muezzin. This may be blasphemous, but I think the muezzin near our house is fresh out of training school. Unlike the sweet, holy melodies from the great mosques of the Middle East that draw you out of your sleep and inspire devotion, his voice quavers and wavers, perhaps suggesting a more querulous relationship with the divine. It's not my favorite way to wake up, but at least it's regular and it doesn't need electricity.
It being a holiday, I crawled in to work a little late (around 8:30) only to find that the computer that I am using was locked behind an iron grille. Since no one else was in yet, I sat around and stared for a while, perhaps hoping that someone would turn up and explain the grille, or even better unlock it. When this didn't happen I opted for breakfast.
The staple foodstuff here is naan—the Indian flat-baked bread. The words for breakfast, lunch, and dinner translate as "morning naan," "afternoon naan," and "evening naan." Now, while fresh naan is great, after you eat it for every meal the allure fades. An office-mate of ours, who shall forever be hallowed, discovered that Nutella was being imported and invented "naan au chocolat," one of the rare and wonderful delights of Kabul.
After breakfast some friends summoned me for shopping. We're uncertain if we're allowed in the bazaar because of the grenade incidents with the American soldiers a month back, and tensions are running high because of some rumors flying around of assassination attempts. (Most of our Internet connections have been down for the last few days, and so our flaky awareness of events is worse than normal. Afghanistan has also vanished from the major media map, so you really have to dig for information.)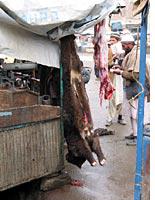 I love the bazaar. It's easy to get depressed as we sit in our offices reading worst-case scenarios and/or the media coverage of how the United Nations and the "International Community" have failed Afghanistan completely. The bazaar is a riot of people and colors; the shops are selling everything, from fridges and DVD players to carpets and curtains, and everywhere there's the hustle and bustle of business. These may be everyday goods for the rest of the world, but they are a sign of normality here and great to see. The only sight that I'm less keen about, as a vegetarian, is the freshly slaughtered cows and sheep, dripping from great big hooks.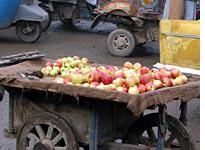 My two favorite portions of the bazaar are the fruit stalls and the children. The fruits here are amazingly fresh (they would probably be sold as "organic" in the States at a huge premium) and tasty. Perhaps more important to me, the colors are strikingly vivid against the backdrop of mud, mud, and mud.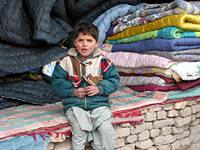 Since the international community arrived, more than a few shopkeepers have realized that we're all soft. As a result, a large number of the stalls are manned by small, cute children, who are far sharper than we are and make us overpay horrendously for everything we buy. We try to persuade ourselves that we're getting good deals when we haggle—and we do try to bargain on everything as a matter of pride—but there's no question that the kids are taking us for a ride.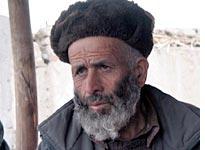 The young gentleman pictured, by the name of Abdullah, managed to persuade me that $20 was a fair price to pay for a blanket. When we went a little farther down and spoke to a charming old man, who invited us in for tea and cakes, he inspected our blankets and offered us more of the same for $6 apiece. This photo was snapped by a friend, it and captured the man's attempt to conceal his horror and disbelief at the price we paid.
It's been a fairly quiet first week. There is a definite period of readjustment—a colleague calls the recent returnees "Puddleglums," which seems appropriate. It's particularly hard on the people who have young children at home, all of whom get regular sniffly phone calls that begin with "Daad, when are you coming back?" and that end much the same. I don't have kids to call, but I've come to realize that while e-mail keeps you in touch, it also lets you know exactly what (and who) you're missing.
That said, it is good to be back, and I'm excited about the next few months. I have become very wary of the claim that development jobs have any inherent moral benefit—they're jobs like any other, where satisfaction comes from completing your tasks. All in all, though, it is a lot of fun and a real privilege to be here. Sometimes it's a little far from home, sometimes a bit dramatic and occasionally simply strange—after all, how often do you get to watch men on horseback fight over a calf-carcass and find yourself cheering them on?
---