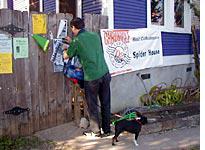 I've been putting up posters around Austin for this show I'm doing on Friday night. My quote-unquote business partner and I split the city in half. Ben took south Austin and Sixth Street from Red River to Lamar while I agreed to cover the University of Texas "drag" on Guadalupe and any coffeehouse, bar, food co-op, video store, or vintage shop north of there.
Postering is a lonely, competitive business. The poster for my event is pretty big, so I found myself scrambling for space. Most often, I had to take down the poster for the opera Dead Man Walking, which occupied substantial wall space and closed on Saturday. On the U of T campus, I removed several flyers for a pro-life rally that won't happen until Jan. 23, because I disagreed with the cause, and several more for an International Socialist Organization "teach-in" on Iraq, because I disagreed with the aesthetics.
Mostly, I had fun. The woman behind the counter at Legs Diamond, a hipster clothing emporium, was so cute that I could barely talk to her. "What's your event?" she asked, like a normal person. "Uh, buh, buh," I responded, like a not-so-normal person. A woman at another hipster clothing emporium was slightly less cute, but she offered to smoke me up. The record-store employees were either really friendly or really big snobs. The video-store people were cool to a one. Everywhere I went, I ran into posters for "John Pointer," who is apparently playing a solo show at 8 p.m. this Wednesday at the Saxon Pub on South Lamar. John Pointer was always half a block ahead of me, and he seemed to have a knack for grabbing the last available inch of wall space.
Finally, I ran into John Pointer at an eco-friendly laundromat on the north end of the drag.
"Man," I said. "You've got a lot of posters."
"I'm a postering machine," he said.
Opening anecdote out of the way, I can now explain myself. I was postering for "Bookhouse Rock," a party to celebrate the publication of Beneath the Axis of Evil: One Man's Journey Into the Horrors of War, a short book of political satire that I'm putting out through a very small-scale house in Austin.
When I say house, I mean the book is literally being mailed from the publishers' house, which is pretty small-scale but it does have a hot tub. The company, such as it stands, is called So New Media, and it's made up of two men: Ben Brown, a 25-year-old dot.com casualty who wants to be a novelist, and James Stegall, a U.S. Army officer who's currently based in Germany. So basically, Ben is it right now, and he's committed to publishing his favorite Internet writers in book form, even if those books are only 28 pages long, or in my case, 64 pages. And we both have this idea that book publishing should be more "punk rock." We're starting to throw these parties to show what we mean.
The "Bookhouse Rock" party this Friday night is at the Escapist on South First Street, a place that bills itself as a "bookstore and art gallery" but also sells vintage clothing. The store is small, but they have a large parking lot that's always empty because an old hippie owns the land. He lives in a trailer out back but is never home. We're having a band called the Yuppie Pricks play. Their gimmick: Wear tennis outfits circa 1982 and act like obnoxious rich preppies. There will be readers. And my band, the Neal Pollack Invasion, will also perform. You'll be hearing way too much about my band as the week progresses.
If I do say so, it's authentically punk to publish a small book on a shoestring budget, to organize parties to promote your work, and to try and create a community around shared interests: reading, writing, punk rock, and getting drunk. Writing about our activities in Slate may diminish my punk credentials somewhat, but maybe not. Microsoft is so punk rock.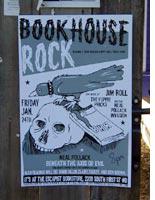 One last word on the posters. Ben spent $100 from the So New Media kitty to hire a really good poster artist. The artist, according to Ben, gave $20 to a "homeless guy" and asked him for a scary illustration. The homeless guy drew a teacup, a fork, and a banana. "Not scary enough," the artist said. So then came the illustration we actually used, which deploys a skull, a crow, and a book, to sufficiently scary effect.
I actually liked the first illustration. Well, next time. In Austin, there's always opportunity to exploit outsider artists.
Tomorrow: The Neal Pollack Invasion needs a drummer.
---