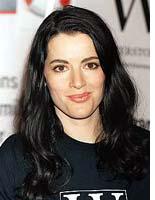 With a vocabulary well beyond "bam!" sleek clothes on her voluptuous body, and an air of merry chaos in her studio kitchen, British food writer Nigella Lawson made a great splash when her TV cooking show first aired in the United States on the E! Style network last year.
Now she is trying to bridge the tricky gap between TV food "personality" and the food intelligentsia. In addition to publishing a hasty-seeming book, Nigella Bites—whose title and cover photo straddle the line between porn and food—Lawson has been writing a regular column for the ritzy New York Times food section since September.
Despite her tremendous output in the past few years, Lawson girds herself against criticism by feigning amateurism. She reminds us frequently that she is not a chef, and she is neither a technician like Julia Child or Madeleine Kamman, nor an anthropological food writer, obsessed with authentically reproducing regional cuisines. Instead she is a stylist, reframing the received ideas of the kitchen in her own image. Her two pre-television books, How To Eat and How To Be a Domestic Goddess, established her benevolently bossy tone. Her food, like her long, loose hair, falls in artful tangles. In her book, sober traditional cooking verbs are replaced with Nigellan panache: "fizzle," "blitz," and "winkling."
She's drained the title of Domestic Goddess of the snarling Rosanne sarcasm it once conveyed and cast herself, not without irony, as the consummate post-post-modern homemaker. "As far as I'm concerned, home cooking is the cooking that really matters, and for the home cook nothing is better than just having to deal with the ingredients you have on hand." she wrote in one Times column. What she provides her viewers and readers is a sense of the infinitely riffable kitchen (provided of course, you stock demerara sugar and nam pla in your pantry).
Lawson goads her readers to be as spontaneous as she—a tall order, indeed. In Nigella Bites, she tells readers. "Don't agonize over the chicken cut"; "Don't start getting out the geometry set, this is the roughest of instructions"; and, in the body of a recipe for warm lamb salad, "Don't let the food, the kitchen or the imagined expectations of other people bully you." When recipes are finished she'll often add, "Now, was that hard?" or the like.
Lawson's hang-loose ethos works for a TV audience, who watch to get general ideas. But it undermines her effort to be taken seriously as an author and recipe writer. She's so free-spirited that she doesn't give her readers the orders they need. In her books (less so in the Times columns), Lawson offers so many options for her recipes—"these are suggestions only, not inflexible commands"—that one gets the idea she is not entirely sold on them herself. In my experience, nervous cooks (like little children) do better with a little less freedom and a little more guidance. Once they feel comfortable with a kind of cooking, then the improvisation can begin.
Too often, Lawson's English charm masks lazy, banal thinking and her effervescent Times columns boil down to food clichés: Tuscan food is amazing in its simplicity; British food gets a bad rap but boasts some comforting classics; and Thanksgiving means great leftover dishes.
Of course, my complaints probably put me in the ranks of food snobs, whom she lumps together with evangelical vegetarians and low-fat zealots in her stable of straw horses. When she writes about the shrinking availability of classic, home-style French food, she blames it on food moralists. She writes, "A recipe stipulates a quarter of a cup of heavy cream and every non-Français has a fainting fit. But this recipe may make enough to feed eight—and really, how much harm could a couple of teaspoonfuls of cream do?" Her Atkins-dieting New York audience, however, has been mainlining cream at dozens of stylish French bistros in Manhattan.
Like a matron holding back an ingredient when passing on a family recipe, Lawson writes recipes that have an incomplete quality. I tested several of them, focusing on the Times columns and the new book. Nothing exactly failed, but cooked without Lawson's own good judgment (or my own, for that matter), many came out flat. One bright exception was a Vietnamese-style turkey salad from the Thanksgiving leftovers column—it is indeed "a tangled amalgam of more-ishness," whatever that means. I'm not sure why, though, she included a second Westernized-Asian turkey salad in that same column, again featuring the distinctive flavors of chilis, cilantro, sesame oil, and scallions.
Her Blakean Fish Pie comes from her column on the joys of British food (and, it turns out, from her first book, How To Eat). It is essentially a potato-crusted shepherd's pie made with fish and bound with a saffron sauce. (The yellow sauce reminds her, we are told, of William Blake's illustrations, thus the gimmicky name.) The sauce was salted but the fish weren't, and their flavor disappeared amidst the over-buttered potatoes.
The Chocolate Cloud seemed like a perfectly simple recipe: a fallen soufflé cake, "the fallen center then cloudily filled with softly whipped cream and then sprinkled with cocoa powder." Despite using good chocolate, the cake fell just short of unctuous. And a small detail undid it all for me: Lawson had readers line the bottom of the pan with parchment, but not line or grease the sides. I had trouble getting the cake out without taking a chunk out of its side.
I know it is troublesome to write boring instructions about greasing pans or seasoning fish, but recipes are read very literally. Television isn't supposed to convey every last detail, and Lawson shines there. But recipes should be written for novices. Winkling and fizzling are not substitutes for a reminder to grease the pan. As it syndicates her column, the Times is clearly pushing her actual recipes into more classic recipe prose, but it's clear that overseas, where Lawson's latest TV show is already airing, she is still straining to show off her metaphorical panache, not necessarily to instruct. Below are the directions for a recipe for roasted figs, taken from the Forever Summer Web site.
Quarter the figs, taking care not to cut all the way through to the bottom, so that they open like flowers, or young birds squawking to be fed worms by their mummy, and sit them, thus opened, in a heatproof dish into which they fit snugly. Melt the butter in a small saucepan, then add the cinnamon, sugar and flower waters. Stir to combine and pour into the figs. Blister under the hot grill or bake in the oven for a few minutes and then serve; it's that quick. Just give each person a couple of figs on a side-plate. Splodge alongside some mascarpone over which you drizzle some of the conker-dark syrup, then sprinkle over some of those green, green shards of pistacchio [sic].
Seventy years ago, Joy of Cooking set out, like Lawson, to "lift everyday cooking out of the commonplace." Where is plainspoken Irma Rombauer when you need her?
---