9:15 a.m. Ah, that fresh lemony smell of cleanser! That means the cleaning crew has been here. Like the dental insurance, this is one of our recent little triumphs. During the bankruptcy period, we canceled our cleaning service and did the work ourselves.
Staff is getting annoyed at me for going into excessive detail during press interviews about our cleanliness strategies. Not dignified, they say. I like the symbolism of it, the willingness to sacrifice for the cause, etc. Still, from now on I'll try to say we were "tidying up" instead of "scrubbing toilets."
9:30 a.m. Talked to a fellow who wants to package Beliefnet-branded trips to spiritual places like Spain, Italy, and Bhutan with some of our regular writers acting as guides. New revenue stream?
10:15 a.m. Daily editorial meeting. What's our take on the court ruling against the Alabama judge who put the Ten Commandments up in his courtroom? We didn't want to just rehash the pros and cons of the decision. What about a Hindu or someone else not "of The Book" writing in defense of the judge? Didn't Gregg Easterbrook write something for us a couple of years back arguing that all the controversy would be gone if we hung Six Commandments?
Martha Ainsworth, the community producer, says there's a group on our message boards arguing that the Ten Commandments apply only to Jews. "So everyone else could have been coveting all these years," she adds.
Now that we're out of bankruptcy we're going to restore some of our columnists to more regular schedule. Ah, but which ones? Spong? Gary Bauer? Starhawk? T.D. Jakes?
We're thinking we should start our own blog (we used to print someone else's) on religion in the news. Dilemma is that blogs work best when the writer has an attitude, and we scrupulously avoid Beliefnet taking corporate positions on the hot-button religious issues.
11 a.m. Sujay Jhaveri, our president, reports that our best-performing ad is for chocolate-covered soy nuts. Perhaps as a result, the weight-loss ads are doing well, too. He's therefore hopeful about being in the black in November. We were cash-flow positive in October, too, after a mere 33 months of consecutive losses. Why is it working now? And why didn't it work before?
Most of the dot-coms, it should be remembered, were designed not to make money but to capture market share. Then, the theory went, after vanquishing the competition, the company could consolidate gains and watch revenues soar. About a year ago, sentiment among investors shifted and companies were suddenly expected to be profitable right away. But most companies set up to achieve one goal (capturing market share) could not change their nature overnight to achieve another goal (profitability).
At first, everyone thought advertising was the way to "monetize" Web sites. That eventually fell out of fashion and e-commerce became the "in" business model. Beliefnet tried that, too, but sensed that commerce might not be our forte when we found Chinese pornographic videos popping up when you clicked on "Buddhism" in the first draft of our outsourced "religious products" store.
After the dot-com crash, many financial pundits concluded that nothing worked on the Web. But people have overlearned the lessons. It's not that "advertising can't work." It's just that advertising that generates $200,000 a month in revenue can't sustain a company spending $1 million a month.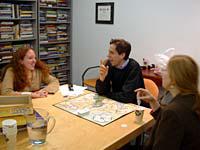 5 p.m. Staff gathered in conference room to play board games. Part of our regular effort to rate religiously or spiritually oriented board games and products.
"I was almost there!" cries one staffer playing an Islamic game. "I was almost in paradise!" A game about angels called Hierarchy has questions that seem either obscure or, well, surprising: "Can angels take the form of plants?" (Yes, apparently.) The Zeus and Hera game is hopelessly complicated, perhaps a window into why Greek gods no longer have much of a following. I spent most of my time playing the Exodus game, which was actually quite good. I learned some interesting things, like the fact that Moses wasn't actually mentioned in the Haggada. But I made a strategic blunder by not using my all-powerful Horseradish Card when I had the chance.
---