Today my wife inspected my teeth. She identified many "issues needing to be addressed." This is a milestone of sorts since it is only recently that Beliefnet has gotten its dental insurance restored. The business school journals rarely discuss the impact of bankruptcy on flossing protocols, but believe me, it's one of the major hidden costs.
We are feeling good these days—thinking maybe we can afford fancy wallpaper in one room at least—because the company I co-founded, Beliefnet, has recently become un-bankrupt. This was an amazing turn of events, not only because of the dental hygiene implications but because along the way we seemed to violate many aspects of conventional wisdom about Internet businesses. (We are, after all, a content-oriented, advertising-dependent, religious dot-com, not exactly the type of business that's supposed to succeed these days.)
Beliefnet is the leading multifaith religion and spirituality Web site. The short history of the company is … we boomed, we busted, and then, unlike almost every other dot-com in our situation, we got back on our feet and have actually begun to thrive. I was interviewed by a USA Today reporter a couple of weeks ago about it, and it was very hard for me to avoid religious metaphors. But since we're a multifaith site, I said I really wasn't sure whether this was a resurrection or a reincarnation or just good fortune (hey, we have some atheist readers, too).
The site launched Dec. 28, 1999, just in time for the turn of the millennium. We wanted to go live by then in case there was an apocalypse, figuring that would be an interesting religion story. We got $5 million dollars from venture capitalists, who told us, "Don't worry about revenue for the first year." We carefully followed their advice. We just created a nice site, recruited plum religion and spirituality writers like Jack Miles, Karen Armstrong, Bishop Spong, and Rabbi Michael Lerner, and built a humongous audience. People often ask where all that money went and in large part the answer is: building audience. We have 1 million people visit the site each month, 4 million subscribers to our e-mail newsletters, and send out 170 million e-mail newsletters per month. (Note to self: Ask Nic if that 170 million number can possibly be true.)
In fact, the entire company was functioning brilliantly except for not generating revenue, which I'm told can be a problem for a business. Then, in the classic trajectory of so many Internet companies, our investors suddenly wanted profitable businesses and withdrew our funding.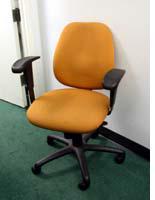 We faced a choice between two brands of bankruptcy, Chapter 7 or Chapter 11. Chapter 7 is when the company simply disappears. If you have hard assets, like a soda-bottling machine, you can sell that to generate cash for the creditors. Since most of our hard assets were hideous orange office chairs, we weren't expecting that Chapter 7 would deliver much for the creditors. Some of our investors wanted us to do Chapter 7 anyway, but in a dramatic board of directors meeting a "swing vote" board member voted with us to do Chapter 11 instead.
Chapter 11 is often called "reorganization." As we learned quickly, though, the point of it is less to reorganize than to get money for creditors. In fact, the whole bankruptcy process is an oddly democratic system to help creditors get something back. In our case, the creditors were folks like Kinko's, an Episcopal bishop, IBM, ATT, a rabbi, and various other people and companies we inadvertently stiffed. The fundamental process is: You submit your best offer ("We'll pay you X percent of what we owe you all"), explain to the court why you now believe you can run a business that won't be back in bankruptcy court in another few months, and if the majority of your creditors vote "yes" to your plan, you can "emerge" from bankruptcy. You have two elections, actually, one where every creditor no matter how big or small gets the same vote. And another, more like the House of Lords or the U.S. Senate, where the big-money creditors have disproportionate influence. There are electioneering rules on what you can say and to whom.
Anyway, on April 11 we went into Chapter 11. On Oct. 28 we officially got out of Chapter 11, not only alive but actually, weirdly, surprisingly, perversely, profitable, too. More on how that happened later.
Though we are officially out of Chapter 11 now, there's still much bankruptcy-related work. This week we actually get to write checks to the creditors, collect new investment money, and attempt to sell some of the orange chairs.
Most fun, though, is figuring out how to deal with people who were mean to us during bankruptcy but, now that we surprised them by sticking around, are again being nice—nice challenge for a religion and spirituality Web site—the daily dilemma of deciding between vengeance and forgiveness.
Oh, and we're planning a massive un-bankruptcy party for later this week. Probably BYOB.
---