Here's the other reason I've started really following the sales: Over the last three years, the auction houses have been marketing really contemporary work—sometimes made by people I've actually eaten dinner with—and that always makes me feel as though I'm witnessing history of some sort in the making. It's so weird to think that in the relatively short time I've been writing about art—only nine or so years—some artists whose first shows I happened to see, or whose studios I happened to visit before they'd even had shows, now actually have what is called a "market."
Artists, of course, rarely go to any kind of sale—it's too much like visiting the chop shop. They don't even like to go to art fairs, in fact (that's an event at which tens or hundreds of dealers display their wares together under a single roof). Once, though, I did witness a 1980s painter, who has since become a journalist, covering an auction at which one of his works went on the block. I felt very riled up, but he didn't seem to turn a hair.
But for most artists, the market is a horribly loaded issue. Of course you want your work to command a good price, so you can continue make more of it. And the more it's worth, the more collectors and institutions will want to buy it, and the more likely you will be to command a place in art history. But meanwhile, you have to keep churning out work that justifies the fuss, while still leaving yourself open to the risk and experimentation that it's really all about. It must take a rock-solid stomach.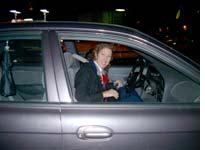 This is the kind of thing I was thinking about when one of my friends, the artist Marilla Palmer, came to pick me up to take me to Martinez, a new hot spot in Greenpoint (the next neighborhood over from Williamsburg). It is a gallery in the daytime and a club at night—and apparently it is becoming the place to go if you are in your 20s, which we emphatically are not. Marilla has a 5-year-old son at home, as well as a show coming up that's keeping her chained to her studio, and I had deadlines in the morning. As a result, we got there at an early-for-hipsterville 9 p.m. to find the place totally empty, except for Martinez and his son, and the bartender and DJ.
That's the irony, of course: Most of the artists whose presence helped turn this down-and-out neighborhood into the bohemian paradise it is today are now too weighed down with adult responsibility to partake of its supposedly authentic bohemian lifestyle. Still, Martinez does have real art-world roots: Apparently, he started organizing and showing graffiti artists way back in the early '70s, when he was in college and the form was still young.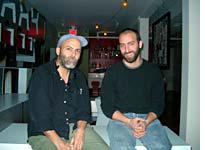 Though I know about this show that Marilla has coming up, to be honest, I don't really know much about her work. In fact, we have never talked much about art: When we first started running into each other at openings some years ago, we usually talked about contractors and real estate, because my former fiance and I were then buying and gut-renovating an apartment, and she and her husband were buying and gut-renovating a house. For a while after that, we talked about my breakup. Now, because we're in a reading group together, we usually talk about books.
Last night, though, maybe for the first time, we found ourselves talking about art. Marilla told me what work she had traded with other artists for and wanted to know what I'd collect if I could. She was also curious to know why I liked the sales, because the few auctions she's been to have really turned her stomach. (She was talking about the benefit auctions put on by nonprofit spaces, which are the absolute bottom of the auction feeding chain. Artists usually have no choice but to donate work, because being in one can help get you noticed. Also, there's a lot of social one-upmanship among collectors of emerging art. Sometimes, at these benefits, you actually see them getting into catfights over work by someone who's just starting to get hot.)
So we talked for a while about all the art world's ups and downs, and what makes it all so gripping. Marilla said she likes all the weird people it attracts. For me, it's also the constant friction between high and low, plus the intense human drama that surrounds these mute physical objects that we are all so nuts about.
---