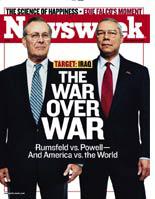 Although newsmagazines have traditionally covered what happened in the news last week, at Newsweek we try to run stories we think people will still be talking about next week. We put out a special issue commemorating the anniversary of Sept. 11 a week ago, moved on to the Iraq debate, and are now discussing how we'll cover upcoming stories like the midterm elections. So, when I arrived at the office yesterday, I was struck to see my inbox piled high with magazines and newspaper supplements on the 9/11 anniversary that had just come out. I leafed through them and found myself still moved by the unforgettable pictures, personal stories, and commentary. Did we go too early with our issue? I don't think so, but striking a balance between being "ahead of the curve" and "catching the moment" is one of the many challenges in my job, particularly in this increasingly crowded and competitive media environment. (Several years ago, for example, we were way out front with a smart early cover on new impotence drugs but failed to do a second cover when the Viagra craze hit—a mistake.) In this case, I realize that for all our worries about oversaturation, Sept. 11 is a story that still has enormous power. It also occurs to me that Wednesday will be a very emotional day for my staff, so we should try to get as much done today as possible.
After popping my head into the office of Jon Meacham, my managing editor, to find out what's come up in his daily "pre-meeting," I headed into our conference room down the hall for the Tuesday story conference. This is our biggest meeting of the week, where the editors in charge of our various departments pitch their stories and we decide what will run in that week's issue. (Depending on the news, that initial list can stay largely intact during the week or eventually get scrapped altogether.) About 30 editors and art directors sit around the long table, with me in the middle, and as many as a few dozen more writers and staffers from our Web site and foreign-language editions perch on the windowsills and stand in the doorway. Although we joke a lot at these meetings, there's no escaping that the fundamental dynamic is a bit like a Roman amphitheater, where I and our other top editors (called "Wallendas," after the high-wire act) give the verbal thumbs-up or thumbs-down. I've learned that even if I don't like stories, I have to make that clear gently, so as not to embarrass editors and discourage future good ideas. At the same time, I have to make sure that I don't inadvertently give everyone the impression that I dislike a really smart suggestion. On several occasions, I've found out later that a story I was very interested in got shelved because the word went out that "Mark looked out the window" while it was being pitched.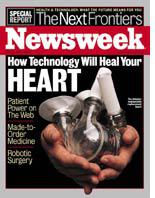 This week, the usual fierce competition for limited space in the magazine is even more intense because, barring a big breaking news story, we plan to devote a good part of the book to our latest report in a series called "The Next Frontiers," about how technology is changing health care, education, and the workplace. We're very proud of this series, which reflects our commitment to covering news that touches our readers' personal lives as well as the big political and international events of the day. (Last year, for example, a dying heart-disease patient named Robert Tools became the first human recipient of the new AbioCor artificial heart after his doctors read about the revolutionary device in one of our "Next Frontiers" issues.) But in the past we've photographed professional models for a number of these covers, and I haven't always been thrilled with the results. So after the story meeting, I called over our cover director, Bruce Ramsay, to find out what he had in the works. He assured me that we'll be taking pictures of real people in different parts of the country, that we've lined up top portrait photographers, and that he and our deputy director of photography, Simon Barnett, will personally fly out to supervise the shoots. I told him that I wanted to see Polaroids by Thursday morning, so we'll still have time to work up other covers if I'm not happy. (Of course, as is always the case at Newsweek, we are also reporting several potential news covers, and we have backup feature covers ready as well.)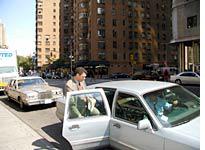 Over the lunch hour, I took a car across town to attend the monthly board meeting of the American Society of Magazine Editors, of which I'm currently the vice president. The members of the board edit very different magazines—from Family Circle, Glamour, and Bride's to Esquire, Texas Monthly, and Vibe—but we've all become friends. And in a tough economic time for the magazine industry, we also act as a kind of mutual support group in addition to our usual work of organizing the National Magazine Awards and workshops and internships for our members. Since our last meeting at the beginning of the summer, one board member's magazine has been sold (although luckily he's been kept on by the new owner). Another's parent company is in the midst of a very public struggle with a certain outspoken celebrity over her eponymous startup. But we spent the meeting not crying on each other's shoulders but brainstorming ideas for new research and events that will help underscore the incredible attraction and power that we all believe magazines have. After lunch, I had been invited to a movie screening—theoretically one of the nice perks of this job—but as usual I had too much work. I headed back to the office and stayed until about 7 p.m.—not bad for a Tuesday, although my hours will get progressively longer as the week goes on. As I headed home, I started to think about what I would say to the staff tomorrow about the year that has passed since that awful September morning a year ago.
---