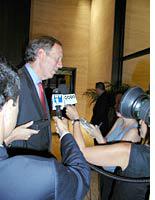 Since I have to work all day Saturday, Monday is still officially a day off for me. For years, I would take advantage of this to drop off and pick up my kids at school, do errands, and sneak off to public golf courses around New York City, where I played with everyone from playwrights to cops. But since I became editor four years ago, I have to be in touch with the office via cell phone and e-mail to make sure that cover projects are on track and to deal with the occasional personnel crisis (like when our foreign reporters get detained in police states). The media business being what it is today, Newsweek's head of public relations often calls to urge me to do television. I'm not the kind of journalist who will "walk a mile for a camera," and I've had to work hard to shed my natural shyness when I go on the tube. But for the sake of the magazine I will do quality talk shows like Hardball and Charlie Rose. And my wife, Alexis, and I sometimes get invited to dinner parties around Manhattan, where we invariably meet smart and interesting people and learn things that make their way into stories in the magazine.
Yesterday I had to get dressed up and go out not to be guest but a host—of a luncheon that Newsweek threw at the Four Seasons restaurant to remember Sept. 11. We're usually not big on these kinds of affairs and like the quality of the magazine to speak for itself. But we thought this was an appropriate occasion to show solidarity with our fellow New York businesses, thank some of our most influential sources and advertisers, and remember a story that inspired some of the most award-winning journalism Newsweek has ever done. We enlisted the help of Lally Weymouth, our intrepid interviewer of world leaders and one of the most well-connected people in New York. By the time she was done, Lally had filled the room with some of New York's top politicians (Gov. George Pataki and Rep. Charlie Rangel), businessmen (Michael Eisner, Ralph Lauren, Barry Diller, Doug Daft of Coca-Cola), media luminaries (Barbara Walters, Katie Couric, Brian Williams, Liz Smith), as well as Police Chief Ray Kelly, former NYFD Commissioner Thomas Von Essen, and the widows and relatives of several firefighters and victims who lost their lives at Ground Zero.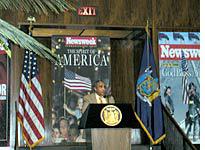 Of course, having assembled so many movers and shakers, we wanted to make sure that the event was substantive, tasteful, and didn't go on too long. With a lot of planning and a little bit of luck, we managed to pull it off. Gov. Pataki arrived right on time and gave a rousing tribute to New York's fighting spirit, echoed by Charlie Rangel in his inimitable rasp. After lunch, with Newsweek Chairman Rick Smith acting as master of ceremonies, Henry Kissinger eloquently evoked the freedoms New York embodies. I recalled some moving and humorous moments from Newsweek's Sept. 11 coverage, and my brilliant colleague and friend Fareed Zakaria reminded everyone that our greatest weapon in the fight against terror isn't our military but the ideals we stand for. All that, and we managed to get everyone out just five minutes after we promised at 2 p.m. Rave reviews. Phew!
After the luncheon, I hurried home to see my daughter Rachel before she went to a doctor's appointment and to be there when my son Matthew walked home from his new school. They're both old enough now to come and go by themselves, and I think it's important for them to have that independence, even in Manhattan. But I'm already feeling nostalgic for those Monday drop-offs and pickups. When I took this job, I told Alexis that I didn't want to do it if it meant that we couldn't have time with our kids. We've had to work very hard at it and have long since given up on getting more than six hours of sleep a night. But Rachel and Matthew tell us that so far they're not complaining, which for me is still the most important review of all.
---