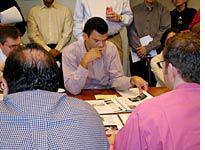 As usual, I spent yesterday morning close to a telephone. We print Newsweek on Sunday mornings, and I stay at the office through early Saturday evening reading late stories and putting the finishing touches on the cover. But even after the presses start up at about 6:00 in the morning, we can—and will—make changes for a big news story. Five years ago, we stopped the presses in the middle of the night when we heard that Princess Diana had died and came into the office and put out an entirely new issue in 12 hours. When the air war started in Afghanistan on Sunday, Oct. 7, we "broke into the run"—changing copies that aren't printed yet, while keeping the presses rolling. So I try to stay home or have a cell phone with me at all times on Sunday morning in case I have to rush into the office. By noon, if things seem quiet, I may take a run along the Hudson River near my apartment on Manhattan's Upper West Side. Once I crossed paths with our chief of production about 3 miles into the run and realized that if anything had happened while we were both jogging we'd be in serious trouble.
Yesterday we were on particularly high alert because of this week's anniversary of Sept. 11. Everywhere you went in New York last week, already tight security was wound even tighter. I took my family to the U.S. Open tennis tournament on Wednesday, and a nice young policewoman ran a bomb sweeper under our car before allowing us into the parking lot. The roadblocks required for Bon Jovi to rock in the start of the football season in Times Square last Thursday tied up traffic as far away as my office on Columbus Circle. Luckily, yesterday morning was uneventful, and the presses rolled uninterrupted. I was able to spend the afternoon getting my kids' computers and printers ready for school and watching the Open final with them. My son Matthew was born on my birthday 12 years ago, two days before Pete Sampras beat Andre Agassi to win his first Grand Slam title, and Sampras has been a huge sports hero in my household ever since. Seeing him proudly defy his critics and win one more Slam was a terrific birthday present for me but even more so for Matt, Pete's biggest fan.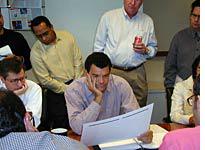 Although it will be out over the historic date, the cover we printed yesterday isn't about Sept. 11. We did our anniversary edition last week, to get a jump on the rest of the media coverage. Because of all the competition, we also wanted to remember the tragedy with stories and images that readers had never seen before. I think we succeeded, but how we did it was a classic Newsweek experience. We planned some of the issue months in advance, including an excellent Evan Thomas story about the private fears of public figures like Condoleezza Rice and Lisa Beamer, the now-famous widow of Flight 93 hero Todd Beamer. But typically, we came up with our biggest reporting and photographic scoops very close to deadline. Just a week before our close, we managed to get five of the survivors who had escaped from above the "impact zone" of the South Tower to pose for a picture for the first time—and to tell their gripping story. And on the day before we went to press, after a week of intense negotiation, we finally got a cover shot of the three firemen who raised the flag in the iconic picture from ground zero that we put on our "God Bless America" cover a year ago (taken by the same photographer, Thomas Franklin of The Record of Bergen County, N.J.).
By midafternoon yesterday, this week's magazines were all printed, but I was still fidgety until I saw my "green copy"—an early issue off the press that gets trucked to my home on Sunday evening. The delivery package arrived in the middle of dinner, but as soon as we were finished I ripped it open for inspection. The cover is "The War About War"—about the struggle within the Bush administration over whether and how to attack Saddam Hussein and about the growing rift between the Bush administration and the rest of the world over our Iraq policy. Defense Secretary Donald Rumsfeld and Secretary of State Colin Powell are on the cover, representing the two poles of aggression and caution in our thinking about Iraq and about America's global role these days. The stories inside are smart and informative—accessible enough, I hope, for readers who are just catching up with the debate, yet sophisticated enough to impress news junkies and experts who have been following it for the past month. But for the moment, I'm mostly concerned with how the magazine looks. Have the pictures all reproduced well? Are all the headlines and captions in the right place? Yes, they are. The issue has "all its fingers and toes," as one of my colleagues likes to put it. Leafing through it, I decide it's pretty good. I can finally relax—at least until tomorrow.
---