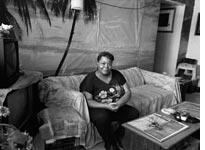 Tuesday, Jackie Askew, an old friend who lives in the apartment directly above my office, came down to tell me that next week she will be moving to Roseland, a neighborhood to the south, with her 74-year-old mother and her autistic son. For Jackie, as for many residents, this is not the first and probably won't be the last of the moves she will be called upon to make in the course of the CHA's "Plan for Transformation." Two years ago she was relocated to this building from 3615-17 South Federal, the first of the Stateway high-rises to be demolished.
Jackie is 50 years old. She has lived at Stateway since she was 4 years old.
She has three children, all boys. The oldest, Deshan, is in prison. The other two, Marko and Mario, are twins. Only Mario lives at home with Jackie. He is severely retarded: He has the body of a 21-year-old and the mind of a 2-year-old. Family members affectionately refer to him as "the baby."
"All you can do with a child like this," she once remarked, "is keep him and protect him and love him." Modest words for the heroic use of a life.
Always in Jackie's orbit, Mario wanders the apartment in ragged shorts or pajama bottoms. His trunk is askew as if he had been violently twisted at the waist. His head cocked to one side, he moves through the world with the absorbed, expectant expression of someone listening to music only he can hear. When he is happy, he bites his knuckles; and when he is upset, he hits himself in the face or beats his head against the wall.
Before the twins were born, Jackie and her three brothers had a promising rhythm-and-blues group, Jackie Askew and the Family Affair. She was the lead singer; her brothers—Pips to her Gladys Knight—sang backup. Her singing career had started early in church. She was a little girl with a big voice. She doesn't remember all the particulars. What she remembers is being the center of attention. Curtis Mayfield heard her sing and asked if she would join him on the road—a proposition her mother immediately vetoed. When she was 12 years old, she soloed at the Regal Theater (Chicago's counterpart to the Apollo in Harlem). The top billed act was Gene Chandler. It pleases me to think that I may have been in the audience. I am three years older than Jackie. During my 15th and 16th years, I rarely missed a show at the Regal.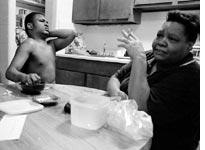 "All I wanted to do was entertain," Jackie said of her career as a singer. "Then when I had Mario, it stopped everything." For the last 21 years, she has organized her life around the requirements of "the baby." There is no apparent self-pity in the way she talks about the living out of her decision to care for Mario, but there is a note of concern about the future. "He's getting harder to handle. I'm not sure how much longer I can keep him with me."
When we first talked about her musical career, Jackie said to me, "Sometime I'll give you a song." A couple of days before she moved from 3615-17 South Federal, I called on her with Justin Kaufman, a radio producer from Chicago public radio. I suggested that perhaps this was a good time to give me a song. She agreed. Justin turned on the tape recorder and handed his microphone to Jackie. She put on a Gladys Knight CD. Standing in the middle of the living room, amid cardboard moving boxes, with Mario half-naked in the background, she held the mike like a pro and covered a Gladys Knight song with a voice that was large, bluesy, full of emotion. The name of the song was "Home Alone." The lyrics evoke the desolation of a woman alone in the home she shared with a man who has left her. Slightly tentative at first, Jackie found her groove after a few bars and deeply inhabited the song. Completely unself-conscious, she held nothing back.
Every line of the song resonated with multiple meanings. Her sons in and out of prison. Her community threatened with destruction. Her knowledge that the time will come when she will have to put Mario in an institution.
I was overwhelmed. To most of her fellow citizens, Jackie is invisible and inaudible, her reality obscured by essentializing social science categories (e.g., second generation resident of public housing, unemployed, on public aid, etc.). On the basis of those categories, we think we know who she is: We know enough about her, we believe, to know we need know no more. Then she sings. And her voice touches a place deep inside us. No wonder they call it soul music. There are, I know, racists who have fallen in love with one another while listening to Gladys Knight and the Pips. Similarly, rap speaks to and for many middle class, white suburban children who have rarely, if ever, had direct contact with blacks. I'm not sure what to make of these phenomena percolating through the cultural ether.
What I do know is that under certain circumstances art can break through. The quality of the work is only one variable. Serious, competent work evoking the realities of race/class/caste can all too easily be assimilated to pre-existing structures of perception. Certain stories are difficult to tell, because so many people think they already know what the story is. In order to create space for fresh perception, one must subvert those structures. A long shot at best. Yet it is possible. That possibility, that mysterious alchemy, thrills me. The challenge that Jackie's song presents me as a writer is to create a context, a narrative setting for her voice—and those of others I have come to know at Stateway—so that they might be heard in their full, complex humanity. Listen.
See a slide show of photos taken at the Stateway Gardens housing development.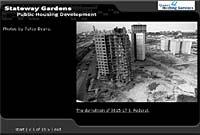 ---