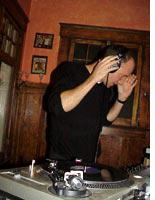 In college, I wanted to be a DJ. Why? I wanted to do two things: Play the Grateful Dead on the radio and learn what my girlfriend was doing. So, I actually went and got a broadcast license and guested a couple of times on her show.
Years later, I was in the Mike Todd Room at the Palladium, where one of New York's legendary DJs, Anita Sarko, had a regular gig and I worked as an art director. We're goofing off behind the turntables one evening, and she says, "Hey, do you think you could cover for me for a second?"
Anita didn't return for 45 minutes. For the song she'd already cued up, I had the crowd in the palm of my hand. Then, as I rifled frantically through Anita's 45s and DJ 12-inches, utter bewilderment set in. It's the actor's waking nightmare: on stage, naked, with no script and no lines. All sound retreats from the room. I made the next song but barely managed to hang on to the crowd until she came back.
So, my DJ aspirations went to the back of my mind where they belonged—until two weeks ago. I'm trading e-mails with Eileen at People's Revolution. (The best name for a PR company I've ever heard. My father often said, "How come PR agencies always use the names of the partners? If what they do is so exciting, why doesn't their name reflect it?" Which led me to always think a great name for a PR company would be "The Public Eye." I alone would know I'd named it after the Peter Shaffer play.) I can't even remember what we were e-mailing about but in a complete change of subject Eileen says, "Do you want to guest DJ at Café Des Artistes in two weeks?" I don't know where my shoulder angel went, but before I knew it I'd said yes.
Not 12 hours after the E-vite went out with my name on it, I got an e-mail from—whom else? —Anita Sarko that read, "I wish I could be there to hear you ride the wheels of steel, cowboy! Break a … record!" OK. I'm getting nervous, even with my gig more than a week away.
Tonight, though, I walked into Café Des Artistes prepared to get as boozed up as necessary to complete my mission. I solicited tunes from my friends (and even some real DJs) and our receptionist Jennifer. I listened to the radio and cribbed tunes from DJ playlists. CDs and records took over the floor of my office, with Post-Its on them where they were supposed to go in my set. But there's a song I just couldn't find: Dream Rabbit's "Frogsnatcher."
I have plenty of appreciative supporters. Catrina Gregory volunteers to take pictures after I forget to bring the data cable for my own camera. My wife Victoria comes with her best friend, Sonia. There's a smattering of people from my office, some journalists, a musician dad, and George Shelby, from my daughter's school. Heck, even the guys from Urb show up. Old friends mix with new and there's a funky, bouncy groove.
But when I start my set at 10 p.m., I am playing to a roomful of strangers. My minders, wingman Chris Monaco and DJ Eddie, have too much confidence in me and leave me pretty much alone at the consoles, but I don't bomb. I work a Verve remix and Dmitri from Paris into some 70s funk and disco, and I stay with that balance—old vinyl from my Palladium days opposite medium-tempo lounge—for the next hour and a half: George Clinton, Dazz, Michael Jackson, Morcheeba, Sister Sledge, Gloria Gaynor, the Isleys, Fantastic Plastic Machine. It takes me a while to figure out the technology, but once I know left from right it's not so bad and my cross-fades morph from clumsy to professional.
When I know I have only an hour to go, I unleash the house/dance set I've worked out on the floor of my office. I open with an extended mix of Xpress2's "Lazy" (great vocals by David Byrne), then move into Dirty Vegas, Modjo, Powerhouse, Kinky, and a sweet, soaring rendition of "Ordinary World" by Aurora. A solid wall of sound, I've got the traps wide open. But … nobody is dancing. What's up with that? Did you people just come here to watch? The only bullet I have left in my pocket is Los Amigos Invisibles. It starts to move the crowd, but it's not the mass of bobbing heads I was hoping for.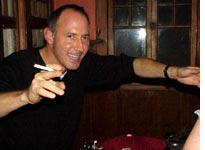 But who cares—what's cool is I've acquired a new skill I'm not likely to soon forget. I balance on the edge of the earth and turn it beneath my feet. I remember dancing to a great set at the Winter Music Conference in my Tides bathrobe and losing myself in the thrum and heat and swirl and glare and people and love gone to a safe but inaccessible place, and know now what a gift music is to give. I gather up that moment in my arms, floating on the sound, and catch someone's eyes—it doesn't matter who they are—and know we're in the same space … but I don't forget to watch the timers preparing for each transition. I appreciate that ability as a tiny, delicate, durable, exquisitely wrapped present. The CD players are easier to work than the turntables, and I can fake looking good at this, or maybe … can I really have the hang of it? Another bright window opens on the world outside by work. I get asked back, and I say yes. I'm going to start collecting records.
---