Instead of just lying there at 6:15 a.m. brooding about my day, I multitask: I can run and worry at the same time. I figure I earn one cigarette for every mile I run, so I'm working up to six miles. Since I resumed running after a hiatus of, I don't know, 15 years, I've not once seen anyone else running in my neighborhood—no matter what time of day I go out.
The people I do see who acknowledge my "good morning" are housekeepers and nannies sitting in their cars waiting to go into homes and construction workers eagerly replacing historic Encino ranch houses with what a friend of my wife derides as "abortion clinics" for their incongruous, appalling architecture. But I've never seen an abortion clinic with a three-car garage, pillared two-story entry, lawn statuary, and fake dormer windows.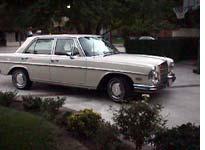 Everyone in L.A. whines about the traffic, but nobody does anything about it. This morning's commute, usually a 30-minute affair, clocks in at 1:05. It would be misery if I didn't love my car: a 1969 Mercedes named Hildegaard purchased for $2,500 14 years ago. She squeaks like boardinghouse bedsprings and her upholstery's getting a bit tatty, but redoubtable Hildy never fails to elicit compliments from parking attendants—even at talent agencies and swanky restaurants.
In the office, I first see what sort of e-mail fungus has spread in my computer overnight. Even though there are 600 names on my junk-senders list, when I turn on the filter it relentlessly trashes e-mails from colleagues and clients so I have to delete them manually. There's some tantalizing stuff—Gene Simmons' Tongue magazine launch, Richard Tyler's couture show—but to an outsider I must seem largely a connoisseur of Korean and Spanish porn, penny stocks, penis and breast enlargement, and bulk e-mail software.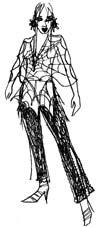 Slogging through details for most of the morning, I book a Men's Journal holiday gadget roundup for the next Lara Croft: Tomb Raider computer game, due out in December. Trouble is, I can't think of a gadget Lara Croft can embrace. Zandra Rhodes, whose hair still makes Betsey Johnson's look hausfrau by comparison, dropped off some drawings of some racy outfits we can render digitally for Lara's magazine layouts, so I fax those to the game publisher. I send out a request for a brainstorm on a spirits project to the entire 800-person Ogilvy PR network and get only seven RSVPs. That includes our own office, and I'm offering pizza to those who show up in person.
At noon I listen in on a conference call for The Scorpion King DVD launch for Universal with Bill Horn and Heather McGuire from my department. Bill's just back from three days in Hawaii for The Scorpion King media visits for its star, our client The Rock. While my heart goes out to him, home video/DVD launches are notoriously difficult business: They rarely equal the panache of the film release, and the stars have a sense of having moved on, their theatrical commitments a distant memory. 
But between the three agencies working the project, we project confidence. We committed Michael Clarke Duncan, Kelly Hu, and Steve Brand (the villain) for next Monday's launch, a secret DeMille-style publicity stunt on Sunset Boulevard. Razor magazine's hosting the after-party, and there's nothing like a "lad" mag, harem girls, camels, sword fighters, and acrobats to rise above the noise level of the Strip. The confirmed media astonishes me. There's a half-dozen TV crews and twice that many print booked—with a week left to go until the event.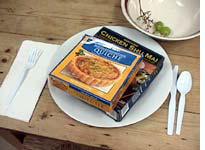 After a few recent Ivy lunches that topped $120 for two (no cocktails), I've switched back to charming standby Orso for half the price and a no-hassle smoking policy. I canceled one of those today in favor of Trader Joe's frozen quiche and dumplings that have been in the freezer so long my name's worn off the boxes.
My afternoon is consumed with finalizing our 2003 business plan, which we must present to parent Ogilvy PR's CEO in 24 hours. So our CEO, CFO, and the other managing directors and I sit down and hammer it out. We precisely and dispassionately review 2002 and describe how we're going to go about growing the business in 2003. My colleagues gratefully leave me to take all the pieces and string them together in time.
2002's brightest spot? Our talent department. This year, B|W|R clients won our third Oscar in three years (Jennifer Connelly), two SAG Awards, three Golden Globes, 10 Teen Choice awards, a BAFTA, and an MTV movie award. Our clients' movie grosses for 2002 top $800 million. Today alone, we've got four Emmy winners: John Spencer for supporting actor in a drama series (The West Wing); Stockard Channing with two (supporting actress in a drama series and supporting actress in a miniseries or movie), and Larry Wilmore for writing for client The Bernie Mac Show. That's a swell showing out of 11 clients nominated. I've bought three magnums of champagne to celebrate with the ice cream cake we've got for staff birthdays. None of the winning publicists show up, but middle management, junior staff, and accounting polish off the food and drink.
Thus fortified, I close the day with my favorite activity: media pitching (on behalf of Croft, the first digital person ever signed for personality representation by CAA). Never mind the purported symbiosis between public relations and media: Pitching press can reduce the best publicist to supplicant. Despite my belief that I can sell a moose a hat rack, I always cringe before picking up the phone, because it always transports me back to one of my first pitches ever, smiling and dialing to get Mark Price—"Skippy" from Family Ties—on the radio in Chicago.
Letterman and Conan are gone for the day. Leno's next. The booker's assistant screens me ruthlessly, saying, "I'm sure my boss doesn't even want to hear about this." I'm thinking I don't even want to remind him that his boss canceled Mikhail Gorbachev on me six years ago, and maybe, just maybe, he might want to make it up to me with this. Dori Stegman, however, is hugely receptive at Kilborn. She remembers me from somewhere, thinks it's a great idea, and would be happy to pitch it. I bolt from the office, smile with conviction at Veronica at the parking gate, and head home in Hildy before my euphoria fades.
---