People who hear about what I do for a living sometimes say, "Wow, what a great job. All your work must be like play." Sadly, the opposite is true: All my play becomes work. There's not much I do that doesn't bear the taint of my profession, either explicitly (it's a work-related function) or implicitly (I mine the event for ideas to adapt for other events B|W|R Ogilvy might do in the future).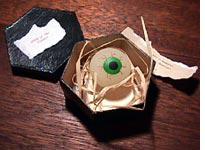 I bring it up because I am trying to correct this social deviation. Looking at a birthday party invitation my daughter Saeli got this morning (haunted house theme—a glowing rubber eyeball nested in raffia with the party details on shards of paper), my first thought was, "How much did that cost? Did the parents produce it themselves?" I jealously compared it to invitations I'd created for Saeli's parties, which are a matter of some personal pride (snow globe, wooden shingle, fairy wand, etc.).
Second, for a Sunday, I had to stretch to find a flimsy connection to my job. This is actually the first weekend in months I didn't have to do serious work. But I did do some.
The Man Show producer Doug DeLuca had a vision to bring the Feast of San Gennaro—which draws something like a million and a half people in New York—to Los Angeles. I brought this account to the agency through typically circuitous channels: A lawyer who represented our mutual client Ecstasky (an air charter service featuring lingerie models as flight attendants) referred us, and I've contributed nominally to the project since.
When you think of Los Angeles, of course the first thing that comes to mind is its rich Italian culture and heritage. Despite this obstacle, the feast opened with good advance coverage, and the attending media for Friday's "Prima Notte"—E! and KLTA—saw respectable celebrity turnout: Tony Danza, Joe Mantegna, Ray Liotta, and Adam Carolla. Yesterday we got Jimmy Kimmel and Tommy Lasorda, as well as Extra and local crews KCAL, KCOP, and KABC. So we won't be making excuses on the press front, and the Feast appears a success for its premiere outing.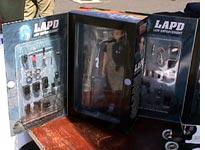 But, today, under an oppressive September sun in the Capitol Records parking lot, the feast feels forlorn. What it actually looks like, not surprisingly, is a church carnival. A dozen or so Italian restaurants in town have booths, so Saeli and I get an oily aerosol facial as we walk the food aisle. There are some LAPD cops manning a booth that sells—no kidding—LAPD action figures, complete with miniature nightsticks, guns, and handcuffs. From the stage, an opera singer in a red frilly dress caterwauls like Yoko Ono. She's followed by a cover band that, the emcee warrants, "has opened for the likes of Christopher Cross, Glenn Frey, and Bob Seeger."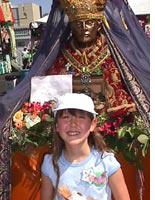 Saeli's a rather unwilling companion at first. The food doesn't interest her. The grape stomping is … frothy. Nobody's playing bocce ball. "Stringster," feast sponsor Precious Cheese's mascot, wilts in the Kids Corner. The rides, manned by the same greasy, toothsome (or toothless) carnies that staff these things nationwide, beckon, but at Hollywood prices: $3 and up. We buy a book of tickets and her mood brightens considerably. The water-pistol game, since there are just the two of us playing, guarantees us a little plush dog prize (I question why she can't play alone, but is $4 too much to pay for a child's happiness?). My sausage and kale foccacia tumbles to the floor of the Ferris wheel but remains tasty after I scoop it up and inspect it. I finish that and a Peroni while she does three rounds on the dragon coaster to use the last of our tickets. "Can we leave now? I'm hot," Saeli says. I thought she'd never ask. Well, actually she did, maybe five or six times.
It's 112 degrees in Encino when we arrive at our next stop, classmate Cynthia Kimaz's eighth birthday party. The carnival action here is every bit as good as the Feast of San Gennaro's. They have games I want to play: ring tosses, the baseball throw into aluminum milk bottles, pingpong-ball throw into goldfish bowls, and so on. None of the games feel rigged, and  sprightly, attractive local teenagers run the booths. Prizes include whoopee cushions, slingshots, pick-up sticks, inflatable guitars, and little magnetic gyro wheels that roll back and forth along a wire. Nothing costs a penny, and everyone's a winner, several times over.
I don't know why, but the Kimazes own both a snow cone machine and a hot-dog steamer exactly like the kind street vendors use in New York City. Saeli polishes off three hot dogs (ketchup, no buns, no cutlery required) and two snow cones. The water balloon toss degenerates into an epic battle. There's a race to mummify two kids in bathroom tissue. They dip a perforated pail into a big tank of water and try to pass it overhead to one another without all the water leaking out. They have a cake walk/musical chairs game using hula hoops. They're delightedly soaked by the time Cynthia's cake comes on in a shower of sparks.
Saeli doesn't want cake. What she wants is to go swimming at her friend Parker's pool. Since we don't have one and it's still well over 100, how can I resist? I drop her off with a promise to pick her up in two hours. A nap tempts me, but I pick her up on time and we have a lovely date night at California Pizza Kitchen, followed by frozen yogurt in the bathtub. I might feel like I cheated a little on Dad's day out, but all in all, an uncharacteristically nice blend of work and play … for a Sunday.
---