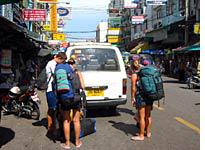 In the last 24 hours we've reverted to backpacker mode. This is not a mode I like, because it involves carrying a backpack, which is heavy, and looking like a backpacker, which is lame.
We hit Khao San Road in the afternoon to sell/trade our old guidebooks, as we'll soon be off for greener pastures. But the bookstores drive a hard bargain. They only want Lonely Planets, which are the U.S. dollars of the used guidebook market—everyone accepts them, everyone wants them. We, on the other hand, have the Moon Guide to Southeast Asia, which is in fact an excellent guidebook, but which is more like the Mexican peso of the used guidebook market. Or maybe even the Botswanan pula. Nobody knows what it is, or cares. I manage to trade it for an Ian McEwan novel (by throwing in an extra 80 baht).
We have better luck outside the stores, on the street, where one backpacker's looking to trade his John Grisham book. We tell him we don't do Grisham, but manage to sell him a Rick Moody novel (previous Slate diarist!) for 50 baht. He tells us he's on his way to China, where he'll catch a train to St. Petersburg. According to him, even after the train enters Russia it's still another six and a half days to Moscow. Thus the need for reading material.
This is typical Khao San. Everyone's on his way somewhere else and eager to brag about it. They all wear loose-fitting clothing—a newly bought sarong, or some stripey drawstring pants. I mostly hate this place. It does have cheap food (50-cent eggs, 30-cent pad thai), but you have to sit with hundreds of other backpackers and feel like a chump.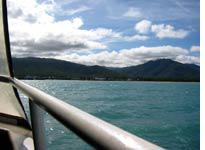 Of course, we're no better than anyone else, as we set off on the well-worn backpacking path to Ko Samui and neighboring islands. On the overnight train, two German women sit across from us and quickly become quite irritating. They're playing that reflex game where you slap each other's hands and giggling loudly. Smack! [hearty Teutonic giggle] Smack! [giggle giggle guffaw]. We are imagining a game where instead of smacking their hands we smack their faces, and instead of using our hands we use our water bottles. A triple dose of Ativan sure does grease the wheels of sleep, though (where would the world be without sedatives?), and we wake up refreshed and ready to hop on the ferry.
This boat ride turns out to be gorgeous. Hilly, green islands pop out of the Gulf of Thailand all around us. The sun is still low in the sky, and the light is diffuse. We can feel the grime of Bangkok falling away.
Don't get me wrong. I actually loved Bangkok. I'll refrain from lapsing into reverent travel writer-ese here, but let me just say that it's unlike anywhere else I've ever been. And mostly in good ways. If you have a chance to get there, it's worth your while.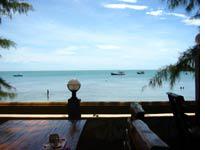 But right now I'm ready for some quiet beach time, and our little bungalow on Samui is just the place. We're away from the main tourist beaches, at a little spot that seems to be mostly for good-looking young French travelers. Say what you will about them, and I've said my share, but the French do tend to live well. So, I'm taking this as a good sign.
As I leave you, dear reader, I am sitting in the cramped Internet hut across the street from our beach, and eating up my baht with absurd island connection rates. But the moment I log off, I shall be running across the road, stripping off my shirt, and diving into ocean water the warmth of a good leek-and-artichoke soup. And here I go.
---