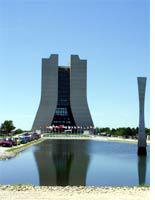 I travel from Ann Arbor, Mich., to Fermilab on Wednesday mornings of alternate weeks. I work at the lab through Friday and then go into Chicago to spend the weekend with Elizabeth, my girlfriend, returning to Ann Arbor on Sunday evening. I've been on this regular travel schedule for about two years now, and I will spare you the details of my journey except to say that by now, I am very, very good at it.
Any visitor that I have brought to Fermilab has been surprised by it; the image they had in their head didn't match what they saw. (If you are in the Chicago area, stop by; as of today, the lab is now fully open to visitors for the first time since Sept. 11.) I guess it is a little bit surprising that the lab should have a herd of bison, which is part of Fermilab's prairie-restoration project. But why shouldn't a laboratory have a headquarters building modeled on the cathedral in Beauvais, France, or large outdoor sculptures? All were conceived by Robert Wilson, the founding director of the lab; the place is still infused by his vision.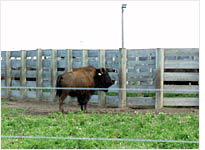 Most of all, I think people are just surprised by the size of the place—10 square miles—but that is what is needed to hold our accelerator complex. The Tevatron, the world's highest-energy particle accelerator, is more than a mile in diameter, and the other machines that feed particles to it take up additional room on the site.
I stopped by the CDF control room to say hello to our shift crew. Twenty-four hours a day, we have four physicists on duty for the experiment (taking eight-hour shifts), so that we can be taking data whenever there are colliding beams. The crew is in charge of operating the experiment, keeping all of the detector systems up and running, fixing things if they break, or, if they can't fix them, finding someone who can. (Things usually break around 3 a.m., and people are then rousted out of bed.) Shifters are also the first people to look at the data; if there is anything that looks abnormal, they make sure the data are not used for physics measurements and also try to identify the source of the problem. Unfortunately, today has been a quiet day for the shift crew; we lost the particle beams overnight, due to a failure at an electrical-power substation near the site.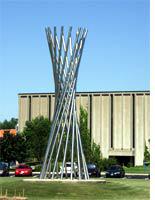 While much of the architecture at Fermilab is innovative and visually striking, that does not hold for the rabbit warren of trailers that is the CDF office complex. About 200 members of the CDF collaboration are resident at Fermilab, making it the intellectual hub of the experiment. Much of my visit is spent meandering through the trailer maze, talking with people I haven't seen in the past two weeks. As far as I'm concerned, my most important task during any visit to Fermilab is to make sure that I'm still working on the same experiment as everyone else; I try to get a feel for what they are working on and how it fits together with what I'm working on. Also, the bulk of the graduate students in the Michigan group live here, so I make sure to check in with them. Among other things, I rounded up Nate and others to discuss the plan that Dave and I had put together yesterday.
Some of my time is also spent in more formal meetings, including a meeting of a working group that I lead along with Michael, a professor at Northwestern. This group works on some of the event-reconstruction software. The raw data we record are in the form of amounts of charge recorded on an amplifier, or the time that the charge arrived on the amplifier. From this information we "reconstruct" the energies and momenta of particles produced in the collisions, using complicated computer programs. This working group has spent the past two years writing the software to reconstruct muons (they're like electrons, but heavier) in CDF. Our meeting today went pretty well; we had about 20 people from 12 different institutions there, by my count. A few people presented some work they had done on reconstructing muons in detector components that we haven't studied much yet, and they had made good progress, finding and fixing a few mistakes. This is important work; the more detectors we have working, the more muons we can reconstruct and the more physics we can do—top quarks, for instance, often decay into muons.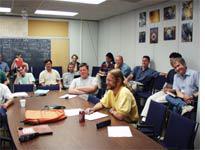 Later, Michael and I had dinner at the Chinese place just outside Fermilab and spent a couple of hours talking about what we need to do with the muon software in the short and long term. Over the past few months, a lot of our time had gone into getting physics measurements that used muons ready for the Amsterdam conference, and we had been ignoring various smaller problems which now needed our attention; I had a long list of talking points for our conversation. Leading a large group of scientists requires some project-management skills, just like in the business world. We have to set priorities, try to predict what will be needed at different times, and make sure that we have skilled people on hand who can get the job done. After two years of this, we're starting to get a little good at it.
But after a long travel day, and after scampering around the rabbit warren, there's only one project I want to manage—getting to my hotel room and getting some rest!
---