I'm writing this one at night again. I just got back from a reading here—Margo Rabb read an excerpt from her short story " How To Tell a Story," which is about kids in an MFA program who are all secretly writing fiction that's true—that's based on themselves. I've been planning to use it in the undergraduate fiction workshop I'm teaching at Washington University in St. Louis starting next week. It's one of those funny-sad stories, but the part of it she read tonight was about writing workshops and was just funny, not at all sad, and all the more so to me because I had my story workshopped this morning.
My workshop here, like every writing workshop I've ever been in, started out a bit stiff; workshops require some semblance of a group dynamic to form before they can start being really useful, and this usually takes weeks and weeks to happen. Here, though, we started to pull together a little as a group after the third meeting, and my workshop today went slightly better than I thought it would.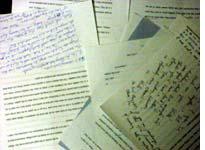 The story I turned in is written in this disjointed style of alternating paragraph-length fragments (called crots, I learned today), which makes it sort-of "experiential," which makes lots of readers hate it off the bat. But everyone in this workshop stayed with it enough to give it the sort of comments that showed that they didn't make up their minds about the story after just glancing at it, and Josip Novakovich, the workshop leader, and Jonathan Tel, another author who sits in, had constructive things to say that didn't let the story off the hook. The consensus, I think, was that the fragments didn't amount to enough of a story in the end, but there were a million different suggestions about how to fix the problem: I should make the story longer ("three times as long"), add fragments that offer more immediacy, make children die (this story, like the one I read last night, is set at a summer camp). Just what to do with all the prescriptive suggestions is the whole trick, I think, to getting something out of the workshop experience, and it has something to do with trying to figure out what in the story leads people to make their suggestions (like the lack of dead children) and then trying to figure out what those missing things are doing, story-wise. Revising a story after it's been through a workshop is this grueling game of detective work where you've got lots of clues that lead you in the wrong direction.
At lunch, I waited on Robert Cohen, the fiction writer who also once kept a "Diary" for Slate. He called me over and whispered that I shouldn't worry—that he wouldn't let on about this Diary, though lots of people here know about it.
After lunch, I met with Josip privately for an hour to discuss my story, which you'd think would be a little like having a private audience with the pope, but he's laid back and friendly—the kind of guy you'd want to talk to even if he wasn't so famous. He's a friend of my friend Josh, who I'm starting a literary journal with, and he told me about a writing conference in Russia last year that Josh and Josip and Robert Coover, the great experimental writer who teaches at Brown, all attended. Coover was mugged, Josip told me, but he had so little money in his wallet—$40—that the muggers were disgusted. They roughed him up a little and gave him his wallet and money back.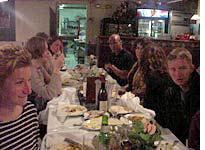 I know I've talked about this in yesterday's dispatch, and I don't want to beat a dead horse about it, but everyone here's so worn out. The waiters are all exhausted—the bonfire last night lasted till 4 in the morning, and we all slumped around today in a daze. I had a conversation about my workshop with another waiter whose story isn't up in her workshop till Saturday, and she said that if she didn't have to stick around for her workshop, she'd consider leaving right now. She misses her family; she says she's so tired. Everyone's still having a good time here, but we're ready for things to wind down.
They scheduled a picnic dinner tonight, but it rained all day and we thought they'd call it off. We still didn't have to work the dining hall during dinner—they had an indoor picnic in the dining hall. I have no idea how that worked, because most of us went together to Middlebury for Indian food instead. It's the first time we've all been off campus as a group. We were waited on in the dining hall by faculty yesterday, but today in the restaurant there were real-life waiters. We didn't rush them or ask for extra plates. We left a big tip.
---