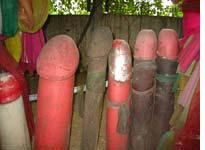 Today, not sated by yesterday's fill of exotic Buddhism, we decide to hunt down the penis shrine.
Partly we are intrigued because, gosh, who wouldn't be intrigued by a penis shrine? It is blithely mentioned in one of our guide books, with nary an explanation, and the detective in us craves to know what and why.
But we must admit that partly we're going because it's really close to our hotel. Honestly, we're not the type of people who schlep all over town in desperate pursuit of a penis shrine. On the other hand, if you throw a penis shrine in our face, we won't turn our backs on it, either.
We are staying in the Paradise Mansion Hotel (we know it's a decent place because it spells its own name right in its brochures at least half the time), and though it resembles neither paradise nor a mansion (unless paradise has ants), it is quite conveniently located. Not just to the penis shrine, but also to shopping and dining possibilities.
Across the street is the Bangkok Hilton, which actually does bear a passing resemblance to both paradise and a mansion, and on whose grounds we are told we can find the penis shrine. My understanding is that the penis shrine was here long before the Hilton, so the hotel was forced to build around it.
We're not exactly sure where on the grounds the shrine is, so we start our search out at the pool and gardens. Here several tanned Europeans in small bathing suits smoke cigarettes and languidly leaf through the Bangkok Post. It's nice, but there are no penises in the pool, and a stroll through the gardens also turns up none. We vainly try to imagine some of the deck chairs are meant to look like giant flaccid penises but soon abandon our efforts.
More wandering. Much hotel envy. And then, at last, out behind the physical plant, we see a promising-looking path. At its end, could it be? … YES! PENIS SHRINE!
The little explanation plaque tells us nothing, save that this is a shrine and that at some point people began offering it penis statues. And indeed, everywhere you look is a penis. Big penis. Small penis. Wood penis. Stone penis. Some sort of centaur penis with the back of a dog and the front of a penis.
But by far my favorite is the little penis fence that edges a bed of ground cover. Like a row of little pickets, but instead of pickets, penises. What ingenious penis gardener put this together? Is there a degree in penis landscaping?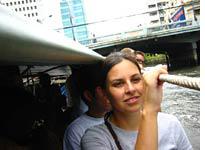 As I'm sure you can imagine, the rest of our day feels a bit anticlimactic, though not without its moments. Near the Hilton, we catch a water taxi upriver. This is not like water taxis in the States. The boat never comes to a complete stop—you just leap onto its rolling deck and pray for the best. The vinyl roof over the passenger area is about 5-feet-7-inches high, so all the Thais stand underneath, and all the giant farang poke their heads out the sides like a dog in the passenger's seat (minus the tongue-wagging). At low bridges, the driver turns a wheel to manually crank the roof another foot lower, forcing everyone to crouch. Meanwhile, a sort of facilitator scurries along the gunwales (You like that word? I knew sailing camp would pay off) to collect payment for tickets. He actually wears a crash helmet, presumably in anticipation of those same low bridges. I imagine this is what the San Antonio River Walk would look like if the United States had no liability laws.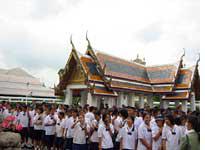 The taxi takes us to the Royal Palace, which is a beautiful and touristy attraction. Many Thai field trips here. Field trips look the same wherever you go. Bored, misbehaving kids; frazzled, shouting adults.
As we leave, the afternoon rains begin. We duck into one of many passing tuk-tuks—the tiny, open-sided, three-wheeled motor carts that weave jauntily through Bangkok traffic. The driver demands 80 baht ($1.25) for a ride of about two miles, and won't come down in price. This is sheer larceny in this market, but he knows we have no bargaining power—the rain is really picking up now. So we pay his ridiculous fare. We're too tired to make a mad-dash run for cover. Better to sit back and enjoy the rainy ride from beneath his canopy.
---