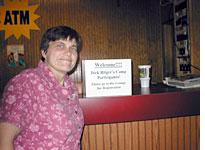 After a lovely stopover in Cooperstown, where we saw Babe Ruth's bowling ball, among other things, my mother and I have arrived in Ithaca, N.Y., at bowling camp. And not just any bowling camp. We're at Dick Ritger's Bowling Camp, which appears to be the best bowling camp there is. This is a lucky thing for me, as I did not even know of the existence of bowling camps before I signed us up for this one. It just sounded like a fun thing to do with my mom.
We hadn't been spending much one-on-one time together in the six years since my daughter Ruth was born. Most visits and even conversations seemed to revolve around Ruth—her birthdays, her kindergarten graduation, her newest pet (Paul, the hermit crab).
So bowling camp seemed like a great idea. I'd recently taken up bowling, and my mom has bowled for years. My bowling league had become a real source of pleasure for me, and I found myself wanting to become a good bowler. So few other areas of my life offered trophies.
We walked into the lanes this afternoon here in Ithaca not knowing what to expect. Would we be the worst bowlers there? Would everyone else know what they were doing? My mom worried that she'd be the oldest bowler (it doesn't look like she is). I worried that I'd be the worst bowler (that remains to be seen).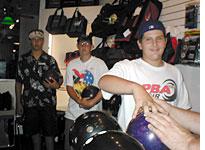 It's true that there don't seem to be a lot of middle-aged women at the camp and certainly no other middle-aged women who have brought their mothers. Most campers are teen-age boys. I should have thought of that. It is, after all, a sports camp in a college town. Fortunately, the boys have been herded into a fraternity house on the Cornell campus for the overnights. Mom and I are holed up in a perfectly fine Econo Lodge, with a Pizza Hut next door.
This first night, Sunday, was the assessment part of the camp, where they watched us bowl, wrote cryptic notes on our individual bowling charts (which we are told to guard with our lives) and, horrifyingly, videotaped us. They'll tape us again at the end of the week. Will I have improved? What if I'm the first bowler in the 26-year history of the Dick Ritger Bowling Camp to get worse? Dick has won 20 national championships. But he's never met me.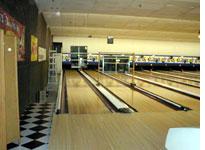 The camp runs like clockwork. About a dozen staff coaches move the 60-some campers through our different assignments like, well, like efficient camp counselors. They're gentle yet firm, sliding us in groups from one lane to the next, from practice to observation (Dick himself taking notes on each of us) to bowling in front of mirrors (a disconcerting experience if there ever was one) to the videotaping. Then on to find out our schedule of evening activities for the week (I'm looking forward to the egg toss), then out the door. The boys onto their shuttle to the frat house, Mom and me over to the supermarket to pick up fruit and drinks to supplement the three meals a day we will eat with the other campers.
The ones we've chatted with so far have been friendly enough. We met a high-school bowling coach who had brought a few of his bowlers with him. What a thought—taking with you, for a week, four teen-age boys to whom you are not related. We ran into a couple others in the supermarket, and they eagerly chatted, asserting our shared bowling camperness in that non-alley setting. We're all a bit nervous about the week ahead, I think. Are we ready for it? Will we learn? Will we have a good time? The staff has a tough job, making sure we all do both, from the 10-year-olds I saw to those in my mom's age bracket.
At any rate, now we're back at the motel, pondering the week ahead. We'll be on the lanes from 9 until 5, plus evening activities. Dick told us we'd be rolling the ball about 240 times a day. Whose idea of a vacation was this, anyway?
---