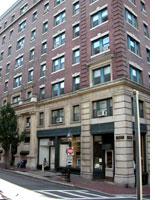 My accommodations in Boston are humble but perfectly adequate. I'm staying in a little hospital-owned studio apartment on Beacon Hill, a five-minute walk from Mass General. The building is primarily housing for the elderly, with a dozen or so units reserved for out-of-town patients visiting Boston for treatment. I have been welcomed warmly by some of the old folks and eyed warily by others. The place reminds me a little of the nursing home where my father lived for almost four years until his death last year, but of course, the residents here are much healthier than any nursing home patient. It just occurred to me that I arrived in Boston on the first anniversary of my father's death.
The best thing about my little monk's cell is the window air conditioning unit, which I've had buzzing ever since I got here. The worst thing is the narrow, narrow bed. All the sheets and towels are stamped "Massachusetts General Hospital." There is an emergency pull-cord in the bathroom, grab bars in the tub. Two days after I got to Boston, packages started arriving from my office in Atlanta. Big packages. Heavy packages. A compact fax machine (that doesn't work, by the way, and I swear I didn't break it); a decidedly non-compact printer; a cardboard banker's box filled with pens, legal pads, and highlighters (Lawyers' Trail Mix?). To my colleagues in Atlanta: Please do not send any more office supplies. I have all the tape flags I need.
Surrounding myself with such work paraphernalia, besides facilitating my continued participation in several of the cases I had been working on before my departure, also serves another purpose. The clutter of office supplies helps to counteract the atmosphere of infirmity that permeates this place. Instead of fixating on things like the contingencies that might require my use of the bathroom alarm cord, I can, with a little imagination, conjure up my Bartleby-like professional habitat. Boring beats scary any day.
There are some things I've yet to figure out about this place. Why, for example, one of the men who works the front desk often wears trousers that resemble those worn by the Carabinieri. Or maybe it's the Rhode Island state police. Or the Mounties. Anyway, I don't get it.
The neighborhood is terrific—twisty 18th-century street plan, distinguished old houses. These buildings have more granite—foundations, stoops, lintels—than I've seen in old buildings in other American cities. Up on the hill, the predominant commercial uses are real estate agencies and Laundromats. I was struck, when I first arrived here on a quiet Sunday afternoon, by the sight of so many people striding up and down the street with baskets of laundry on their hips. It reminded me of a Dutch painting from the 17th century.
There are many, many places to eat around here. I've had pleasant exchanges with a number of waiters and other business people in the neighborhood. When I tell them I'm in town to get treatment at the hospital, they say nice things to me. My favorite people are the lady who served me an absolutely enormous salad in an Italian restaurant and chided me for eating so little of it, and the man who deals in old maps and Piranesi etchings. It is so obvious that he loves his work. When I told him that I'd have to come back to see the prints that he wanted to show me because I was late for my appointment at the hospital, he said, "Keep on getting it done." I feel like buying a view of Rome or a map just to reward him for being so nice.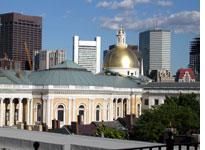 The other day, leaving the hospital from my treatment, I did something I'd never done before. I escorted two tiny old ladies across the street. Not pacific, benevolent Charles Street, but the torrent of cars that is Cambridge Street. Neither of the ladies was over 4 foot 10. They were sweet and frail and very appreciative.
I wandered up onto my building's roof yesterday just as the sun was going down over the river and Cambridge beyond—the view is great. Turn around and you're staring at the gold dome of Bulfinch's Statehouse.
---