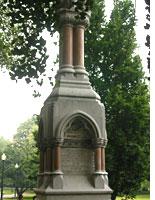 I'm sitting in a corner of the Public Garden in Boston, a few feet from what must be one of the more unusual commemorative sculptures in any American park. From a distance, this granite and marble monument resembles many 19th-century memorials to Lost Heroes and illustrious Town Fathers that proud citizens have erected in towns across America. But this is Boston, and while such conventional monuments abound here as elsewhere, the one I'm staring at now is dedicated not to a person, but to a gas. More precisely, it is dedicated to a seminal event in the history of medicine that occurred here in Boston, at Massachusetts General Hospital, in 1846. And it is truly weird.
Below a carved high relief of a medical operation in progress, appears this legend: "TO COMMEMORATE THE DISCOVERY THAT THE INHALING OF ETHER CAUSES INSENSIBILITY TO PAIN. FIRST PROVED TO THE WORLD AT THE MASS. GENERAL HOSPITAL IN BOSTON OCTOBER A.D. MDCCCXLVI."
Even today, of course, Massachusetts General is a great hospital. This summer, in fact, I've come to Boston from my home in Atlanta to receive radiation treatments at Mass General for a benign brain tumor. I write "benign," but perhaps "benign" better captures the character of this stubborn cluster of cells. The 30 sessions that my radiation doctor is overseeing will take about six weeks to complete. So far, I've had three treatments.
When my neurosurgeon told me in May that the piece of tumor remaining in my head after my operation two years earlier had almost certainly begun to grow once more and that a course of radiation treatments would be safer for the bundle of cranial nerves surrounding the offending cells than another operation, I was neither surprised nor very upset. My surgeon had warned me that in a patient my age—I just turned 37—such tumors are likely to regrow sometime if any tumor cells remain after a surgical resection. And ever since my first groggy, post-anesthesia moments in the Neuro ICU at Mass General, after my surgeon's heroic 16-and-a-half-hour fight to pluck this Easter Egg from my head, I knew that further treatment would be required. My surgeon, the best in the business, had worked slowly and smartly, carving away at the tumor until those cranial nerves, the ones that govern such basic actions as eye blinking and swallowing, loomed dangerously close. At this point, he wisely called it quits.
Out of the hospital in five days and back to work in about three weeks, I found that life after surgery was good. The headaches—grinding, soul-defeating headaches that I usually woke up with—were gone. The vertigo that made driving difficult and turned ladder-climbing into an extreme sport also disappeared. Still, I was left with a nagging consciousness of the Orange Rind that remained in my head after the operation (the preferred metaphor changed with the tumor's size). I yearned for resolution. But during these last two years, neither my surgeon nor the radiation oncologist to whom he referred me would do anything until they could see the tumor growing again.
So when, two months ago, my surgeon told me that the tumor had grown one to two millimeters, I was actually happy. Instead of waiting, watching, monitoring, we'd soon be doing something. This pleased me. Another thing that pleased me was my surgeon's recommendation against another operation. True, I felt proud at having gotten through my first surgery—a craniotomy, no less—with my health and my dignity more or less intact. But another marathon operation? No, thanks. Happily, my surgeon was not eager to operate again, and he referred my films to the same radiation oncologist with whom I'd met a year and a half earlier.
This doctor soon recommended a type of radiation treatment called fractionated stereotactic radiotherapy, which involves a series of high doses of radiation aimed precisely at the tumor, delivered over many days. Unlike conventional brain radiation used to treat malignant brain tumors and metastatic cancer, this very targeted form of treatment, if successful, affects only the bad cells and spares the healthy. The key to attaining repeated direct hits to the tumor—and only the tumor—lies in fabricating and fitting on the patient's head a metal frame that would have made Torquemada proud, and then bolting this frame, with the patient's head inside, to the treatment table.
So, here I am in Boston, living the life of … well, of a person who can sit in the Public Garden and contemplate quirky public monuments while everyone else is at work. The radiation oncology unit at Mass General treats patients only on weekdays, so it will take about six weeks to get in the 30 treatments my doctor has prescribed. In a few hours, I'll walk the five blocks to the hospital for my fourth treatment.
---