My first task each morning is to listen to the shelter's night-shift supervisor read the computerized log entries written by the previous two shifts (swing and night). This thrice-daily "brief" meeting is vital because it is the only direct communication between the shifts. Among the messages passed on this morning: An unidentified "client" (i.e., a person who uses the shelter, either during the day or the night), whom I had barred on Saturday for threatening staff, was later identified by another staff member; a barred client who makes a habit of illegally entering the shelter and then vanishing did it once again; one client accused another of "dumping urine on him" (staff didn't see any urine, but the accused client—a nearly blind, wheelchair-bound man with dementia—has a history of pissing on himself and others during the night); and a new client with a hip injury was given temporary access to the elevator entrance.
We shelter counselors rotate among different stations every hour. I spent my first hour today in the lobby office. When the lobby is busy—and it is for three-quarters of the day—it is an impossible job for one person to handle. I must simultaneously: 1) Answer the main shelter phone line. This includes not just transferring professional calls to staff voicemail and answering client questions, but also securing mats for clients at the request of case managers, hospital social workers, and probation officers. 2) Monitor entry to and exit from the elevator entrance through the use of security cameras, a barely audible intercom system, a less-than-legible elevator-approval list, and a half-dozen door-unlocking buttons that beep very loudly. 3) Answer in-person questions about mat assignments and agency policies from clients, many of whom cut in front of other clients and get angry quickly if we don't tell them what they want to hear. 4) Search our database for clients who have lost their shelter ID cards and print them new ones. 5) Ensure that all clients entering the shelter—several every minute—slide their ID cards through a laser scanner so that they register on our computer. (Client compliance rate without hectoring by staff: about 60 percent. Scanner compliance rate when a client does slide his card: less than 50 percent.) Because of this chaos, many clients slip through the door without detection.
At noon, a man arrived who several months ago was barred from the shelter for a year for threatening staff and getting into fights. Despite his bar, he likes to sashay up to the lobby, inform the person behind the desk (in this case, me) how much he hates the director of the shelter, Karyn Boerger, and how he plans to wreak vengeance on her and the staff who barred him (in this case, not me). "I'm going to show you the wrath of God," he told me, rather calmly. "People got to learn that they will reap what they sow." After socializing with some other clients in the lobby, he left. Had he entered, I would have followed the policy we use for clients who repeatedly won't follow staff instructions: Call the police. In the case of this client, I would have requested that the SPD not just escort him from the shelter but read him a criminal trespass warning, threatening him with arrest next time he enters.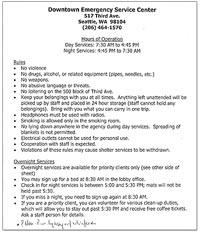 When I am not serving my two to three hours a day in the lobby office, I am either handing out beverages and sanitary supplies at our coffee counter or "floating"—that is, enforcing rules and outreaching clients in need. During my first hour floating today, I did a bathroom sweep for drugs. (Clients can enter the shelter drunk or high, within limits, but they cannot smoke up, shoot up, or drink once inside.) Immediately I found a short Latino man, whom I did not recognize, working on a 40-ouncer of Natural Ice. Ninety percent of the time, I can ID a client either by sight, by confiscating their card, or by asking my colleagues for assistance. In this case, the man would not produce his card or tell me his name, and he did not speak English (or pretended not to). He left before I could consult a co-worker, and on his way out, I chided him in my pidgin Spanish for eluding identification: "No nombre, no tarjeta, amigo? Por qué está un hombre con nada?"
Not all client interactions are negative, of course. Today I ran into several clients who used to stay in the shelter but now have housing. One, a charming, stocky kid from the south side of Chicago, showed me his newly recovered arm flexibility. He fled his gang-ridden neighborhood two months ago and, once in Seattle, secured a job on an Alaskan fishing expedition set to depart in July. (Alaskan fishing is a popular, if arduous, way for unemployed and able working-class Seattleites to make money. You sign your life away for several months, and, if you can hack it, the company pays you handsomely. If you can't, you buy your own ticket home and don't get paid.) Last month he was jumped on the street and received severely bruised ribs, which restricted his arm mobility and threatened his employment. (I spent the better part of a morning convincing him to get treated at a hospital for the assault; he was writhing in pain but scared of encountering racist cops at the ER.) Luckily, his mom sent him just enough money for a short-term apartment and a YMCA membership. With some weight training, his arm is now good as new. Unfortunately, most of our regular clients do not have anything like the family ties or mental and physical health that this kid has. I'll talk about them tomorrow.
---