"It's coming home, it's coming home, it's coming—football's coming home."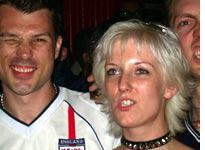 It was 9:30 a.m., and we were already a block away from Nevada Smith's bar in the East Village, but we could still hear the singing—most England fans were in no mood to leave. England had beaten World Cup favorite Argentina thanks to a penalty kick by David Beckham. This game—the most anticipated in the so-called Group of Death—had the weight of history behind it. Beckham's goal erased the memory of his ignominious sending-off the last time the two teams met in 1998, and it settled an infamous old score—Maradona's "Hand of God" goal that started a 2-0 defeat in the 1986 World Cup.
My friends Caz, Jeff, and I had just completed our own night of Death—an eight-hour, late-night soccer marathon around Manhattan bars.
The night had started late—or early, depending on your point of view—at Tja, a trendy Swedish restaurant in Tribeca discovered by Jeff through the Zagat guide. At Tja, said the guide, an "eclectic crowd of Euro expats and amazing models tries its damnedest not to be upstaged by the unbelievably hot waitresses."
Well, I'd never actually watched a soccer game in the presence of amazing models or unbelievably hot waitresses, for that matter. Normally I'm stuck in the middle of a sea of drunken psychotic Brits. But Tja was the only Swedish bar showing Sweden vs. Nigeria, the other Group of Death match, so who was I to say no?
Of course by the time we arrived just before the 2:30 a.m. kickoff, all the models had left for some non-soccer hot spot. Or perhaps they just wanted a few hours beauty sleep before England played Argentina at 7:30 a.m. Unfortunately they had taken the atmosphere with them. The place was dead, and the only person in a Swedish soccer shirt left before the game started. Some 25 Swedish fans were in attendance, but they sat around the bar in near silence even as their team won 2-1!
So it was with some relief that we bundled into a cab after the game and headed to watch Spain play Paraguay at El Nacional, a century-old Spanish social club in Greenwich Village. Again we were let down. El Nacional was like a ghost ship—the TV was on, but everything else was closed. Part-time fans, we grumbled, even if it was only 4:30 a.m.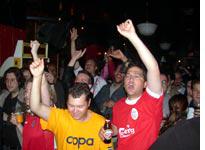 There was only one thing to do. We would have to head to Nevada Smith's—the New York home of English soccer—early. By the time we arrived at 5 a.m., some 300 well-lubricated England fans had already settled in. The Spain-Paraguay game—a potentially thrilling clash—had started, but no one in the bar paid any notice. They were too busy singing and chanting, "Ingulund, Ingulund, Ingulund … Ingulund, Ingulund, Ingulund."
Sweden's win over Nigeria had made England's task even more difficult. Now they needed to beat Argentina to proceed in the competition, and despite Caz's confident prediction of an English victory, few others (myself included) shared his optimism. Nevertheless, as the game began, the fans suppressed their nerves by singing and hurling epithets at any Argentine player they saw with long hair. Amid the crowd, a few Americans had come to be English fans for the day. Next to me, two were practicing fake English accents to better blend in, but it was their words that gave them away: "Man, I've drank more Amstel Lite tonight that I have in my whole life," said one of the ringers, "I think I'll have to leave at halftime."
Twenty-four minutes into the game, English striker Michael Owen hit the post with a low shot and Nevada Smith's—now full to capacity—erupted in applause. Ten minutes later, Owen was fouled, and the referee awarded England a penalty. This time the crowd went wild. "God help the people living upstairs," said Caz. Beckham never looked like missing, and he drilled the ball into the back of the net. England 1, Argentina 0.
I headed to the bar to get a well-earned 6:30 a.m. pint of beer as the crowd sang England's unofficial anthem, "Football's Coming Home."
"Are they celebrating already?" asked a confused American man.
When I returned, one particularly obnoxious fan—dressed in a Beckham shirt and with a hard, thin face that could have gotten him a role in Sexy Beast—was putting on his own halftime show. He was practicing the official England fan celebratory dance, a hyper form of running on the spot, preferably with a pint of beer in your hand. It's tricky to pull off without spilling your beer—even trickier seeing that no one ever attempts it unless they are already drunk. He was no more successful. As Jeff and I took a step back, Bar Beckham swirled around right into Caz, sending beer flying in all directions.
The second half seemed to go on forever. Wave upon wave of Argentinian attacks were kicked away, and England spent the last 25 minutes doing nothing but defending. Every fan in Nevada Smith's was willing the game to end, and when the referee at last blew the final whistle, the crowd hugged each other and ducked as a constant spray of beer and water shot across the bar.
"I can't go to work after this, cover for me will you?" implored one exhausted England fan to his friend. He was in good company: Five million people in the U.K. did the same thing today.
---