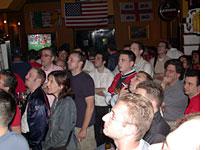 "Dude, we're winning 2-0!"
The young guy next to me in the Ajax soccer jersey and Yankees cap slapped his buddy on the back, making him spill his beer, but neither cared. "Can you believe it?" he yelled.
Moments later, they and the 300 other rabid U.S. fans who had gathered at 5 a.m. in Nathan Hale's bar in lower Manhattan to cheer their team against Portugal had another reason to be amazed. The young U.S. players had already shown they could play against one of this World Cup's most fancied teams. Then, on the stroke of halftime, midfielder Brian McBride headed the U.S. team into what would prove a crucial 3-0 lead.
The bar exploded in a chorus of "U-S-A, U-S-A." The United States soccer team was on its way to a 3-2 win—a victory to rival its 1-0 victory over England in the 1950 World Cup and the 2-1 defeat of Colombia at Pasadena in 1994.
"We don't need no Luis Figo," sang the U.S. fans in the bar, taunting Portugal's star striker, "All he's got is one big ego. And he'll never win the Cup."
Nice chant, I thought. Obviously I was among a witty soccer crowd, though with some disturbing frat boy tendencies. ("Figo's a bitch, Figo's a bitch" wasn't exactly an inspiring follow-up.) Nathan Hale's, it turns out, is no ordinary downtown sports bar. It's the home base of the Empire Supporters Club, 300 passionate fans of the local Metrostars Major League Soccer team.
Empire is made up of hard-core fans. Its founder, Brooklyn resident Kevin McAllister, estimates he's been to every U.S. national team game played on the East Coast since 1991. For nearly 10 years, a grass-roots national supporters club called Sam's Army represented the backbone of U.S. soccer support. But that has changed, said McAllister, a founding member of the Army. "Sam's is a little goofy now," he said, implying that some of the new Army members aren't fanatical enough. "There's a sharper edge to the MLS [fan] clubs."
Certainly there were no softies inside this bar.
"I don't think anyone came here thinking we were going to lose," said Empire member Ron Ferguson. "Who would get up at 5 a.m. to look forward to losing?" he asked.
This is the new generation of U.S. soccer fans—savvy and fanatical for their team. Yet for all their support, they seemed so out of place compared to the rest of the United States.
Every World Cup brings with it some recurring subplots. Examples include guessing the team Bora Milutinovic will be coaching this time around; lamenting the demise of Brazil's so-called Beautiful Game; and that eternal thumb-sucker: When will America embrace soccer?
This quadrennial obsession in the fairly small U.S. soccer community and the tendency by the U.S. media (myself in the past included) to either praise soccer or bury it have already accounted for dozens of stories in the press and on television. They are typified on the one side by the Captain America columnists, who reckon that if the world could only afford top-flight American football, basketball, and baseball leagues, then they'd dump soccer in a second. Then there are a few starry-eyed boosters who argue that soccer is already a success in the United States and that the big three mainstream sports had better be worried.
Frankly, it's all inside baseball as far as the rest of the world is concerned. The dirty little secret not mentioned is that, aside from soccer's money-grabbing and almost-bankrupt governing body, FIFA (who would love to tap into the lucrative U.S. TV market), no one in Europe, Latin America, or anywhere else for that matter really cares if soccer succeeds in the United States.
World soccer, after all, is built on a complex relationship of national rivalries and shared histories. The reason most people in the United States don't care about what happens in the World Cup is that, fundamentally, they don't care that much about what happens in the rest of the world. Sure, there is currently a patriotic interest in Afghanistan and the amorphous giant evil known as the War on Terror, but most Americans, if given the choice, would prefer not to know too much about what happens abroad.
The fact that two U.S. baseball teams (with the off chance of a Canadian one making an appearance) compete for the World Series and that only two U.S. basketball teams (insert possible Canadian clause here) can win the NBA World Championship says plenty about how most Americans view global sports. Because of that, most international soccer aficionados breathe a sigh of relief. They still remember the U.S. proposals to do away with throw-ins at the 1994 World Cup.
Which is a shame because today both the U.S. team and its fans in Nathan Hale's put on a show to rival any foreign soccer power. Even as Portugal clawed its way back into the game, scoring once and then again on a clumsy own goal by U.S. defender Jeff Agoos, the fans refused to stop singing or willing their team to win.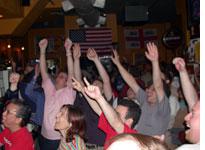 "Oh, when the Yanks go marching in; Oh, when the Yanks go marching in …" they sang triumphantly as the final whistle blew.
The U.S. soccer team proved their quality in front of the world today. And America might actually pay attention until Shaq and Kobe walk onto the court this evening.
---