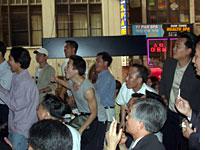 Midway through South Korea's opening game against Poland and things were going fairly well. Korea was up 1-0 and I had finally found some breakfast, a spitting hot bowl of kimchi bibimbop replete with a fried egg on top and some extra spicy radish kimchi to double the punch. Now this is what watching soccer in Manhattan's Koreatown—a patchwork of bars, restaurants, and other stores centered around 32nd Street—is all about, I thought.
The day had started, well, early. Admittedly, I didn't even attempt to watch Costa Rica play China at 2:30 a.m. New York time. Instead I crawled out of bed in time for the second half of Japan vs. Belgium, made myself a cup of coffee, and collapsed onto the couch. The tournament is only four days old, but it is already taking its toll. I stayed up through Saturday night and Sunday morning to watch three live games, taking power naps in between games, but that experience taught me I might be getting too old to pull real all-nighters.
Thankfully I'm in good company. My friend Jeff stayed up the night before to see Ireland vs. Cameroon. It took him a full day to recover, he said. Meanwhile an English friend, Caz, had waited 10 minutes in line at 1 a.m. to get into Nevada Smith's, the New York headquarters of English expat fans, and England didn't even start playing Sweden until 5:30 a.m. "A holy hell" and a "teeming pit of drunkenness" was what he remembered of it. Then there was Tomas, who had talked a good game of accompanying me this morning after yesterday's Ecuador extravaganza but now was nowhere to be seen.
Perhaps he knew something I didn't because, as I enjoyed my unconventional breakfast, there was something missing—the atmosphere. I had moved to Kunjip restaurant from my first choice down the street because frankly it was a little depressing. The big-screen projection TV at the first restaurant didn't work so the owners had perched—I kid you not—a small TV on top of a white baby grand piano that, in turn, sat above a 20-foot fake waterfall façade dominating the center of the restaurant. It was a feat of some engineering but also impossible to see.
So I moved on down the street and found Kunjip. On the big TV in front of me, Korea fans, all apparently wearing their team's official red jersey, had filled the stadium in Busan, South Korea's second largest city, and were deafening the players with a raucous chorus of chants. Here, though, the mood among the 40 or so fans was subdued. I expected a little more. After all, South Korea is one of the host nations of this World Cup and soccer is the country's No. 1 sport. What's more, South Korea had qualified for five previous World Cups but had never yet won a game. What better reason for celebrating could there be than finally seeing them win?
Then, Yoo Sang-chul pounced on Poland's dour and dire defense and rifled home the home team's second goal. The restaurant was drowned with wild screaming and yelling. I looked around at the assembled businessmen who had come to watch before heading off to work—they clapped and cheered but they weren't responsible for this cacophony. No, the noise was definitely coming from somewhere else. I quickly paid the check and ran upstairs. Not a moment too soon, I had discovered Blue Bar—Korean fan nirvana.
Some 200 young fans had packed what is obviously normally a late-night hangout—this early in the morning the place still had that sticky smoky feel of too much partying the night before—but the crowd was oblivious. They were too busy cheering and anticipating a much-needed win. Young men kitted out in the teams colors stood laughing as their team made the Poles look like idiots while their fashionable waifish girlfriends clapped and screamed what, even though I don't speak Korean, years of watching soccer told me was either "Come on Korea" or "Ahn Jung-hwang has really cute legs." It didn't really matter.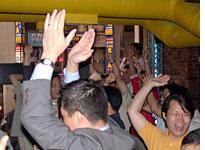 And then, just as I was beginning to embrace Korean sporting fanaticism the referee blew the final whistle. The place erupted one last time and within seconds it had emptied out. I grabbed a young man as he headed for the door and asked him how he felt today.
"We are just so happy," said Young S. Lee, who works in Midtown but lives in New Jersey. "Soccer is making the nation tight today. Today we are one country and wherever we are, be it in New York or L.A. or Busan, we are all Korean."
I couldn't agree more. I can't wait until we meet the United States on Monday.
---