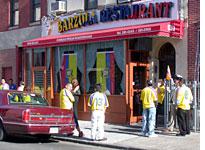 My friend Tomas and I found ourselves driving around a seedy part of Bushwick, Brooklyn at 7 this morning looking for an Ecuadorean restaurant to watch Ecuador play Italy. You see, I've decided to go global this World Cup. All this week, I'm going to take a tour of New York's ethnic neighborhoods and watch a different match with a different set of fans.
We found Barzola with just a few minutes to spare. We knew we'd come to right place because it had two huge Ecuadorean flags hanging in the window. The fans turned and looked as we two gringos entered—after all, we were the only ones not wearing Ecuador's yellow and blue kit. Barzola had been transformed into a cathedral of Ecuadorean football. All the tables and chairs had been arranged like pews to face a huge projection screen, and though it was early, bottles and bottles of Pilsner beer were knocked back with breakfasts of shrimp ceviche or meat, peppers, and platanos. We took a seat at the back just before the owner pulled down the restaurant's shutters, plunging the room into darkness. "Vamos Ecuador," screamed a man to my side.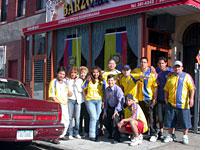 This was Ecuador's first-ever World Cup match, and, for a country so passionate about soccer, it was obviously big deal. You could tell because both the fans and the players were nervous. Inside the cramped restaurant, you could hear the fans will their team on. "Ecuador's going to score," they'd say like a mantra. "Let's go, Delgado, you are the strongest," they said about one of their heroes. Italy, on the other hand, showed no nerves. Three-time champions, they scored first after just six minutes. "Era un golazzo"—it was a great goal—said the fan next to me wistfully. Across the room another fan was soon less sanguine. After Ecuador had a penalty kick denied, he took his frustrations out on a spare chair, hitting it repeatedly against the floor.
For four days now, I've been living in the midst of a very un-American religion. My fellow followers congregate under the cover of darkness in bars and restaurants and converse in tongues that, more often than not, bear little resemblance to English. On the street, I spot fellow devotees wearing the green or red or Azzurri blue of their particular allegiance, and I give them a knowing nod, much like those first Christians must have done at the sign of the fish. They've never met me before, but they respond with a smile or sometimes with a salutation that seems to erupt from deep inside them. "Allez les Bleu," they shout, or "Vamos Argentina" or "Goan England." Then I know that I'm not alone and that this pagan land can indeed be saved. This, after all, is the month that followers from all over New York have dedicated to soccer.
Fanatics the world over will think I'm crazy. New York, they'll rightly argue, can't generate the same level of national hysteria and expectation that builds in Italy and Argentina and England as their teams progress through the tournament. But New York has its own form of World Cup hysteria—a polyglot camaraderie fueled by multiple-nation pride. Anyway, I come from Wales, a nation that made it to the World Cup only once in 1958 and looks unlikely to get back there soon. My nearest option for World Cup fanaticism is to support England (which I do out of some weird sporting Stockholm-syndrome).
No, for soccer aficionados, New York, with its clusters of Brazilians, Spanish, Koreans, Nigerians, and even a few born-and-bred Americans, all passionate about the game, is the place to be. But this year, with the Cup being played many time zones away in Japan and South Korea, my desire to be among the thugs is stronger than ever. Even I can't get too worked up at home at 5 a.m. And having drifted in and out of Argentina's exciting win over Nigeria, it's obviously going to take more than just good football to keep me awake.
Back in Barzola, Italy had scored again, and the result was assured by the end of the first half of the game. "I hate Italy; they are always so boring," said Tomas, partly out of sympathy for the Ecuadoreans but mainly drawing on a long-standing loathing. "For us, we're just proud that our team has made it to the finals," said Geovanny Barzola, the son of Barzola's owner. Back in the kitchen, the waitresses were playing with Geovanny's toddler son, who was dressed in a baby Ecuadorean kit. "Golazzo, golazzo," they said as they bounced him up and down and he smiled. Another little boy was being baptized into the World Cup.
---