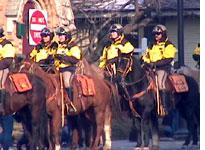 When we got back to Chuck and Crystal's last night there was a flyer on the porch from the Utah Transit Authority noting that there will be 160 buses on our corner tonight. The intersection has been designated the West Bus Hub; I was hoping for something a little more lovely. The alert comes a bit late, because we've already seen the buses. More than once. As well as the nifty mounted police, the 10-ton road barriers, and the scores of shiny official cars. The notice advises neighbors with respiratory issues to consider staying elsewhere.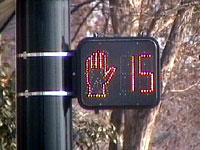 Downtown Salt Lake has a new crosswalk-signal system, which I've got some questions about. It signals Walk and Don't Walk in familiar ways: the walking figure and the red hand. It pipes as well, alerting us to get moving. But then it offers what I call the Spiking Heart-Rate Countdown. There beside the red hand is a digital countdown, (10-9-8-!) indicating how long you've got before the traffic has its way with you; 7-6-5 … and what the flashing numbers do, regardless of your companion, burden, or state of mind, is cause you to run. You run. Seeing the numbers like that requires that you run. I've seen people running. Men and women running in their coats. If this is the point, this new system is really working.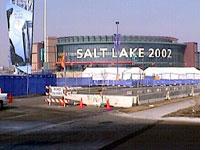 Today, we go nuts driving around the frosty suburbs of West Valley City trying to get even near the Olympic venues. The E Center, where they will play hockey, is fenced up tight. There are barricades, crowd panels, little fences and big fences with purple piping, and an armed soldier every hundred yards. The West Valley cops see us coming and say two things: closed and don't take my picture. Everybody is polite, but there's the wonderful impatience they've mastered to let you know that you've asked your last question and it is time to move on. Twenty-five cents of every dollar spent on the Olympics is for security. I set a one-day record for U-turns in a rental car. The road closures are multiplying. We do see one thing that no others will see for three weeks and that is the vast parking lots for these places, empty. Waiting for the guard at the E Center, we see him allow two vans of Dutch journalists to pass. All we want is a picture of the place. I'm tempted to hold the leaf-shaped air freshener up and tell the guy we're from near Canada. He comes to the window and says, "Closed. Make a U-turn right there. Don't take my picture." All the guards at the Kearns Oval are from Pittsfield, Mass. They urge us away. We've learned the way it works; they don't walk toward you unless you handle your camera.
In all our tour, we have passed Apollo Burgers two or three times. It's a theme, along with the frustration. "Apollo was an Olympian," I remind Chuck. We want that god's sandwich, but we can't find an outlet now that we're looking for one. The traffic is strange, pressurized, pre-Olympics. On the new freeway (completed for the Games), we're speeding and starving. We end up at a Greek place downtown tearing into the Crown Burger, which is big as a book and made with pastrami. As we eat, I realize we've failed. I'm wrecked; rental cars wreck you. Then, undeserving, I get a gift.
Sam Weller comes in on the arm of his aid. I haven't seen him in six years. The famous book man, in his 70s, has gone blind. His son Tony now runs Zion's Bookstore on Main Street. When I had an office downtown in 1978 and was writing my second novel, I'd see Sam from time to time at Lamb's Café, and the man encouraged me. He always asked how the book was coming and to hurry and get it done so he could put a few in the window. I wasn't sure I could finish, and he could already see it in the window. When I take his hand today and say his name, he says, "Who is it?" I tell him, and Sam, as sharp as ever, smiles behind his dark glasses and says, "How's the new book coming? And how are Elaine and the boys?"
Outside, there's one more pleasure. A woman stands at the corner with her white stick, and then I remember we're a block from the Salt Lake Blind Center. The walk signal is piping, and the hand is flashing beside the red countdown. She asks me a great question: "Are you going in my direction?"
Tonight is the Opening Ceremony Olympic Dress Rehearsal at the stadium, and the buses are back. Thousands of people move in clumps toward the Olympic Stadium, carrying blankets. If you didn't know better, you'd think 50,000 people had been forced from their homes. With the wind chill, it's 3 degrees. A man in an automated lift appears before the house as the bundled masses pass and begins putting the Olympic banner atop Crystal and Chuck's streetlamp. Crystal waves her hand at him and says, "It's the last one. Ours is the last one." She's right. Let the world know: 500 South is ready.
Photographs by Chuck Uibel.
---