Jim Witz and I got to be friends our sophomore year of high school. First we started sitting together in Latin class. Then we started going out to lunch together, usually to Shmendls for hot dogs. And finally we made the transition to outside of school friends, hanging out on the weekends at his father's apartment, a sort of fantasy bachelor pad on the top floor of a high-rise overlooking Lake Michigan. His father had a big-screen TV back before anyone else did, a pinball machine, a whirlpool.
Jim's dad was a lawyer, and one of his clients was Seka, the foremost porn star of that era. One time, we came down from the whirlpool with our friend Peter, and we ran right into her. We were dripping wet, with nothing on but towels. It was one of the most exhilarating, terrifying moments of our lives. "Boys, meet Dottie," Jim's dad said. We still talk about this whenever the three of us are together. (Peter particularly likes the part where Seka said to him, "You're so tan!")
Jim and I have stayed close since high school, but in recent years, we've had a bit of a struggle to avoid drifting apart. I live in New York, he's here in Chicago; so we don't see each other much. He's a partner at a law firm and he's got a family that keeps him busy, and I'm busy too, I guess.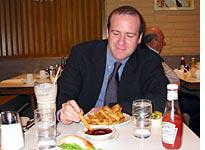 We had lunch downtown today. I asked Jim if he liked high school—surprisingly, I had no idea how he would answer. He said he loved it beginning our junior year. I noted that this corresponded with when he got a girlfriend. Ever since I started writing my novel, I talk to people about high school all the time, and there is almost a 100 percent correlation between people who liked high school and those who had boyfriends and girlfriends.
I wish I'd had one. It seems like I would of gotten off on the right foot that way. That my confidence would have started growing early, and naturally, and I wouldn't still have to be working on it so hard now.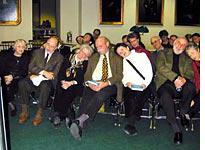 After lunch, I started getting ready for my reading at the Newberry Library.
An hour before I had to leave, I was not in good shape. It was my first reading ever. There were going to be over 100 people there. I hadn't slept well, and I had a headache. I can't remember ever being quite so nervous.
I had to go to the bathroom, and on my way in, I grabbed the nearest book off of one of the many stacks lying around our house. It was The Little Prince. I hadn't read it since I was a child. Here's the dedication:
I ask the indulgence of the children who may read this book for dedicating it to a grown-up. I have a serious reason: he is the best friend I have in the world. I have another reason: this grown-up understands everything, even books about children. I have a third reason: he lives in France where he is hungry and cold. He needs cheering up. If all these reasons are not enough, I will dedicate the book to the child from whom this grown-up grew. All grown-ups were once children—although few of them remember it. And so I correct my dedication: TO LEON WERTHwhen he was a little boy.
Then I read the first two chapters. When I was done, I wasn't really nervous anymore. I'm not sure exactly what I felt—partly understood, I think, and partly that the world is a beautiful place. Books are amazing things.
We had a cocktail party in the Fellows Lounge at the library before the reading. I couldn't believe the people who were there. Rokko Jans, who wrote the music for a play I was in in sixth grade and whom I haven't seen since. He's still exactly the way I remember him—sweet, charming, and with a huge head of hair. Dr. Michael Minieka, the hand surgeon who fixed me up eight years ago when I had such bad tendinitis I couldn't even open a door. He happened to still be in my address book, so I sent him an invite, and he came. We had a great chat about my hands. Ken and Nancy Marks were there, the parents of one of my dear high-school friends—as long as I've known them they've had a 7-foot-tall papier-mâché cheeseburger in their living room. And Donna LaPietra, who came with a bag of cookies she'd baked for me that looked exactly like the cover of my book.
Everybody was so happy, really rooting for me. It felt kind of like my bar mitzvah. I signed books first. Then I spoke a little bit about how I became a writer. I talked about what a voracious reader my father was, and how I didn't really like reading as a kid. So I started writing to find another way into his world of books. Then I read for about 25 minutes. The reading was hard—reading aloud is a skill, I guess, and I haven't quite developed it yet. But people were laughing at the right spots, so I think I did all right.
After the reading, we went back to the Fellows Lounge for dessert. The caterer had actually read my book, and prepared a Banana Maloosa, a dish my main character cooks in Chapter 8. The real version was much better than the fictional one.
I came home wired on attention and Coke. I can feel that I'm about to crash hard.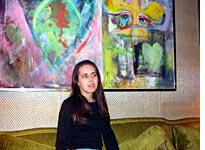 Today was also my girlfriend Mary Lynne's birthday. She came to Chicago so we could be together for it and was incredibly understanding about how busy I was. So now I'm going to pay some attention to her. Tomorrow I'm off to Francis Parker to teach classes, have lunch with some of my old teachers, and find out what high school was like for them.
---