What's left?
Oh yes, unrequited love.
My big high-school crush … infatuation … oh, fuck it, the girl I loved in high school was Robin Newberger. She was beautiful, smart, funny, and best of all, dark in a way I didn't understand at all.
We were best friends. We hung out in school, we went for walks, I spent a lot of time at her house. We talked a lot, I think, about what was going on with her. I was a good listener, insofar as I found everything she had to say worthwhile, and I was willing to point out endlessly that life was great.
I spent, literally, hundreds of hours pacing back and forth in my bedroom trying to figure out if she liked me or not. But it never occurred to me to make a move on her. My brain couldn't even formulate that idea.
A few years ago, I was listening to the radio show Loveline when a teen-age boy in a similar situation called and asked for advice. The hosts, Adam and Dr. Drew, asked a series of questions, and the answers made it clear the girl had no romantic interest in the boy whatsoever. Adam then proceeded to convince the caller that the girl probably liked him, and he told him to make a pass at her the next chance he got. As soon as the boy hung up, Dr. Drew said, "That girl isn't interested in him. Why did you tell him to do that?" "Oh, she doesn't like him at all," Adam said. "But if he does make a move on her, even though he'll get shot down, he'll move into an entirely different category of human being—people who ask for what they want."
I was firmly rooted in the other category—people so afraid, so sure they're unattractive, they don't even know about asking.
In spite of the prolonged agony, Robin and I stayed friends, and after I got over her, our relationship grew even stronger. She's married now, with a great husband and great kids, and I see her whenever I'm in Chicago. The funny thing is, we never, ever talked about how I felt about her when we were younger. Never mentioned it once.
Until today. We were meeting for lunch, and I knew in advance I was going to bring it up. With all the delving into my teen-age past I've been doing this week, it felt like the last stone unturned. As we sat eating and chatting about high school, I started thinking, "OK, I'll be saying it soon. Soon, now. Almost time. It's not a big deal. Just say it." I didn't really want to. But then I just did: "So what about our relationship?" I said. "I mean, we've never even discussed the huge crush I had on you." "I didn't have any idea," Robin said. It was clear from her tone that she didn't mean it was a surprise now, she meant she hadn't known then. I said I thought it was pretty obvious. But Robin pointed out that teen-agers have a well-developed capacity to block out anything that will cause problems for them. She relied heavily on our friendship in high school, so why should she have let in any information that would disrupt it?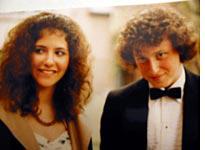 We continued to talk about it, and about high school in general, but I didn't feel quite right about the whole thing. I don't know what I was looking for—some kind of catharsis, I think, that wasn't there—but I felt disappointed as we left the restaurant. Robin was going to the doctor, and I walked her across the street and upstairs to the doctor's office. As she was filling out forms, she asked me which scenes from my novel were based on real events. I said that one of them was based completely on something that happened with her—a scene where the rather buxom Renee Shopmaker tries on a tight bathing suit in a department store and then comes out of the changing room so that Jeremy can see it. "I knew it," said Robin. "I knew that was me. In fact, as soon as you told me you were writing a book about high school, I knew that scene would be in it."
"Aha!" I said. "Doesn't that mean you knew how I felt? Why else would that have made such an impression on you?"
"Well," she said, "I did know, even then, that that was a bit much to expect you to go through. It was over the top enough to puncture my denial."
Then I remembered something.
"You know," I said, "it was a Mickey Mouse bathing suit."
"Yes!" Robin shouted.
We both burst out laughing. And then I had a pang of regret, because that was an awfully good detail, and I'd left it out of the novel. In real life, it was almost the key detail of the whole story, because the collision of my budding sexuality with Mickey Mouse just wrecked me.
Now I felt good. It was sort of like what happened yesterday with Jan Leary. Robin and I were back there together, with the same memories, the same perceptions. And that meant we had gone through the same thing together. Which meant, maybe, that I hadn't gone through it completely alone.
Tonight, I did a reading for about 25 people at the Hilton downtown. Instead of standing at the podium, I pulled up a chair, and we got into a circle. It felt like story-time. I really enjoyed myself.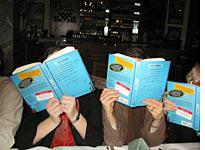 After I got home, my mother came up to my room and handed me a phone. "You have to hear this," she said. There was a message on her voice mail from my friend Bruce Feiler, who was calling to tell us that there's a great review of my book in tomorrow's New York Times by Janet Maslin. After I listened to it, I grabbed my mother and hugged her. Then I called Bruce and he read me the review. I was shaking.
It's one of those nights when all the struggles, all the crap, all the ups and downs just disappear. I was about 30 before I learned to ask for what I want. I've had a lot of disappointments since then. But also, sometimes, I dream about something and then it happens.
My only problem is that my girlfriend won't appreciate my being in love with Janet Maslin on Valentine's Day.
---