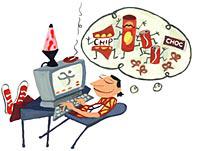 If you live in a big city, there are scads of ways to order food online and have it delivered while you stay inside. This may sound like old news: Chinese delivery has been around since the Paleolithic. But this is different. Groceries, meals, snacks, and beer are all on the menu, and the process requires even less effort and human contact: no phone call, and in some cases, no tipping. You simply go to a Web site, check off the items you want, type in a credit-card number (your own, ideally), and wait for victuals to appear at your door. But be warned. Venture capital is drying up fast, and many of these companies have gone under recently. So, if you want to cash in on the deals they're handing out to attract new customers ($20 of free groceries, free delivery, etc.), now is the time to get in gear.
What companies are still standing? In my city (Seattle), Kozmo.com, HomeGrocer.com, and Albertsons.com are still in business. Peapod.com, NetGrocer.com, and Webvan are big players elsewhere. (Click for a sampling of other services.) There are also tons of smaller regional businesses such as PDQuick, SanDiegoGrocer, and WhyRunOut. How do all these places differ, and which is the best?
Kozmo.com is a stoner's dream. With videos, music, and an entire section labeled "munchies," it is essentially a classy convenience store plus video store that comes to your door. For the purposes of this article, though, I'm going to stick with their food offerings.
Selection: A smattering of staples such as milk, bagels, yogurt, and dry pasta are available, but the main focus of the selection is snacks, drinks, and meals. The meals are upscale and quite good—lasagna, salads, sandwiches, frozen pizza, heat-and-serve pasta. Same goes for the snacks: Odwalla Bars, Ben & Jerry's ice cream, chips, and a selection of healthy stuff such as nuts and Power Bars. As for drinks, Kozmo's got juice, soda, beer, and wine. To buy booze, you must show ID when the delivery guy arrives (other sites work the same way). Plus, you can adjust the settings so that no alcohol or tobacco products even show up on the site, or if they do show up, you have to type in a password to buy them.
Ease of Use: The site is well designed and organized, and I had no trouble finding what I was looking for. Plus, the site remembers your credit-card info so you don't have to enter it each time you visit. On the downside, there's no nutritional information for the products.
Delivery: They deliver within an hour of ordering, or you can select a one-hour window in the future. I received four of the five orders I placed within the first half-hour of the expected delivery time. Delivery is free. (Correction: As of Dec. 1, Kozmo started charging for delivery: $1.99 for all orders under $30; for orders above that it's free.)
Price: Kozmo also charges more than your grocery store does. It's not as bad as an airport snack shack charging $5 for bottled water, but judging from a random sampling of a dozen food products, the average markup was 14 percent. Depending on your outlook and the depth of your laziness, this may or may not be worth the convenience of having it show up at your door. See the for more details.
Tipping: The Web site says, "although not expected, tipping is allowed for service above and beyond Kozmo's high standards." A representative of the company pointed out to me that unlike your average bike messenger, kozmonauts (as the delivery folks are known) get an hourly wage, benefits, and some even have stock options, so it's really up to the customer. Noticing the slight lingering of the delivery guys at my door after the product handoff, I asked if most people tipped, and they said yes.
Reliability: I had two beefs here. First of all, most of the desirable meals (salads especially) are sold out by dinner time each day. If the point of the service is to allow you to be a complete sloth, planning ahead for dinner should not be required. Second, the lag time between running out of a product and showing the product as "sold out" on the site is long enough that on two occasions Kozmo had to call me up after I'd completed and confirmed my order to let me know something I'd asked for was unavailable.
Locations: New York City; Seattle, San Francisco; Boston; Los Angeles; Chicago; Atlanta; Portland, Ore.; Houston; San Diego; and Washington, D.C.
HomeGrocer.com, which recently merged with Webvan, attempts to be a grocery store like any other, except that you don't have to wait in a checkout line or lug your groceries home. The delivery guy will carry in heavy stuff for you and put it where you want it. They bring doggie biscuits to win your dog's affection, animal crackers to win kids' affection, and on Halloween they included a free goody bag in my order (which sure won my affection).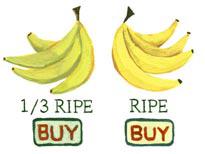 Selection: Surprisingly, HomeGrocer stocked a number of the brands that I wanted and had a wide range of organic produce. It's vastly larger than Kozmo, and after the completion of the merger with Webvan, it will overlap more with Kozmo and carry more non-food items such as magazines and movies. I was most concerned about picking out produce—would I get limp lettuce? But I was impressed by the quality of their veggies and fruits. Plus, they try to accommodate folks' pickiness by getting specific: For bananas you can pick "Not Ripe (1/3 or more green)" or "Ripe." For packaged foods, you can pick the brand and the size, and then click to jump to a page where you can read the label.
Ease of Use: The site was completely easy to use, intuitive, and attractively deigned. It ran smoothly, loaded quickly, and kept a handy list of what was in my shopping cart running down the left side of the page. Neat features include a page listing everything you've ever bought and what you often order. That way you don't have to search out a half-gallon of 2-percent milk each time: It's sitting there on the list already. Also, each item has the nutritional information clearly marked. I do wish it would remember credit-card info, though.
Delivery: Most sites work pretty much the same way: After you've finished shopping, the site will prompt you to pick a delivery time. You choose a day, and then a 90-minute window within that day. (After the merger with Webvan, HomeGrocer plans to shrink the delivery window down to 30 minutes, which is pretty darn convenient.) You never have to speak to a human being until one shows up at your door. Although they claim next-day delivery if you order by 11 p.m., I found that the primo delivery times (i.e., not during work hours, not late at night) were often unavailable for next-day delivery. Generally, I was able to arrange an after-work delivery two days ahead. This is pretty annoying if you're out of milk.
Delivery Cost: It's free the first time you order. After that it's free if you get more than $75 worth of groceries. That's fine if you've got a family to feed, but if you don't, that's an awful lot of food for one person. Orders under $75 get charged $9.95.
Price: Slightly cheaper than my local grocery store. See the for more detail.
Tipping: HomeGrocer.com has a no tips policy. I tried to tip the delivery guys and they declined.
Reliability: Of all the sites I tried, this was the only one I had no trouble with. There were a few extremely minor hitches, though: Some organic green beans I ordered went bad faster than they should have, and I could have sworn I'd ordered whole—not crushed—canned tomatoes. I looked back at my order online (they keep an archive for you), and it said I'd selected crushed, but I was still suspicious. On the positive side, unlike Kozmo, which has a stock of products that it can run out of, HomeGrocer has a product list of what they carry, and if they're out at the warehouse, well, someone runs to the store and picks it up for you at no extra cost.
Locations: Seattle; Portland, Ore.; Los Angeles; Orange County, Calif; San Diego; and Dallas/Fort Worth.
Albertsons.com is an online version of the national bricks-and-mortar chain.
Selection: Comparable to HomeGrocer. It also has options for picky shoppers, such as being able to pick green versus yellow bananas.
Ease of Use: I found the site very slow to load, and it froze up constantly. The design is not as modern-looking as HomeGrocer's or Kozmo's, but it's still functional. It lets you keep lists, though you have to create and maintain them yourself. Like HomeGrocer, you can see the nutritional information (yes, the Pillsbury pie crust does have lard in it). The site also has recipes, which highlights one of the cooler things about grocery shopping online. Normally, you write down a list of ingredients and run all over the store gathering them up. With an online site, you can sit with your cookbook open in front of you and work down the list.
Delivery: Much cheaper than HomeGrocer, but not "free" like Kozmo: Orders under $60 have a $5.95 delivery charge; over $60 is free. I also found the delivery waits to be shorter than HomeGrocer's—I could consistently get a next-day after-work delivery. Like HomeGrocer and Kozmo, you never have to present your credit card to the delivery guy. All that is taken care of when you place your order online. By the time your groceries show up at the door, all you have to do is sign the delivery guy's clipboard. You can also pick up your groceries in one of their stores to avoid delivery fees (unless you ordered under $5 worth of stuff).
Price: Cheaper than my local grocery store (see chart).
Tipping: "Our customer delivery representatives do not accept tips … just your gratitude." This also held up on testing.
Reliability: They delivered some oranges I wouldn't have picked out myself (more yellow than orange), but otherwise the produce was good. One glitch: Albertsons.com sends you a confirmation e-mail with a tracking number. After one order I received two confirmations in quick succession with different tracking numbers. I sent an e-mail asking if I'd get two loads of groceries. The next day (a mere 45 minutes before the delivery was due), they assured me that I would not receive duplicate orders. After another order, I got a phone message saying they'd tried to deliver, but I wasn't there. They must have been early to the drop-off, because I was there the whole time. It ended up being delivered only about 15 minutes after the designated 90-minute window.
Overall
Albertson's has the best prices and the fastest delivery, but the slowness of the site is frustrating. Kozmo is undeniably the most convenient. But the handy features and great user interface at HomeGrocer have won me over, and I'm most likely to stick with them. 
---