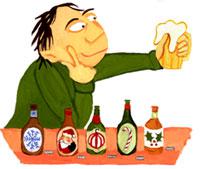 As a Democrat, I fear I'm going to be crying into my beer a lot this holiday season, so I want the beer into which I cry to be good and strong and life-affirming: Hoppy, but with a cushion of warming, toasted malt—and perhaps, for extra lift, a jovial dash of spices. I'm pleased to report that the beer is out there. Since the renaissance of "craft" brewing in the last two decades, brewers in the United States and other parts of the world have dedicated themselves to concocting strapping, assertive, and deeply idiosyncratic holiday seasonals: "wassails" with mulling spices for mistletoe merriment; roasty, chestnut-hued brown ales for fireside sipping; and hop Godzillas to demonstrate the revivifying powers of bitterness. These are not beers to be stewed over in solitude but to share with lovers, friends, co-workers—even Republicans.
Because so many holiday brews can overwhelm both the palate and the liver, I decided it would be a good idea to spread my tasting over several evenings. Then I thought: nahhhh. And so my colleagues and I gathered one stormy December night to savor 40 seasonal beers from the Pacific Northwest, the Northeast, California, the Mid-Atlantic, Belgium, England—anywhere we could track them down. (We left out the superheavy brews known as "barleywines" to keep from re-enacting the climax of The Lost Weekend.) The informal panel included Jim Leff, passionate pooh-bah of chowhound.com; Rolling Stone contributor and esteemed rock historian Fred Goodman; architect Mark Pennell; and Slate associate editor Jodi Kantor. Leff played Santa Claus and brought barbecue from Pearson's, maybe the Northeast's best rib shack. It was one of the few meals that could hold its own against so many brontosaurian brews.
Our methodology was a tad whimsical, which is to say that it wouldn't be sanctioned in official beer-judging circles. (But who wants to move in official beer-judging circles?) Professional tasters set up troughs into which they deliver the contents of their glasses and, on occasion, their mouths, but I've never really fathomed how beer judges can confine themselves to a few sissy sips and throw the rest away. A beer reveals itself in progressive tastes, as the finish of the last gulp mingles on the palate with the aroma of the next, and the brew can be savored at once in its coming and going. This is a lyrical way of saying that I didn't do a lot of pouring out, which might be why my notes on the last few beers are difficult to make sense of but seem to revolve around Catherine Zeta-Jones.
Before I disclose the results, it would be useful to establish some unofficial categories of holiday or winter beers, a few of which overlap:
Hop Monsters. These are the beers with a brawny, roaring bitterness—an amplified version of an already loud style that has flourished in the West and Pacific Northwest.
Wassails. Think mulling spices: nutmeg, clove, allspice, cinnamon, and even weirder stuff like juniper berries or pine needles.
Enhanced Brown Ales. These are ales in which the grain has been roasted, imparting a nutty, sometimes chocolaty, occasionally burnt-caramelly aroma and flavor. Enhanced Browns might also be well-hopped and feature spices.
Mighty Stouts. Some breweries make stouts only in the winter months and put a lot of character (and alcohol) into them. The alcohol—6 percent, 7 percent, even 10 percent—is in contrast to, say, Guinness, which actually has less kick than Miller Lite.
English Winter Warmers. Much maltier than their American counterparts and with different, more subtle varieties of hop. (Think "pear-shaped diction" and "pearlike hops.")
Belgian Ales. Belgians use candy sugar and funky but felicitous yeasts to produce fat, near-barleywine-style winter beers that can send you spiraling into nirvana (or oblivion).
The surprise of our tasting was how quaffable almost all these beers were. A few had too much this or that, but only one was aggressively unpleasant: Pete's Winter Brew (Tumwater, Wash., and Eden, N.C.), a gruesome dark ale with raspberry extract and nutmeg—Robitussin Fizz. (You drink it and wonder, "What's it supposed to cure?")
We recommend virtually everything else we tasted. Beers that we highly recommend are in bold-face type.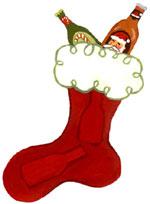 I give away my hophead bias at the outset in saying my favorite winter beer—my favorite beer, period—is Sierra Nevada Celebration Ale from Chico, Calif. It's Godzilla, Mothra, Rodan, and King Kong in one. Miraculously, it also has finesse, not to mention a plot. It opens with a floral, spicy aroma followed by a big (near-Burgundian) body and a lingering hawthorn-grapefruit bitterness that makes the roof of your mouth seem to levitate. The hops by themselves are intoxicating, but it's the evolution that's the marvel. Fresh from the tap, with the hop oils coating my mouth, Celebration has made me higher than any other legal substance. (Hops, by the way, are members of the cannabis family.)
In the same hop-monster arena, Fish Tale Winterfish, from Fish Brewing in Olympia, Wash., is lighter than Celebration (what isn't?) and has a clean, drying finish that makes you want another sip, and another, and … Santa's Private Reserve, from Oregon's marvelous Rogue Ales, is the brewery's delicious, fruity Red Ale with double the hops—a great pint to swill with a big, greasy meal when you want something to cut through the fat on your palate. (It added a lot to our ribs—in all senses.) On the hop-spice border sits Rogue's second seasonal, Yellow Snow Ale, which is not like any yellow snow I've seen (whatever stained it was seriously dehydrated)—but it's a lovely saffron all the same, its juniper berry aroma conjuring up evergreens on a winter's day. The ale fakes sweet, then the bitter Northwest hops flood in: I love it, but non-hopheads might find it lopsided.
The daddy of modern American wassails is San Francisco's Anchor Our Special Ale, which in its current incarnation (the top-secret recipe varies from year to year) is just sensational. It's a deep, reddish brown with an aroma I found gingery but Leff insisted was cumin. (We opened a bottle of ground cumin and passed it around. We also sniffed bottles of ginger, coriander, allspice, clove, nutmeg, and mace. Hard to say. Maybe cumin plus ginger. Plus nutmeg. Plus anise.) The spices are right there in the foretaste, but the ale goes out on a flying carpet of dark chocolate and licorice. 
That's a hard act to follow, but other spiced beers had their charms. From Bellingham, Wash., Orchard Street Jingle Ale had the sparest, most elegant, all-type label and the slogan "sprinkled with seasonal cheer." More than sprinkled, actually: My fellow tasters reacted grimly to its velvety suffusion of cinnamon and cloves. But I thought the spicing, while bold, made the ale taste like fruitcake is supposed to. I liked it. The others preferred Harpoon WinterWarmer (from Boston), which reminds me of cinnamon toast but might go well with pumpkin pie. (It's a Thanksgiving beer.) From Norwalk, Conn., New England Holiday Ale is fizzy and cola-colored, with a jolt of nutmeg and … cardamom?—Break out the spice bottles, guys—and a rudely abrupt bitterness. Hale's Wee Heavy Winter Ale (from Seattle) is a wee heavy on the allspice. "Or is it Old Spice?" asked Leff. "Maybe English Leather," said Goodman. "No—Hai Karate."
The label of Deschute's Jubelale (from Bend, Ore.) depicts a young woman with largish breasts spinning on skates around a frozen lake, a snow-capped peak in the distance. One hand is thrown in triumph above her head, the other holds a bottle of Jubelale. She has reason to be exultant. This reddish brown "festive" ale is uniquely great. What's that aroma? Nutmeg? Pine cone? Maple? Campari? Whatever: This is the most convivial spiced brown ale imaginable, with just enough resiny hop to keep it from finishing syrupy. Portland (Oregon) Brewery's BobbyDazzler is a dazzler, all right—a fat, red, malty monster of an ale in which the hops seem to bloom out of the spices.
Moving into malt: It's not from England, but the classic Geary's Hampshire Special Ale from Portland, Maine, is the best big-malt holiday ale I've ever tasted—a synthesis of great American and English brewing. The aroma hints at butterscotch and caramel; the body is rich and smooth, with lightly toasted malt (but no burnt edges—this toast is buttered); the finish is luxuriously long, malty but never sweet, rounded off with virile but respectful hops—a big bear rug of a beer.
This time of year, you can drown in brownish ale. From Seattle, Pacific Maritime's Jolly RogerChristmas Ale ("Yo-Ho-Ho!" reads the label, which bears a skull-and-crossbones with a Santa cap) is a Northwest version of a toasted-malt brew, which means a bit more chocolate and a ton more hops: It's good, but a real buccaneer would take a more dramatic stand. Widmer Brothers' Winternacht (Portland, Ore.) is a sweeter, roastier version of the brewery's fine alt beer. Roastier yet is Snow Cap Ale from Widmers' just-over-the-Washington-border neighbor, Pyramid. Brown with auburn highlights, it has a sweetish nose and deep—but not terribly profound—hopping. Red Hook's Winterhook (Seattle) always tastes to me like the brewery's ESB with the volume turned up: some grain, some fruity esters, but a body that's too undeveloped for its bitterness. This baby needs to fill out.
The browns get weirder in the east. Clipper City Reserve Winter from Baltimore has its roastiness swamped by an agreeably sweetish, strawberryish bouquet. Otter Creek's A Winter's Ale, from Middlebury, Vt., is broadly in the Scottish style but without the sweetness: It's deep, caressive, with hints of toasted caramel, burnt chocolate, and smoke. Snow Goose, from Maryland's Wild Goose Brewery, is just as roasty but has a butterscotchlike sweetness and a conclusive (rather brusque) flurry of grapefruit-rind hops. Weirdest of all—but wonderful—is Weyerbacher's Winter Ale from Easton, Pa., with its hint of malt syrup and its toasted-poppy-seed-bagel breadiness. "Tastes Jewish," said Leff. "Like my grandfather's breath."
Jim's grandfather would probably have liked Ramstein Winter Wheat, a lovely, lightish quaff from a great wheat-beer brewer in northeast New Jersey. The beer has notes of roasty carob and chocolate, but the wheat lightens the body and adds a fragrant note of clove and banana. This is the only holiday beer that's actually quenching. Samuel AdamsWinter Lager is also made with wheat and a touch of spice, but its body is a little fuller and its flavor monochromatic: It's nothing to turn cartwheels over, but it's a fine "starter" winter beer for the faint of palate—and it's widely available. Another lager, Seattle's Thomas Kemper Winterbräu, is darker and toastier, with a hint of the brewery's famous blueberry ester—odd but rather pleasant.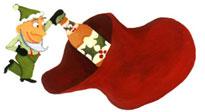 The Mighty Stouts were a study in contrasts. We were thrilled by Magic Hat's Heart of Darkness, a seasonal beer from a playful brewery in Burlington, Vt. The body is deceptively light, but the ashy-chocolate finish stays and stays—not like an unwelcome guest but a girl (or guy) who you thought at first was sort of nice-looking but gradually realized was deeply, meltingly beautiful. From Victory, a young, already-legendary brewery in Downingtown, Pa., comes Heart of Darkness' antithesis, Storm King Stout. This is a fat, mouth-coatingly roasty, feel-the-burn, big-alcohol imperial whopper, with a go-for-broke flamboyance that is dazzling to behold. It gambles and wins, whereas the more original Brooklyn (N.Y.) Black Chocolate Stout craps out. The airplane-glue nose warns you not to light a match in its vicinity, and all that alcohol combined with layers of creamy chocolate malt (and maybe real chocolate) is the clumsiest kind of overkill. This stout is like one of those overmuscled lifeguards who can't even gesture without being distracted by his own biceps.
By the time we got to the foreign beers, we were pretty well blotto, but not enough to miss the fact that our bottle of Aas Yuleol (from Norway) was skunked so badly that its subtle charms (and it has some) were overwhelmed. From England came the "Winter Warmers": Samuel Smith's Winter Welcome was the lightest, with a bit of sticky, wet-cardboard caramel (this beer doesn't travel too well in those clear bottles) and a good, pearlike hoppiness. Young's tasty Winter Warmer was a darker brown with deep red highlights and a nose of bark and candy cane: pinecone soda. Darker yet is Harvey's Christmas Ale (from Sussex), with burnt molasses and cooked pear in the nose and on the palate. This baby is formidable—smooth, little fizz, sweet and slightly sticky but well on the right side of cloying thanks to roasted malt and a powerful hop undercurrent. It's a masterpiece of its type, for sipping in lieu of sherry. One American ale dares to call itself a "Winter Warmer": Portland, Oregon's Bridgeport Ebenezer Ale, which the label assures us will "stand up to figgy pudding." We didn't have any figgy pudding handy, but its sweet-and-sour, passion-fruit flavor did stand up to our corn chips.
We shouldn't have saved the Belgians for last. An American Belgian-style ale, AllagashGrand Cru, from Maine, was a wonderful reminder of a slightly candied, sweet-aromatic type of ale that the Belgians don't make during the holidays. What they do make put us under the table: Scaldis Noel, like a superb cognac plus candy sugar; CorsendonkChristmas, with a peppermint nose; a soft, sweet body; and a nutmeggy finish. The Speciale Noel Ale from the great Abbaye des Rocs was a disappointment—a little flat, composed but not orchestrated. We finished, appropriately enough, with Delirium Noel, 10 percent alcohol in a white porcelain bottle featuring a (drunken?) Santa being pulled in his sleigh by pink elephants. Where could one possibly go from here?
To bed. 
---