"Journalists—the lazy ones anyway—always try to explain how movies are made," complains Bill Johnson, the everyday-guy auteur at the center of Tom Hanks' new novel about Hollywood. They believe, Johnson complains, that filmmaking is some kind of step-by-step procedure "listed like a flight plan for a voyage to the moon and back." Tom Hanks knows a lot about what it's like to make a movie, and even a little about voyages to the moon and back. In his first novel, The Making of Another Major Motion Picture Masterpiece, the star portrays the creation of a single blockbuster not as a systematic, predictable process but as a chaotic series of accidents, happy ones and unhappy ones, steered by the same kinds of steely, homespun pros who brought Apollo 13 back down to earth.
Hanks had already written a screenplay, That Thing You Do!, when he sat down 10 years ago with an idea for a yarn about a bunch of neighborhood pals who fly to the moon. That story, the irrepressibly optimistic "Alan Bean Plus Four," ended up in the New Yorker, and soon the tony Knopf publishing house had printed a whole book of his typewritten tales. (Hanks' devotion to his typewriters is as dogged as his belief in the nobility of space travel.) When that book became a bestseller, his editor Peter Gethers suggested a novel about Hollywood, and Hanks overcame his initial reluctance to write about the biz, he said in a recent interview, when he realized he wanted to show that moviemaking "is not as easy as it seems. That doing this is so difficult that it breaks people wide open."
Hanks demurs from even referring to himself as a writer—he doesn't want to seem, he says in that interview, like one of those people who say things like "Well, in my writing … " But the fact remains that America's pal Tom Hanks has decided that he is now a writer, and the instant he made that decision, America's highbrow literary institutions showed up, hats in hand. That's David Remnick, the editor of the New Yorker, interviewing him Tuesday night in New York. Yes, it's a little embarrassing for everyone involved, but I choose to look on the bright side: At least he's not doing crypto commercials. Mediocre books hurt no one, and I can only hope at least a few obscure poets are getting Knopf contracts thanx to Hanx.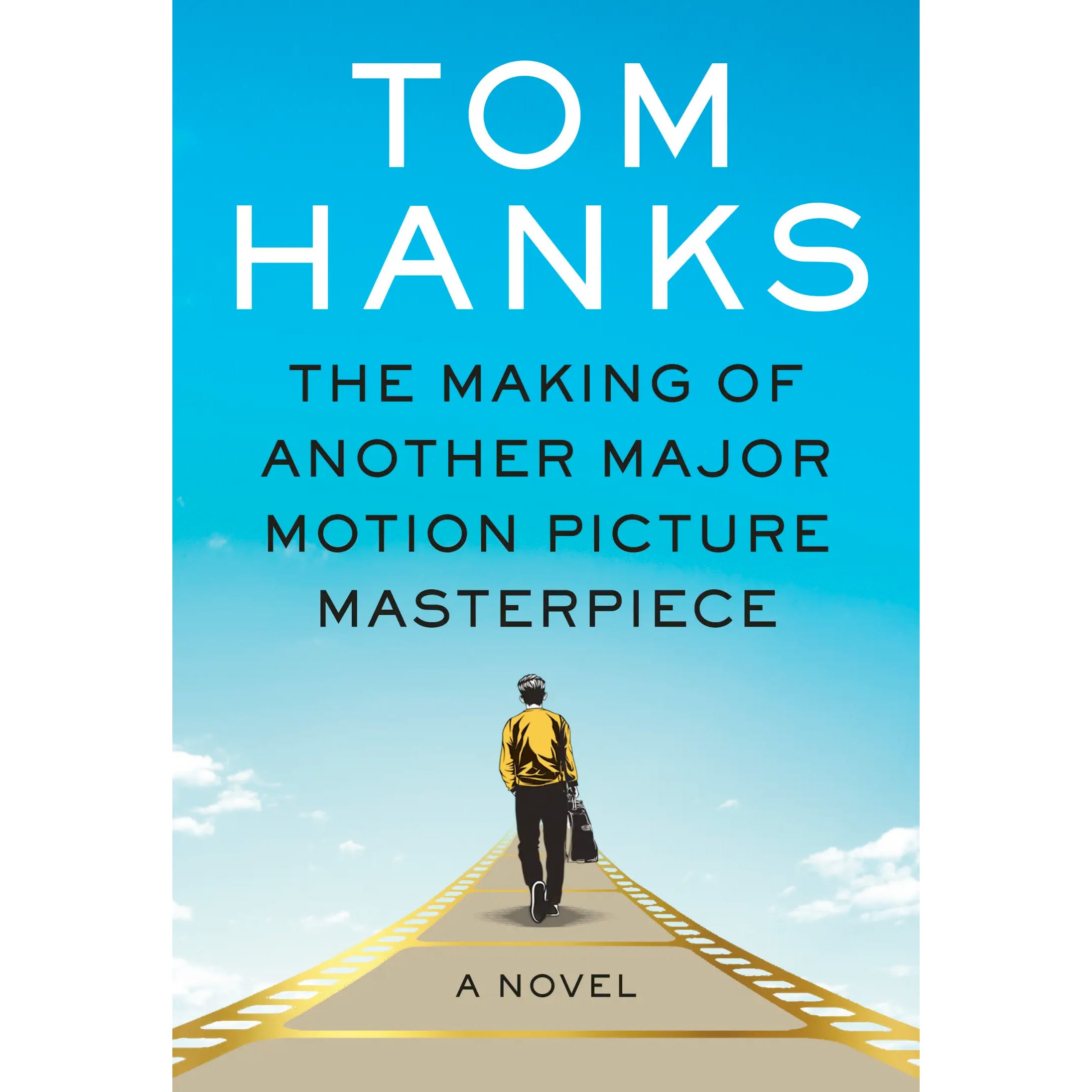 And there are things that Tom Hanks is naturally gifted at writing. Incisive satire, no. Rich, complex characters, no. But charming banter? Homespun coinages? Wry yet inspirational speeches about show business—"the Business of Show," as his characters like to call it? Those are his sweet spots. These speeches are usually delivered by an experienced hand to a promising tenderfoot, someone who's new to the business but nonetheless instinctively gets what it takes to get a movie made. That might be Hanks' foundational belief: that show business is made up not of avaricious, attention-desperate drama addicts but of hardworking nobodies plucked from obscurity on the basis of their pure and glorious talent for getting it done.
What does it take to get it done, to get a movie made—in this case, a fictional blockbuster called Knightshade: The Lathe of Firefall? Be on time. Don't be a jerk. Know your lines, do your job, give it your all. You're a hero, in Hanks' novel, if you—in one character's memorable phrasing—"solve more problems than you cause." A plucky hotel clerk procures for a director some fro-yo, and in a couple of years she's a producer. Later, a plucky rideshare driver finds herself on set during preproduction and winds up unloading office furniture, ordering coffees, arranging catering, and stocking the bathrooms with toilet paper. In Tom Hanks' moviemaking universe, when you do all that without complaining or even being asked, you're on the fast track to success in the Cardboard Carnival. (That's another of Hanks' whimsical coinages.)
It might be the most charmingly old-fashioned detail in a portrait of the industry that, like Hanks' recent career, sits uneasily on the edge of the old Hollywood and the new. Hanks' characters idolize the heroes of yore—watch Bette Davis movies in their trailers, refer to Casablanca lore—but they also observe COVID protocols, depend on expensive CGI, and guard against toxic fans. Knightshade: The Lathe of Firefall itself is a movie out of time. As it's described by the book's characters, and also drawn in brief comics sequences by the great R. Sikoryak, Knightshade is a unicorn that has never existed in any era of Hollywood: a superhero movie, yes, part of a Marvel-esque cinematic universe, but one made for a streaming network, written and directed by a fictional auteur with a resume like Spielberg's in 1986. (Acclaimed blockbusters, Oscar noms, one notorious flop, the deep respect of the industry, a high Q-rating.) In this auteurist superhero epic, actors give the performances of a lifetime. The stars exude sexual chemistry, despite their leather gauntlets and whatnot. The crew weeps watching dailies. The director gets final cut. Most improbably, that final cut comes in under two hours.
There are no nepo babies on a Tom Hanks–written film set, and hardly any assholes. The writers are not on strike. Even the studio suits only show up on the first day of shooting, then make themselves scarce. A movie set, in Hanksworld, is a place of doggedly professional, kind people who are all working arm in arm to make magic. Hanks clearly prides himself on being an on-set mensch, someone who pulls his weight every day, shows up on time, notices the little people. And it's true that many of the most enjoyable moments in this novel are about those little people: the makeup artists, the spouses, the production assistants, the day players. One chapter, in which two little old ladies have a grand old time during their two days on set, knitting and waving from a porch, is a wonderful little nugget of storytelling.
But Hanks' interest in every small part—sorry, small actor—can make for rough reading. Hanks is simply constitutionally incapable of introducing a new character without delivering eight pages of their life story, which means that over the book's first 100 pages we make our way very, very slowly through a 20th century delineated with all the complexity of Forrest Gump. (Sample Hanksian exposition: "The so-called Summer of Love had been vaporized by many, many social ills, primarily the war in Vietnam, a nation roughly the size of California on the other side of the Pacific Ocean.")
Once we're on set, things liven up a little, in part because the book introduces its only villain: movie star O.K. Bailey, a preening prima donna who can't play nice with all the down-to-earth craftsmen populating Hanks' imagination. For as long as Bailey's in the novel—tearing around in an Audi, arguing with his French girlfriend, declaring seconds before his first shot that he's decided his flamethrower-toting Marine character is gay—he gives Hanks' often saggy, conflict-free storytelling a little juice. But Hanks dispenses with him quickly: Johnson fires his star three days into filming, replacing him with, yes, a plucky supporting player who's willing to do whatever is necessary to get the movie made. (Needless to say, this almost never happens on a real film set.) Bailey simply has no place in Hanks' portrait of filmmaking as family endeavor, one in which at the end of every day the assistant director announces, "That's a wrap. You are loved."
Some readers may find Hanks' corniness fatal. I admire, I admit, his commitment to this idea of moviemaking, one that ignores the stupid, corrupt, even ugly parts of the process. I admire his relentless good cheer, the good cheer of a guy who, by all reports, has managed to remain a nice guy despite being the priceless object at the center of a multibillion-dollar industry for decades. The Business of Show, in Masterpiece, has the well-scrubbed sheen of a Ron Howard picture. Contra Hanks' interview, moviemaking in this novel does not even come close to breaking anyone. It is hard work, but joyous hard work, well paid, with a product at the end of which everyone feels immensely proud. Suspend your disbelief, indeed.