In Sex Reviews, writers offer a sober critical assessment of the sex scenes in new releases. This installment contains spoilers for Queen Charlotte: A Bridgerton Story.
On Thursday, Netflix released the new prequel series Queen Charlotte: A Bridgerton Story, which gives us the backstory of the titular monarch (Golda Rosheuvel). The first two seasons of the Shonda Rhimes megahit established Bridgerton's reputation as a show that was not just breezy but steamy. The second half of Bridgerton Season 1, with Daphne Bridgerton (Phoebe Dynevor) and Simon Basset (Regé-Jean Page) as the central couple, was full of sex. Season 2 had a classic enemies-to-lovers plot—remember "You are the bane of my existence, and the object of all my desires"?—and was a slow burn, delivering no sex between the central couple, Anthony Bridgerton (Jonathan Bailey) and Kate Sharma (Simone Ashley) until the final two episodes, in which Shonda let us have it with a delicious rain-soaked liaison in a gazebo and a happily-ever-after ending.
What will Bridgerton viewers who remember those sex scenes, uh, fondly, take from this new series, in which young Charlotte (​​India Amarteifio) and her husband King George (Corey Mylchreest) enter an arranged marriage, fall in love, and deal with a few tiny problems—like George's mental illness and the fact that some people in charge are not really 100 percent on board with their interracial marriage? Below, Slate senior editor Rebecca Onion and culture writer Nadira Goffe review the new show's sex scenes in detail. 
Episode 1, 21:00: Young Agatha Danbury Endures Some Very Unappealing Missionary Sex With Her Much Older Husband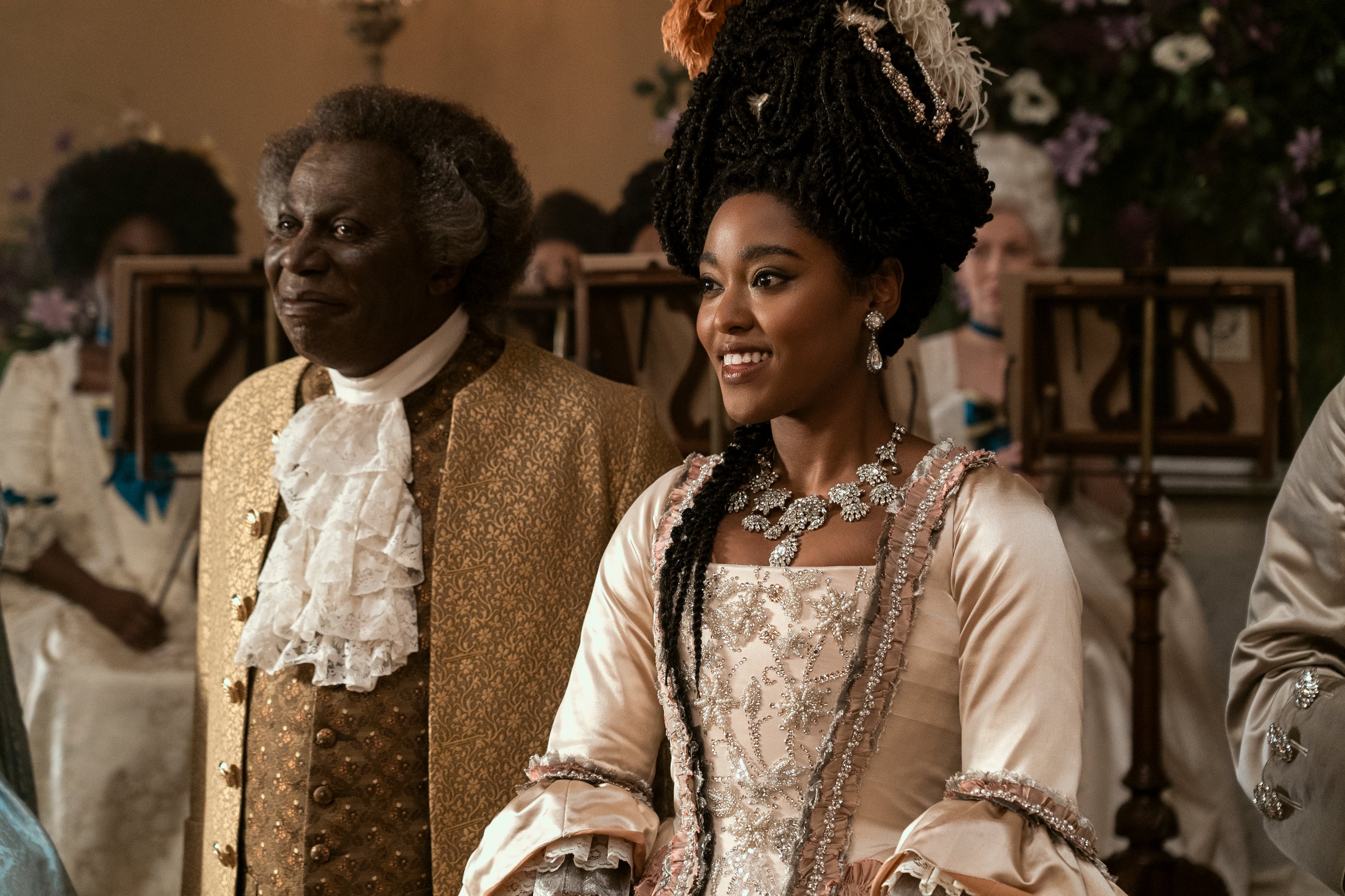 Rebecca Onion: We've gotten to know Lady Danbury as a grande dame in the first two seasons of the show, and now we're getting her backstory, which is intertwined with Charlotte's. Is this … the most unsexy sex we have seen in a Bridgerton show? I was honestly surprised by how abject it was. We see only Agatha's face, staring up at the ceiling, and hear a series of grunts. (Side note: Arsema Thomas is absolutely gorgeous in this show.)
Nadira Goffe: I am envious of Thomas' general looks but I was not envious of this! This is by far the most unsexy sex the Bridgerton-verse has offered us. In fact, it might be some of the most unappealing sex I've seen on screen, in any movie or TV show, in a while. Something about Thomas' face screams that this is an annoying chore that she's had to deal with plenty of times before, as if sex with her husband (Cyril Nri) is comparable to washing some particularly tedious dishes. And who could blame her? Plug and chug may get the job done when it comes to solving math problems, but in the bedroom it leaves something to be desired. Someone free my girl!
Episode 2, 12:00: Brimsley and Reynolds Sneak a Tryst While George and Charlotte Have a Fight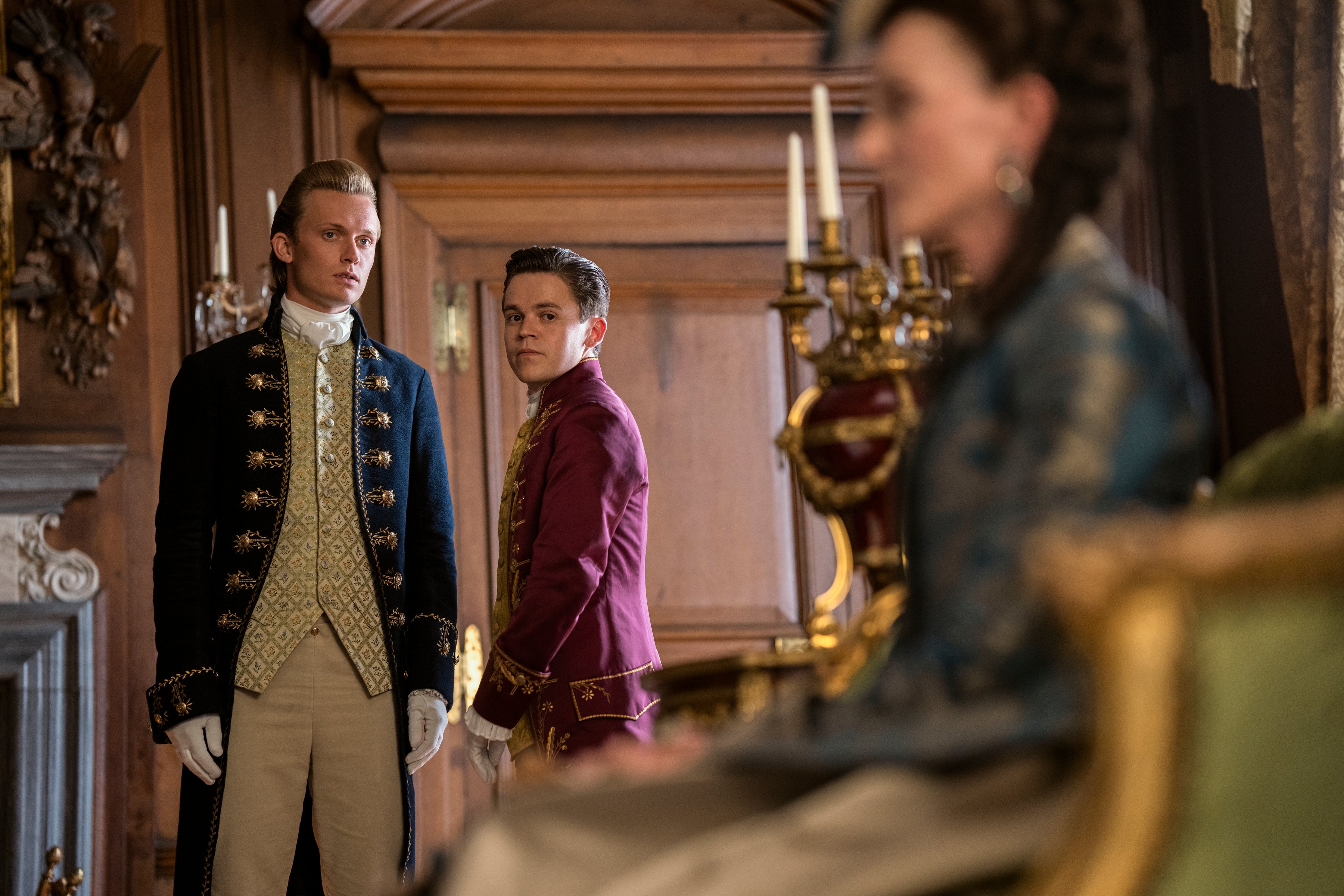 Nadira: This is the early sex scene I really wanted to talk about! If I'm not mistaken, this scene—in which Charlotte's royal aide, Brimsley (Sam Clemmett), and King George's royal aide, Reynolds (Freddie Dennis), are seen having a clandestine quickie—is maybe the Bridgerton-verse's first gay sex scene? The two tear each other's clothes off and throw each other against furniture while discussing Charlotte and George's failure to consummate their marriage.
What I love about this scene, before we even get into the sex of it all, is how much it tells you about their characters: They are two people for whom their job has become their life, to the degree that they find the pretense of working to constitute foreplay. And, they don't hesitate to show where their loyalties lie: Brimsley defends Charlotte in the failed consummation attempt, while Reynolds defends George. Because of the demands of their jobs, they are likely the only two people in their lives who can truly understand each other, which is cute! But the show makes it hot when they rile each other up by discussing the status of the king's "bits." "From what I've seen, he has large, healthy bits," Reynolds teases while unbuttoning Brimsley's pants.
Rebecca: When I first saw Dennis playing Reynolds, who is icily, perfectly handsome, I was like, "That guy is going to get a B plot in this show, with sex in it." The fact that this B plot turned out to be with Brimsley—and that Clemmett, a brunette, has got to be a foot or so shorter than Dennis, a blond, making for a striking visual pairing—pleased me greatly. The urgency in this scene was really strong, and fit right into the plot—these people don't have much time together, and they're taking advantage while they can.
Nadira: Brimsley and Reynolds also serve as a sort of foil to our leads: They're a couple that wants to be together but can't, while they serve George and Charlotte, a couple that (at first) doesn't want to be together, but can.
Episode 2, 19:00 and 30:29: More Misery From the Danburys

Rebecca: There's this light music behind these scenes while Agatha endures more missionary sex with her husband that really made me wonder. It adds to the impression that this situation—an extremely young and beautiful woman with an older man who isn't handsome, or even, really, kind—is a farce. While I see why the show needs to play it that way, it's also kind of vaguely upsetting, every time. I was watching through my hands! It surprised me, a little, to be watching a Bridgerton with these kinds of sex scenes, but it also felt very Shonda Rhimes in a way that I can't put my finger on.

Nadira: Yeah, that Shonda Rhimes! She's great not only at making indelible strong female characters but also at zeroing in on life's very specific letdowns and disappointments. In other words, she's good at making you feel uncomfortable, whether it's via a racial microaggression in Scandal, a disheartening decision by your favorite character in How to Get Away With Murder, or, now, bad sex in Queen Charlotte. And I must say, I nearly skipped past these scenes because of how successful they are at upsetting me!

I'm happy that the show is taking the opportunity to point out that in the world of Bridgerton, not every story is a love match. What happens more often than not is a contractual marriage. However, it does feel violating at times! Dear Lord, need we be subjected to it nearly as much as the young Lady Danbury herself?
Episode 2, 48:00: After Much Sturm und Drang, George and Charlotte Finally Consummate Their Match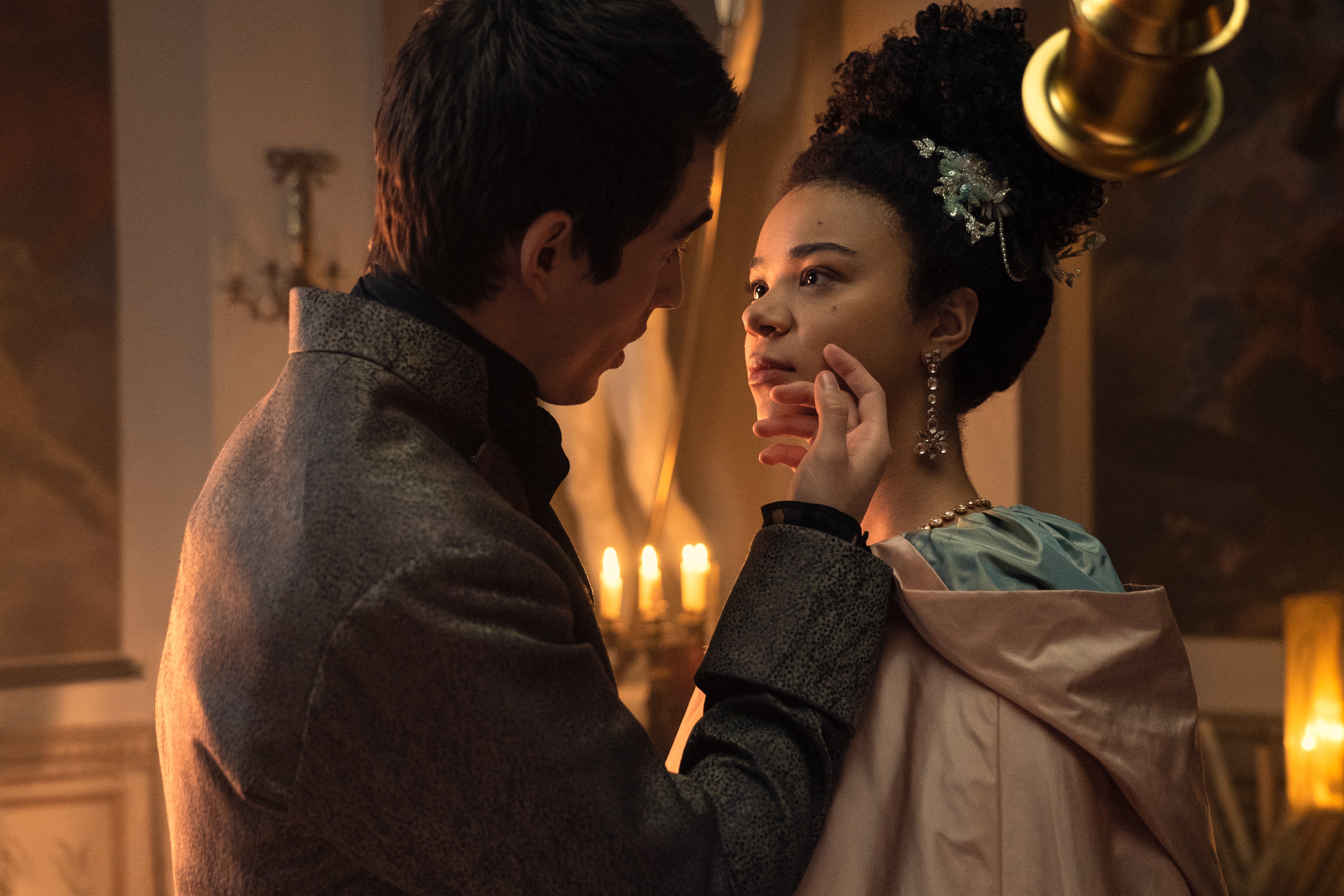 Nadira: OK, the thing about George and Charlotte is that you know from the instant they meet that it was some level of love at first sight. Then, George gets all cagey after they wed and skips out to live alone at Kew, and everyone is up the couple's asses (except, literally, each other) about consummating their marriage. This makes it so that there's a lot to reckon with when they finally do: Charlotte is a child who has no notion of what the Marital Act™ entails, save for a very disenchanting explanation from a pleasure-deprived Agatha, and George has a history as a very on-and-off partner, both in his emotional availability and his actual physical presence, making them strangers to each other.
However, you know they love each other at least a little—Amarteifio and Mylchreest are maybe better at the falling-in-love moments than they are at the sexy ones. There's a scene before they consummate where George is watching Charlotte as she peers through a telescope, before quickly looking away when she turns back to him, which I found to be really endearing.

But I think the show suffers because of their physical separation. They each long for companionship, but there's not a strong sense that they each long for each other, let alone each other's bodies. So, when they finally do get to the royal chambers, it's sweet, but it's not necessarily satisfying. The hottest moment in their first time is when Charlotte, nervous that she chose an overly complex nightgown, remarks on its "thousand tiny buttons," and George simply responds with, "I'm very good with buttons." After that, they get completely naked and, awash in candlelight and bathed in orchestral music, engage in some gentle, loving missionary until they both climax.
Rebecca: "Gentle, loving missionary until they both climax" has me laughing very hard. It's such a romance-novel thing for a virgin like Charlotte to be, like, totally into missionary, because she just likes her man so much. This scene is, I have to be honest, kind of uncreative as Bridgerton sex scenes go—it's a sumptuous bedchamber, lit by firelight, and the camera just kind of pans over George's butt thrusting a bit as they gasp and the music swells. There are literal drapings of parts of white sheets over strategic bits of Charlotte's body.

Nadira: I didn't think about it being so clichéd until you said so, but you're exactly right. Which is fine for a franchise that is mostly reliant on familiar tropes anyway but is disappointing when the show's main relationship honestly doesn't offer you much else! It's understandable that Charlotte, this being her first time, would be into missionary, but it would've been cool if they had also tried, like, anything else.
Episode 3, 10:18, 11:20, 13:18, and 16:30: George and Charlotte Are Really Going At It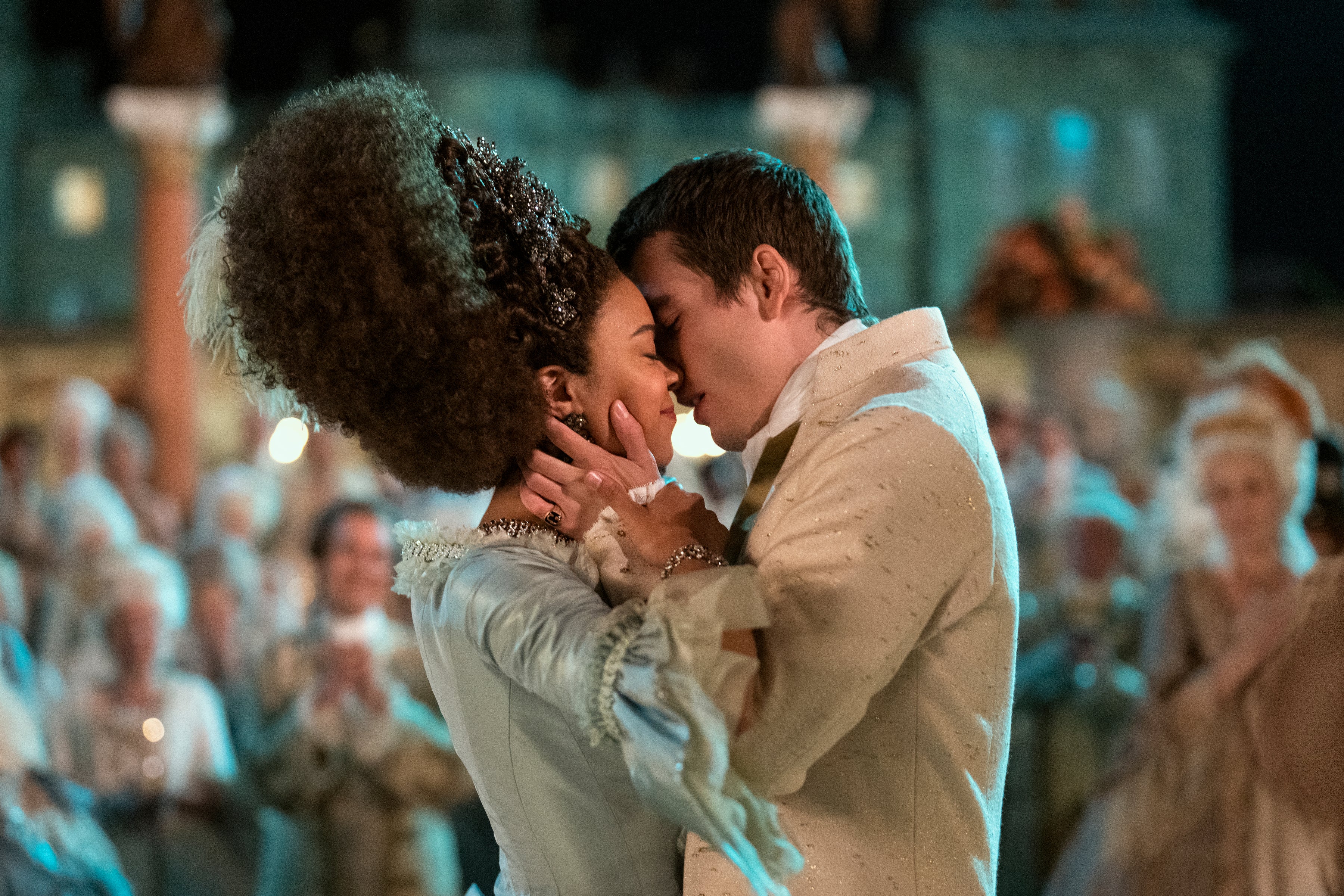 Rebecca: George and Charlotte are angry at one another for non-sex-related reasons, but have agreed to have sex on even days. This results in the best George-Charlotte scenes of the series, which I think we can discuss as a group. We get a bit of cunnilingus, George sweeping objects off his dressing table in order to prop Charlotte onto it to have sex while he's standing, Charlotte hopping into George's bath, gown and all, upon his orders, to ride him while he grips her throat with one hand (lovingly!).
There's also a glorious scene (I think it's my favorite?) in which their gripes at one another ("You have been breathing in my rooms!"), which they are airing at the dinner table, boil over into them having sex right there in the dining room, as Reynolds and Brimsley hurriedly usher the rest of the footmen and attendants out of the chamber. That's royal privilege, baby!
Upon second viewing, I suspect I may like these scenes in part because they are a part of the show where George is assertive. In the rest of the show, his relationship to command—to being king, basically—is fraught and difficult, because he's dealing with his mental illness, and he's a very vulnerable figure. In these scenes he plays a bit with dominating Charlotte. Am I a jerk for liking this version of George the most? Maybe, but to paraphrase Emily Dickinson, the heart likes what it likes?
Nadira: If you're a jerk, I'm a jerk too! First of all: More! Cunnilingus! On! TV! I certainly enjoy the scenes where George is more dominant, but that's pretty much par for the course for me, personally. As for the show as a whole: It presents a nice change, as you've noted! And I think this show could use a bit more variety.
I also enjoy the idea that "rough" sex—though, to be clear, these examples aren't that rough—doesn't just mean what Agatha has been struggling through, but can mean something very fun. And I think that these sex scenes serve the story as well, specifically in the sense that they increase Charlotte's (and the audience's) confusion: It's clear that George wants to be around Charlotte, but he still stays away from her outside of these even days.
Episode 3, 42:00: Lord Danbury Goes Out With a Bang

Nadira: Earlier in the episode, we get another brief, unpleasant scene where Agatha is enduring her marital duty as the Danburys lie side-by-side. After Lord Danbury—mercifully—finishes, we get one of the only moments of care between the Danburys when Lord Danbury laments that his racial differences set him apart from his peers ("They dangle joy in front of me and never let me grasp it") and Agatha (affectionately!) assures him that he's "every bit as good as they are."

But this affection is short-lived when, later on in the episode, Lord Danbury goes into cardiac arrest in the middle of going at it doggy-style with Agatha. Agatha rejoices at his (frankly) timely demise. I rejoice at the prospect of never having to see their sexual interactions again

Rebecca: This was such a weird and revealing scene. Talk about a sex scene that tells you something about a character! We see Agatha's face as she kneels on the bed and waits it out, and then we see how it changes when, all of a sudden, her husband's gasps and moans stop and are followed by a loud thump as his body collapses on the floor. We know he sucks, but it's funny to watch her reaction to a person having died while inside her—which is nothing but celebration! (Later in the show, we see that her life with Lord Danbury took its toll on her mind.)
Episode 5, 1:11:47: Agatha, Now a Widow, Takes Lord Ledger, the Grandfather of the Bridgerton Siblings We Know and Love, to Her Bed

Rebecca: Agatha deserves this. I really liked how she takes control of the situation, and how Ledger (Keir Charles) lets her, seeming to know that she needs to forge a new type of relationship to sex after her awful marriage. It was annoying that we only got one of these scenes, though. The full story of how Agatha reclaims her feelings about her body has got to have so much more to it! I wanted more Ledger action. But for the Bridgerton universe, it seems like the idea of Ledger having an actual protracted extramarital affair is too much.

Nadira: Yeah, I agree with you on the idea that Agatha's reclamation deserves so much more. And, in some ways, the show itself agrees, as evidenced by the present-day segment of the story in which Agatha coaches Violet Bridgerton on the importance of keeping her sex drive satisfied as they age, and especially as they live on beyond their husbands.

However, I do have one big admission: the seriousness of this entire scene was undercut by the fact that there's a string-quartet version of Beyoncé's "Run the World (Girls)" playing underneath? A deeply unserious choice, if you ask me.
Overall

Rebecca: What do you think of the sex in this series, as a whole? Or to use our patented Sex Reviews scale: If you had to rate how horny it left you, from 1 to 10, what would you say? I think it is a way less sexy Bridgerton series than the others, in part because it's not structured like a romance novel—it doesn't hit those same notes. Most of the main couple's sex is in the middle of the series! We don't even see George and Charlotte have sex at all in the final 3 episodes, unless I'm much mistaken! They seem to have too many problems. Thank goodness for Reynolds and Brimsley.

I'm giving this a 3. Max.

Nadira: Agreed. There's barely any sex in it, and about half of what is there is decidedly off-putting.

I think a 3 is a perfect rating—it gave crumbs, and for those, at least (Reynolds and Brimsley!), I am thankful. I wish I could say I enjoyed the more dramatic parts a lot more, but I'm unfortunately not sure I can say that either.