The Harry Potter universe is in a bit of a crisis. The third Fantastic Beasts film continued the series' decline, leaving the future of this enormous spinoff series in limbo. (On top of the movies not being any good, the series has suffered plenty of bad publicity thanks to early decisions to cast Ezra Miller and Johnny Depp.) J.K. Rowling's reputation is forever tarnished in the eyes of many of the young adults who once dressed as Hermione for Halloween, thanks to her seeming inability to stop tweeting transphobic tweets. Warner Bros. seems out of ideas: The most recent project the studio announced is to retell the events of the original seven Harry Potter books in a decade-long television series. Once upon a time, die-hard fans might have been thrilled at the idea of finally bringing, say, the S.P.E.W. subplot to life. These days, the announcement just makes me, once a die-hard, feel exhausted.
But last fall, I found myself delighted by a Harry Potter spinoff that made me laugh, that surprised me, and that even made me think about the magic these stories exerted on me in the first place. This spinoff is completely unauthorized by Rowling, Warner Bros., and the Ministry of Magic. It's a satirical play called Puffs, and I watched my daughter and her classmates put it on as Yorktown High School's fall production. Written by Matt Cox, the silly, self-aware Puffs is the most fun Harry Potter spinoff out there. And it might be coming soon to a school auditorium near you.
How did a goofy semi-improvised show put on for two weeks at a tiny comedy club in New York become a student-theater powerhouse—the second-most-popular play for high school students in America? How does the modest Puffs sidestep the pitfalls that seem to doom all J.K. Rowling's authorized spinoffs, each one a multimillion-dollar wannabe franchise in the making? Why is Puffs such a blast, even though it recognizes all that is silly about its source material? And how on earth has Matt Cox not been sued into oblivion?
"I still can't believe it, honestly," said Cox on the phone—about all of it, not just about not being sued. The 34-year-old Cox still lives in New York City, and is a full-time playwright, but back in 2015 he was a Le Pain Quotidien clerk who'd gotten a gift: two weeks at the Peoples Improv Theater in Chelsea for a Harry Potter–themed show. He'd been thinking about his Potter fandom—he grew up with the books, waiting in line for midnight releases at his local bookstore in suburban Dallas—and how much affection he still felt toward the Hogwarts story even though, as an adult, he now recognized that a lot of it was baloney. "And then I thought, What would it have been like to have been another kid at that school?" He laughed, recounting it later. "What a horror show! You just wanted to get your wizard education, and every year, shit keeps getting worse."
Over a hasty writing and rehearsal period, Cox and his actors devised a shaggy script—"glorified sketch comedy," he said—telling the story of the Hogwarts years as experienced by the Hufflepuffs, the least cool, least respected of the school's four houses. Over seven years of wizarding school, members of the Puffs class of 1998 make friends, struggle with homework, hide from trolls, and find themselves drafted unexpectedly into a wizarding war. Most of all, the Puffs strive to finish something other than last in the annual House Cup competition. The Puffs' motto: "Third or nothing!"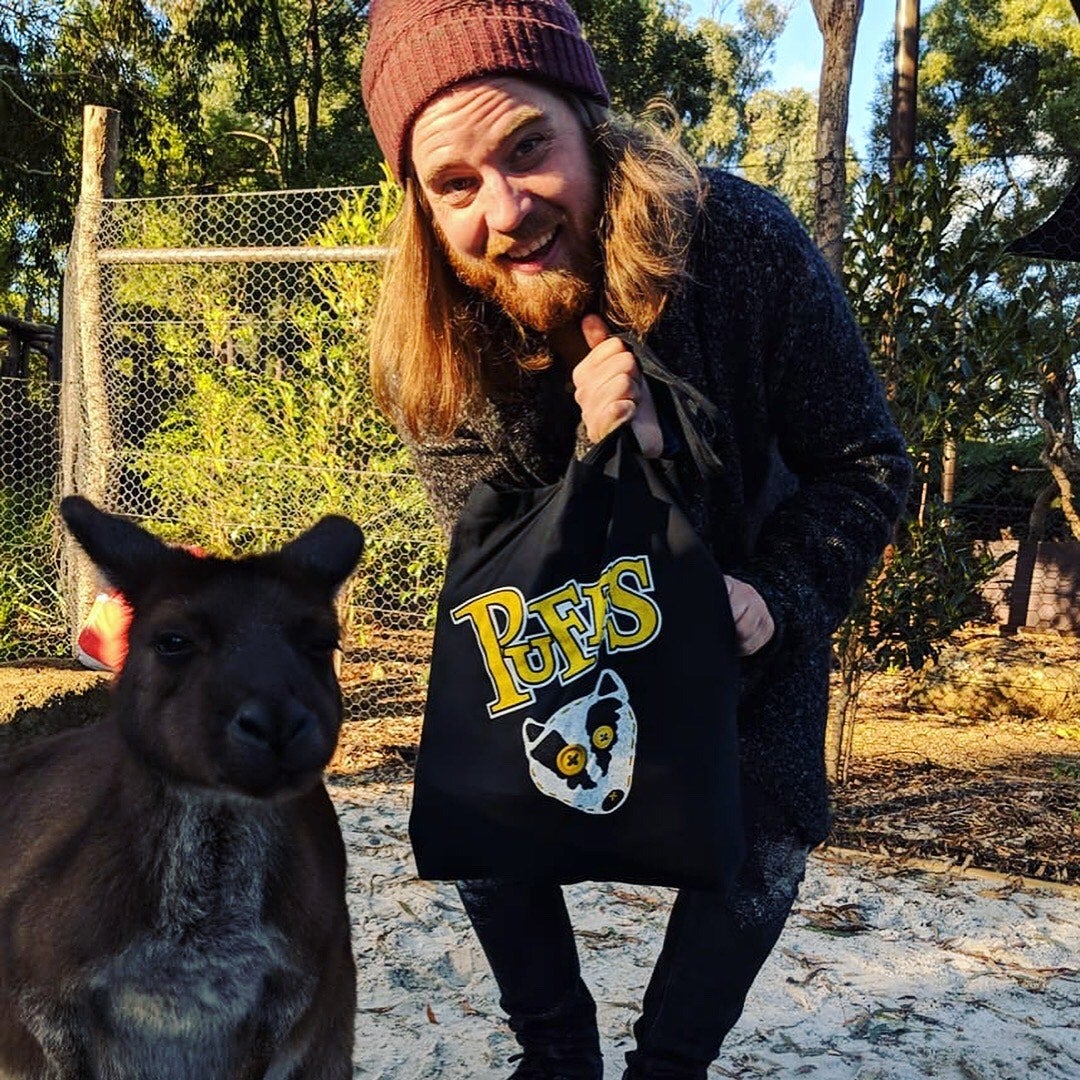 Immediately, enthusiastic audiences showed up in full Hogwarts regalia. The PIT extended the hit show for months, and eventually a revised, somewhat cleaned-up Puffs—full subtitle: Seven Increasingly Eventful Years at a Certain School of Magic and Magic—opened off-Broadway for a nearly three-year run. But that was just the beginning of Puffs' life. By the 2019–2020 school year, Puffs had landed on the Educational Theatre Association's list of the most-performed plays in American high schools, and on last year's list, it placed ahead of such standbys as 12 Angry Jurors and A Midsummer Night's Dream, trailing only an adaptation of Clue.
When my daughter, a onetime Potterphile now annoyed by late-period Rowling, heard her high school was performing Puffs, she was at first disappointed by the choice. I remember her saying, "It just seems like a dumb comedy." But she tried out anyway, landing an ensemble role (some random students, plus the Herbology professor). "Once my friends were performing it with me in front of an audience, it made the jokes better," she said. "And I ended up really empathizing with Wayne and connecting to the themes of the play—that most people never really get to be the star."
"Can I tell you something?" the hero of Puffs, Wayne Hopkins, tells the boy in front of him in the Sorting Hat line on his first day of school. "I think I might be … special?"
WAYNE: I watch a lot of movies and read lots of books, and it's like: a normal boy finds out he actually has amazing abilities and is swept away to a new, magical world? Does that sound familiar? Because that is now my ACTUAL life. And THAT kid, through some incredible circumstances always becomes like the most important person. Like in the whole world. A sort of … Chosen One. AHH! Magic is real, and this orphaned boy wizard is ready for seven years of amazing adventures! 
Eventually the boy in front of him politely excuses himself, because he is Harry Potter and he has to go get Sorted.
Puffs is dedicated to "everyone not destined to save the world," and one of its sly strengths is its recognition of the low-level psychic damage that wishing to be the main character can do to most of us, the supporting characters in life. Wayne, orphaned as an infant due to "a chocolate frog accident," grows up in New Mexico, is surprised, like Harry, to learn he's a wizard, and arrives at school positive he's going to live out an incredible hero's tale. But in fact, his story, like that of all the Puffs, is one mostly of disappointment, low comedy, and watching from the sidelines as other people get what you dreamed of.
"Fate: It's never kind to a hero," the narrator says. "But who does fate hate even more? The side characters." The Puffs' one hero, Cedric Diggory, learns too late that he's but collateral damage in someone else's saga. Cox even points out that this is true for the bad guys, too: As one of the Dark Lord's evil henchmen carries a nameless dead comrade off the stage during the final climactic battle, he groans, "Someone has to tell his evil wife and kids."
This thoughtful treatment of the other side of a hero's journey—all the non-heroes who have to accommodate him along the way—makes Puffs more than a spoof of the Potter saga. But it's also that, and it was the arcane references to books and films that got the biggest laughs at my daughter's productions: mispronouncing Leviosa, Voldemort's complaint that none of his stooges ever bothered to buy him shoes, the fact that Neville eventually becomes hot. The show even ends with a "Nineteen Years Later" epilogue, in which the heroes, now parents, speak to their son, who's frightened about going to school: "I'll be honest with you," they say. "You should be. When I was there: If it wasn't an evil teacher, it was a giant snake. "
In fact, the lack of preciousness Puffs feels for its source material is the reason, I think, it works so much better than any of J.K. Rowling's attempts to spin the story out further. Fantastic Beasts, Cursed Child, the theme parks, the touring experiences: They all treat the original seven books like sacred texts, reverently digging deeper and deeper into their lore. But when I spoke with Cox, he pointed out that the more you think about the Harry Potter universe, the worse it holds up. All those convoluted plots that require the bad guy to deliver a chapter-long monologue at the end! All those MacGuffins, from the Sorcerer's Stone to 700 pages of Horcruxes! And the films only added to the story's absurdities: One of the biggest laughs in the play comes late in the second act, when one of You-Know-Who's adherents observes, "We don't need brooms to fly anymore. We just can."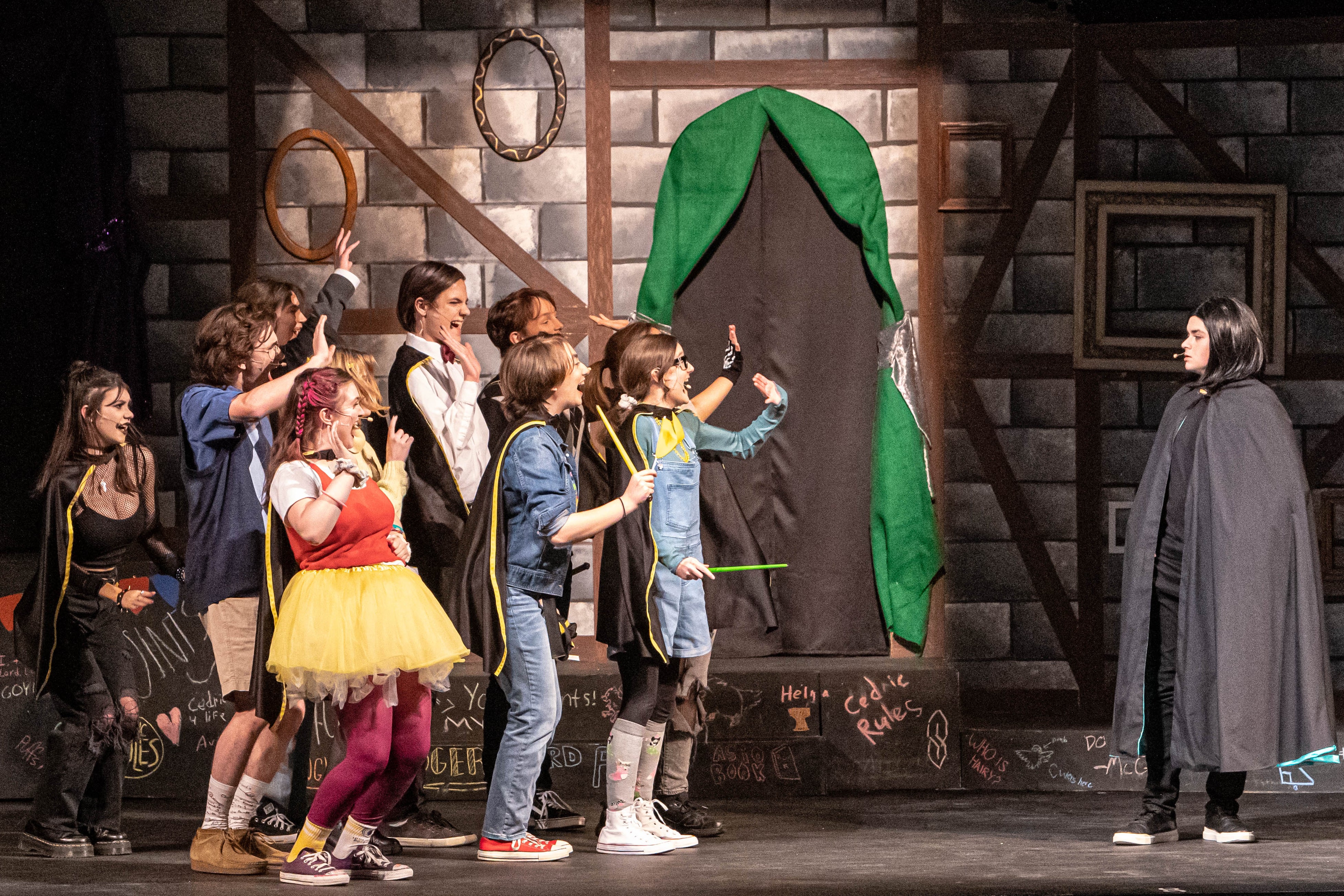 "It's a hard world to build upon without breaking it a little too much," Cox said. "If you make more and more without it being a little silly, the cracks show." Harry Potter demands irreverence, these days, as a way of acknowledging that for a solid decade, an enormous number of us went absolutely berserk for a decently crafted, fairly funny, somewhat original series of children's books and movies. Yes, many of those fans—Cox, for example—had the excuse of being a kid. But not all of them! Not me! In an era when every Harry Potter spinoff seems, Cox said, "made with the hope of enormous dollar signs," and the once-beloved author is beclowning herself online, Puffs gives fans a chance to view their fandom affectionately, yet critically. "Ten years later, everyone can have a beer now—you just talk about the series and go, 'That didn't quite make sense.' "
The play's status as parody also helps to give it some legal cover against Potter Inc. As the script notes, Puffs was written as "a transformative and transfigured work under the magic that is U.S. fair use laws." Cox has also gone above and beyond to cheekily steer clear of J.K. Rowling's many, many coinages and copyrighted terms: Voldemort is Voldy, Death Eaters are Death Buddies, Hogwarts is "a certain school of magic," and Quidditch is simply "sports!"—with an exclamation point. Though Cox has never been sued by J.K. Rowling or Warner Bros., "We were eventually made aware that they were aware of us," he said with a chuckle. "But I think that we had done enough of the homework that it couldn't be an issue."
The one time Puffs got in trouble was when a gag in the off-Broadway production spoiled a detail about the Broadway version of Cursed Child. "They said, 'You have to change this,' " recalled Cox. "We changed it." He recognizes that high school theater teachers may not have the sophisticated understanding of fair use and copyright law he's been forced to develop; hence the note in the back of the script asking that "no copyrighted imagery, branded clothing, official cloaks or capes or wands, official fonts, or really any intellectual property created by the team behind everyone's favorite boy wizard be used near this play."
You can imagine a world in which J.K. Rowling and Warner Bros. loosened up a little and we were six seasons into a goofy Puffs-style series on the CW. But for now, if you want lighthearted wizard fun, Puffs is your best option. It's also popular at community theaters—in the next few months, productions open in Bloomington, Illinois; Searcy, Arkansas; and Pensacola, Florida. But your best bet might be to stop by your local high school, because as long as there are kids who grow up on Harry Potter—and the upcoming HBO Max series suggests that there will be some for quite a while—Puffs will continue ruling the stages of America's high schools. "Back in the day, we would joke about how the show would eventually be performed by a bunch of teenagers in capes," said Cox. "Now schools are doing it with 70 kids! Someone sent photos of a production recently, and there was a little kid in gold clothes—I think he was playing the Snitch."
It's clear why high schoolers love the play so much. "It was built to be a play to have fun performing," said Cox, and the script's encouragement of ad-libbing, improv, and whimsy—all stemming from its origin as a goofy sketch show cooked up by a bunch of friends—sets it apart from almost every other show on the market. Audition for a musical in high school, and you'll have a good time, but you'll feel a lot of pressure to be note-perfect. Puffs is shaggier, sillier, more weird.
And look, Cox pointed out: "As the world gets nerdier, the reason a lot of people get into acting is they want that opportunity to run around in a cape or with a wand or a sword. With Puffs, you get to play in a world you've dreamt of being part of." He paused. "Or a world that's remarkably similar, to be clear."