On Sunday, a Twitter user with the screen name Bigolas Dickolas Wolfwood tweeted a command to his approximately 14,000 followers: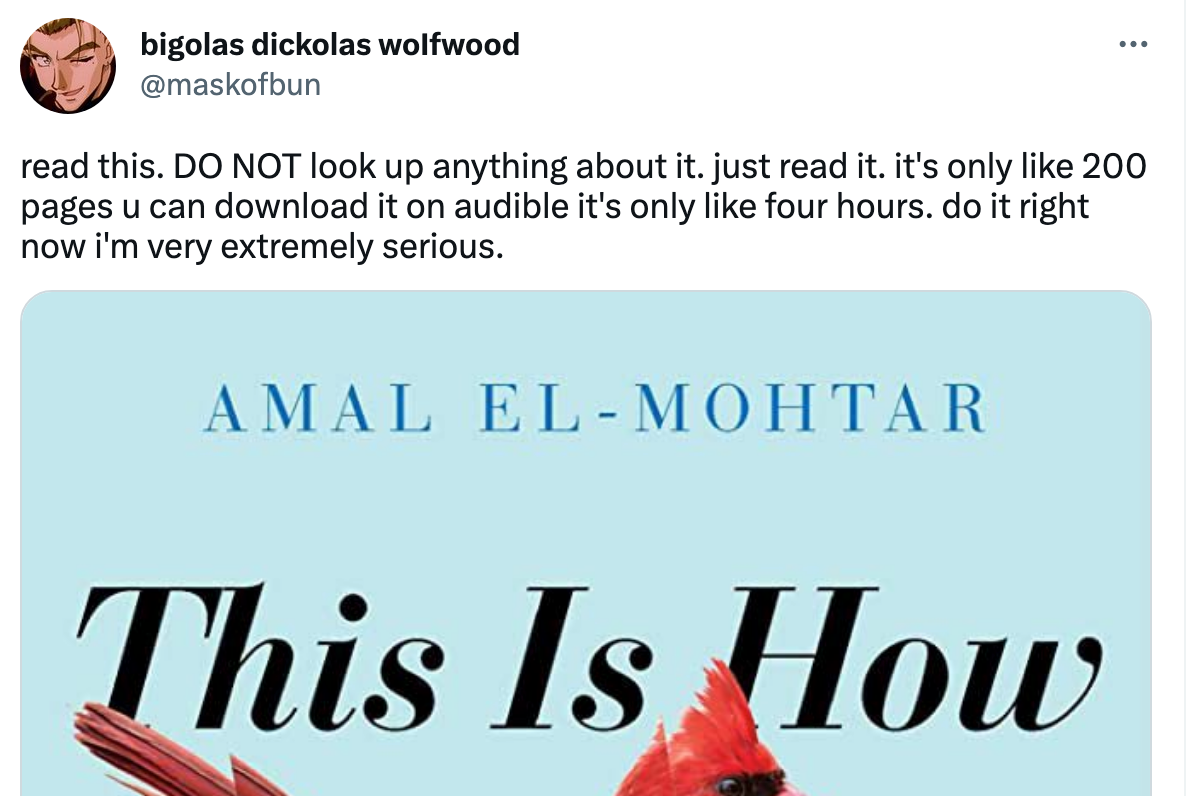 This tweet, encouraging followers to read the science fiction novel This Is How You Lose the Time War by Amal El-Mohtar and Max Gladstone, unexpectedly went megaviral, and for the past few days El-Mohtar has watched in shock as her book has rocketed up the Amazon charts.
El-Mohtar, who is also the New York Times Book Review's science fiction and fantasy columnist, called me on the phone from her home in Ottawa, Ontario, to talk about unexpected virality, the power of joyful violence in fandom, and whether she's watched Bigolas Dickolas' favorite anime. Our conversation has been edited and condensed for clarity.
Slate: It seems like this has been a crazy couple of days. How did it start?
Amal El-Mohtar: My partner was going through his For You tab on Twitter. I think this was Sunday night. And he was like, "Oh, look at this: Your book is in my For You tab."
Finally, something useful in the For You tab!
Yes! That has not been our experience to date! I wondered who Bigolas Dickolas Wolfwood was. I think I sent it to Max [Gladstone, the book's co-author] at this point. Max was about to board a plane to go on a family holiday. And the next morning I had friends on Instagram going, "Did you see this?" The surreality didn't come from going viral—it came from going viral due to an account called Bigolas Dickolas.
Did you try to figure out who Bigolas Dickolas was?
Yes! I took a look at his profile. Is he a celebrity? A popular TikTok account? I am insufficiently attuned to the youth, so I couldn't figure it out. It's a Trigun fan account; that's an anime that was popular in the '90s and was recently rebooted. That's cool—I like anime, though I haven't tried this one.
Not that you're checking it every second, but where is your book on the Amazon charts right now?
You know, I haven't looked yet this morning. [Typing] Amazon dot com … pick up where you left off … it's at No. 6! It's flanked by Taylor Swift: A Little Golden Book Biography and Tell Me Your Life Story, comma, Mom.
And where, roughly, did it live on the Amazon charts in the pre–Bigolas Dickolas era?
I'm not sure about recently. The book was published in 2019, and we were very, very excited. There was a lot of that first-blush publication excitement. So, we'd look at every possible sub-sub-subcategory. If we looked in Queer Romantic Time-Travel Fiction and we were doing OK in it, we were like, "Amazing!" So the idea that we were cracking the top 100 in just Books was very weird. We were like, "This can't be right." Max has managed to maintain some chill. He's still on vacation. I have not.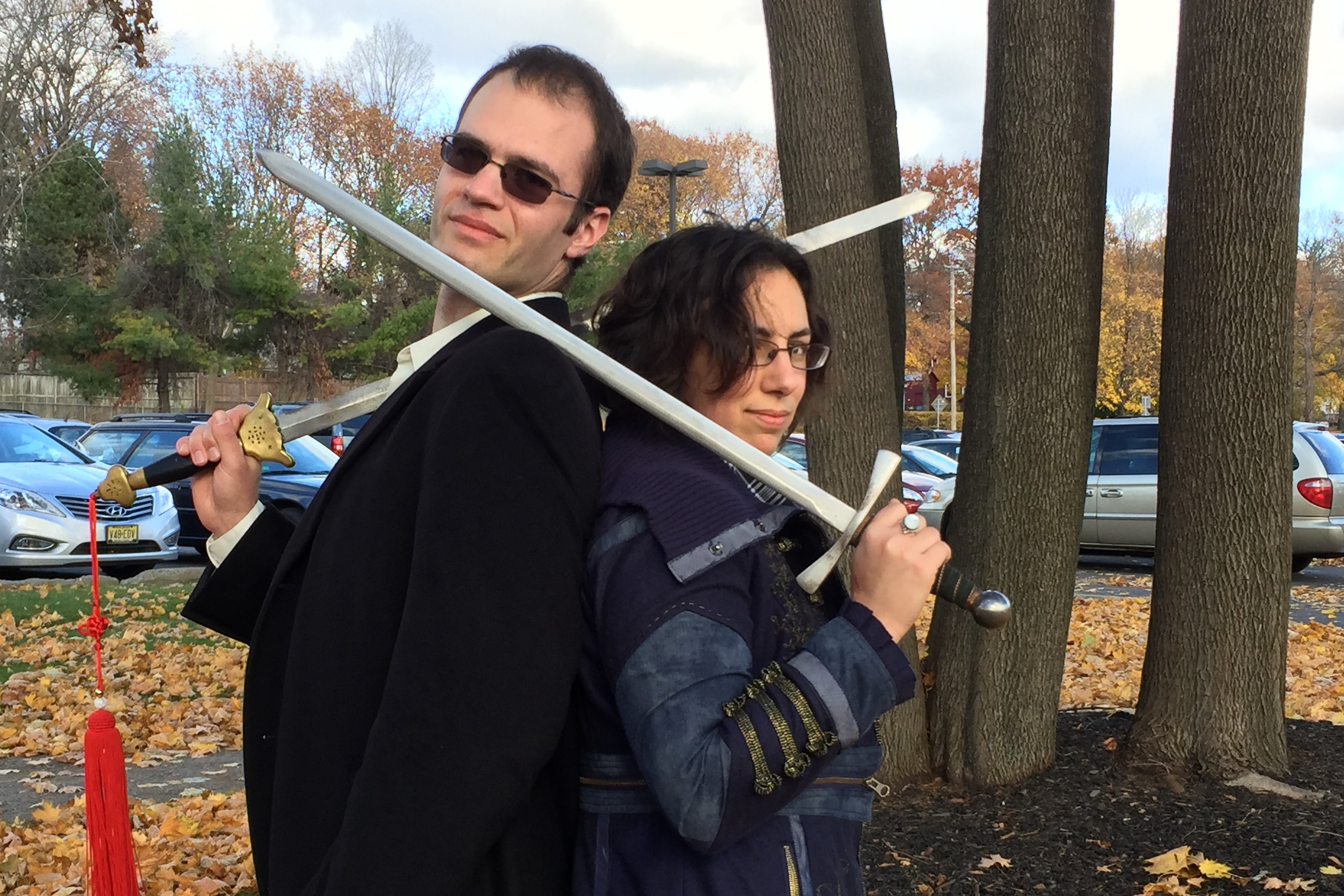 Has your agent or publisher given you any kind of estimate as to what this means in terms of actual number of copies?
I think it'll take a week for us to understand how much of a bump this might be. We did hear a number on Monday that was like a normal week's worth of sales in one day. But I don't know how Amazon sales work, or Audible sales, exactly. Part of me fears this could be vapor. But it is nice to look at charts that look like a hockey stick. Number go up!
It's nice to see the internet being a force for good.
You know, it's funny that it was a Trigun-themed fan account that rocketed the book into virality. But when I read the responses to the tweet, so many of them said "I loved this book!" "I read it when it came out!" Going down the replies was so lovely, in a way that has been very unfamiliar to me on Twitter for some time. I know that virality has a life cycle. A wave crests and then you brace for the backlash.
Right. It expands outside the circle of people who understand what you're going for.
That still could happen; I don't know. But for now it's nice to be in this parasocial relationship with Bigolas Dickolas.
Have you communicated with him?
We've tweeted at each other. I told him I was so glad he liked it, and thanked him. Max and I have been saying, "How do you thank someone for this?" I wrote a newsletter about this experience, and he tweeted that and wrote, "THIS IS THE MOST SPECIFIC THING THATS EVER HAPPENED." A wonderful response!
I have to assume that this is very gratifying! I tweet book recommendations all the time, and obviously this is what I hope would happen every time.
I think they're 22 because that's in their bio. I also love that they're thrilled that I mentioned Trigun in the newsletter. "Yeah! More publicity for Trigun!" My friend, if I could do for you a fraction of what you've done for us …
You said you haven't watched Trigun yet. Based on what you've heard about it, do you see any thematic overlaps with your novel?
I want to read about it, but I want to stay unspoiled! But from the fan art that Bigolas Dickolas posts, I definitely get the sense that maybe there is something in Trigun that rhymes a little bit with Time War. I have no idea if Trigun is a queer anime, but the shipping sure is queer.
What do you think it is about this tweet specifically that took off?
I think it's a combination of things. There's all the dark-box algo stuff. There's no link in the tweet to a sales site, so it's not getting suppressed by Twitter's suppressing of links. It is pure fan-to-fan enthusiasm. In the context of a fan account, where people are used to sharing phenomenal art and GIFs and feelings and stuff, that kind of primes an audience for receiving something in a certain way.
I also like studying the grammar of it. Do you know Gretchen McCulloch's Because Internet? Her area of expertise is the way we talk to each other on the internet. I don't know as much as her, but I do think there is poetry to it! No cap: Read this. Then, all caps: DO NOT look up anything … To me, the tweet is beautiful.
And the follow-up tweet! The fact that it grabs you by the throat—there's a joyful violence to fandom that I really appreciate. In the early days of Twitter, I was always saying a thing I loved tore me apart.

I have been trying to parse the name Bigolas Dickolas Wolfwood. What is going on there, as far as you can tell? It's sort of like Biggus Dickus from The Life of Brian, mixed with Legolas, mixed with a character called Nicholas Wolfwood from Trigun.
Honestly, I think it's just Nicholas Wolfwood plus "big dick."
I'm overthinking it.
There's a prosody to it. "Bigolas Dickolas" rolls off the tongue. It's inherently memeable. The name wants to perpetuate itself.
Finally: Pay it forward. What book would you recommend the way Bigolas Dickolas recommended yours?
Oh, that's hard! I literally write a science fiction column for the Times. Do I pick something that will sort of push this forward, something by someone I know …
Bigolas Dickolas wasn't worried about that. He just posted something he loved. His post was pure.
You're right. OK. I recommend this book all the time, and I literally say, "Do not read anything in advance." And I don't know her, so none of my friends can be upset. So, OK. [Clears throat.]
[Speaks loudly.] The Impossible Us by Sarah Lotz. read this. DO NOT look up anything about it. just read it. i don't know its page count, i'm sure u can download it on audible. do it right now i'm very extremely serious.